If you weren't paying attention, you might have missed one of the most dramatic moves in the history of the mortgage market.  There was a sense that the Fed had all the power in the world to push mortgage rates to whatever level they desired.  This seemed to be the case when rates touched a low around 3.25 to 3.29 percent.  Slowly, rates have crept back up even before Ben Bernanke mentioned a tapering off of the Fed's MBS purchasing binge.  How dramatic was the move?  The 30 year fixed rate mortgage is now up by 40 percent in the last 52 weeks.  We now get to test the resiliency of the housing market without the full unbridled support of the Fed.  The bond market movement is stunning.  I love the mentality out in the current market.  "Well the Fed is devaluing money so might as well borrow, buy something tangible, and ride this puppy until the wheels come flying off in a blaze of glory."  Sounds like a good foundation for a strong economy right?  The Fed realizes that the market is overheating for all the wrong reasons.  The financially connected have leveraged incredibly low rates to play this game to a point where hedge funds are buying rentals to lease out all in the name of higher yields.  So how dramatic was this move?
30 year rate dramatic move     
I have a few colleagues in the industry that have e-mailed me on how sudden this move was.  Let us examine this on a chart: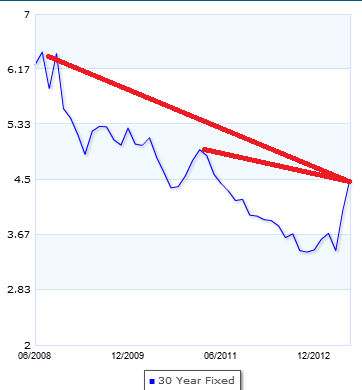 This chart may not seem so dramatic but the above change is a 40 percent movement in the last 52 weeks.  What is more important is that it bucks a half decade trend.  Some interesting observations on the move:
"(Mortgagenewsdaily) Last Wednesday, Fed chairman Bernanke said during a post-FOMC press conference that rising home prices compensate for higher rates. Then on Friday, Bank or America Merrill Lynch's MBS team was out with a note reacting to this stance by Bernanke, saying: "we would guess the Fed assumption is that a 5% mortgage rate would be acceptable." If this is the case, hoping for a near-term dip in rates could prove futile. " –Julian Hebron, Branch Manager, RPM Mortgage"
This is an interesting observation.  What is the true mortgage rate without the massive Fed basically buying up $85 billion a month in MBS?  The Fed balance sheet is already up to $3.3 trillion and all we have gotten is inflated home values without real substantive growth in household wages.  Wages don't matter?  They apparently matter given the Fed simply mentioned a mere tapering of QE and the market suddenly lost confidence.  The above quote mentions that a 5 percent 30 year fixed rate mortgage is acceptable to the Fed.  Good luck trying to decipher "Fed speak" but this sounds about right for 2013.  Historically, I would say a 6 to 7 percent rate is closer to the lower bound.  We are likely to find out since the Fed was rather clear on the tapering of QE when it comes to MBS purchases (even though this wouldn't likely begin until 2014!).  Hot money has been bailing and this has accelerated recently.
It was interesting to see how the bond market gurus would react to this:

I love this.  It pretty much confirms what we have been saying.  This entire housing recovery is like breaking a $20 bill into two $10 bills and pretending you were all the wealthier for it.  Just because a person can now afford a $200,000 home instead of a $150,000 on the same income is not exactly a positive for the underlying economy especially when the Fed is creating massive market distortions.  What of the $3.3 trillion balance sheet?  Do we go Jane Eyre on that and simply forget about it?
The increase in rates has occurred across the board: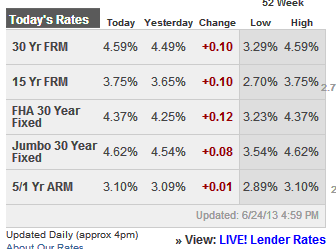 This big movement in rates comes at a time when expensive area buyers are going all in with jumbo loans stretching every penny they have.  Incomes don't matter?  Of course they do!  Especially when big funds have bought leveraging low rates for already squeezed out yields.  What do you think this 40 percent move is going to do to already tight yields?
The trend is rather obvious and keep in mind the below chart doesn't include the dramatic change of the last few weeks (the below is based on a 4 percent rate when today it is closer to 4.59 percent):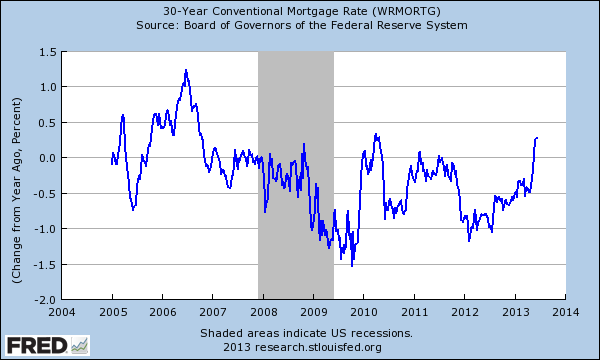 This is a big movement.  The problem with creating these incentives is that the financial sector instead of seeking out the next medical technology or industry that will create an entirely new sector for our economy has been obsessed with buying up homes.  Why provide such a massive incentive for housing?  In the end, it really didn't benefit the regular home owner which has been the bread and butter of a stable housing market since World War II.  That is, until we let lose Wall Street and easy money into the markets in the 2000s and now many have to compete with a hedge fund to find a place to live.  Big money investors have been the big winners after the crash.
Make no mistake in that this was a big move in the mortgage markets.  Over the last few years, every panic in the market actually pushed rates lower.  What is different this time is the falling in stocks is happening because rates are going higher.  Bill Gross is right in that mortgage payments just got 20 to 25 percent more expensive in the last few months.  The biggest budget expense of Americans just got that more expensive and you already know the trend for household income.  In California, this can be anywhere from $500 to $750 a month on a jumbo mortgage (which is now back in fashion and people are stretching just to buy homes).  FHA insured loans are already very expensive given the mortgage insurance changes in June.
Another interesting observation on the market:
"The volatility in mortgage rates has been unprecedented. Daily swings cause changes intraday and unfortunately that creates distortion for consumers. The recent volatility will not subside until the free market determines where the real bid/ask is minus the FED. Until that point expect the swings to continue. 30-45 days should be locking.  Longer term may be able to float, however we do not recommend it with the current environment. We went from low 3's to high 4's in a couple of weeks, and this morning we were possibly talking 5's. the day is not over and the week just begun. " –Constantine Floropoulos, Quontic Bank"
Exactly.  What is the real bid/ask minus the Fed?  We're quickly finding out that without the Fed, there is little appetite for MBS at these absurdly low rates.

Did You Enjoy The Post? Subscribe to Dr. Housing Bubble's Blog to get updated housing commentary, analysis, and information.