As we will soon painfully realize, Americans in all corners of the country will soon become extremely acquainted with the Alt-A and Option ARM terminology.  These loans initially were thought to be much safer than those pesky subprime mortgages.  You know, the loans that were made to low income families that supposedly set off financial Armageddon?  Option ARMs are simply ticking financial time bombs.  These loans are heavily concentrated in California and Florida.  Other states have these useless and putrid mortgage products but the aftermath and damage will be deeply felt in both coastal states.  If the country decides to create a "bad bank" (as if current banks were any good), then other states are going to get a delicious buffet of these exotic scorpions on a stick, otherwise known as Option ARMs.
As the housing market bubble expanded like financial Jiffy Pop, lenders spurred by an insatiable appetite on Wall Street for mortgage securitizations (read the super Mortgage Birth Story) started pushing these once arcane and relatively unknown products.  First, let us assess what we will be dealing with: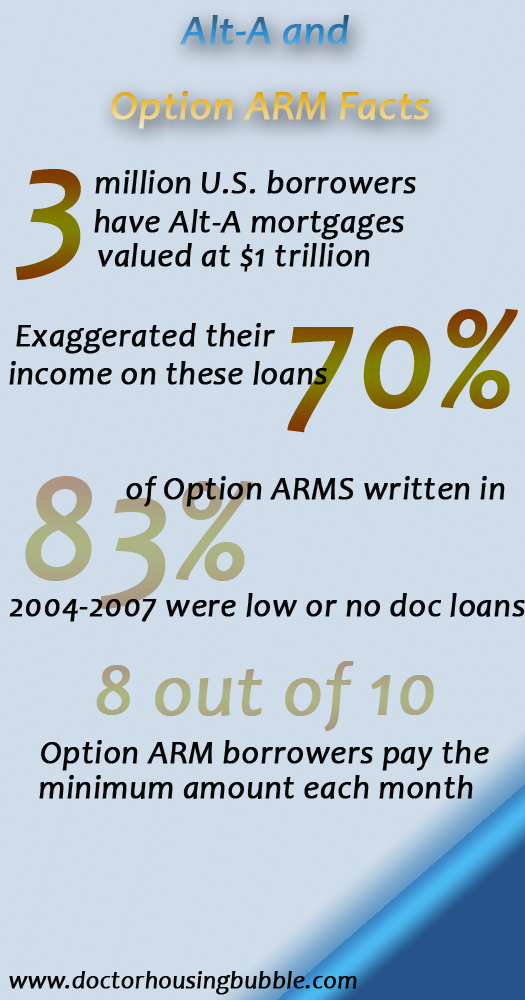 An Option ARM is simply an adjustable rate mortgage made to a "prime" borrower with various payment options.  You need to remember that most subprime loans had high interest rates but most of the damage in that area has already passed.  The borrower with an Option ARM can choose to pay the fully amortizing interest and principal, the full interest, or an incredibly low teaser rate in which the loan negatively amortizes.  Guess which option the vast majority of borrowers opted for?  With negative amortization, the incredible thing is the actual balance of the mortgage increased while the home price decreased!  These loans were spawned in the delusional world where real estate prices never went down and gold flowed from the toilets installed in 3,000 square foot McMansions.
So now, not only are people with these loans massively underwater they now have a mortgage that has grown like a Chia Pet.  How in the world did this mortgage garner so much fanfare?  As I have been saying for a very long time, Option ARMs were simply a speculator product only viable in a real estate mania.  That is, many of the borrowers never expected to live in their home forever and they would simply sell the home off to a greater fool before R-Day came along.
Now it would appear the media is highlighting much of what I have been saying regarding these loans.  The Washington Post has an excellent article talking about the growing foreclosure crisis.  What I like about the piece is that it shows that some people losing these homes were simply speculators and delusional about the expectations they had with real estate and not a sob story.  I read the piece more as a study of the consumer psychology that permeated and infected bubble states like California and Florida.  Let us take a look at the option ARM break down: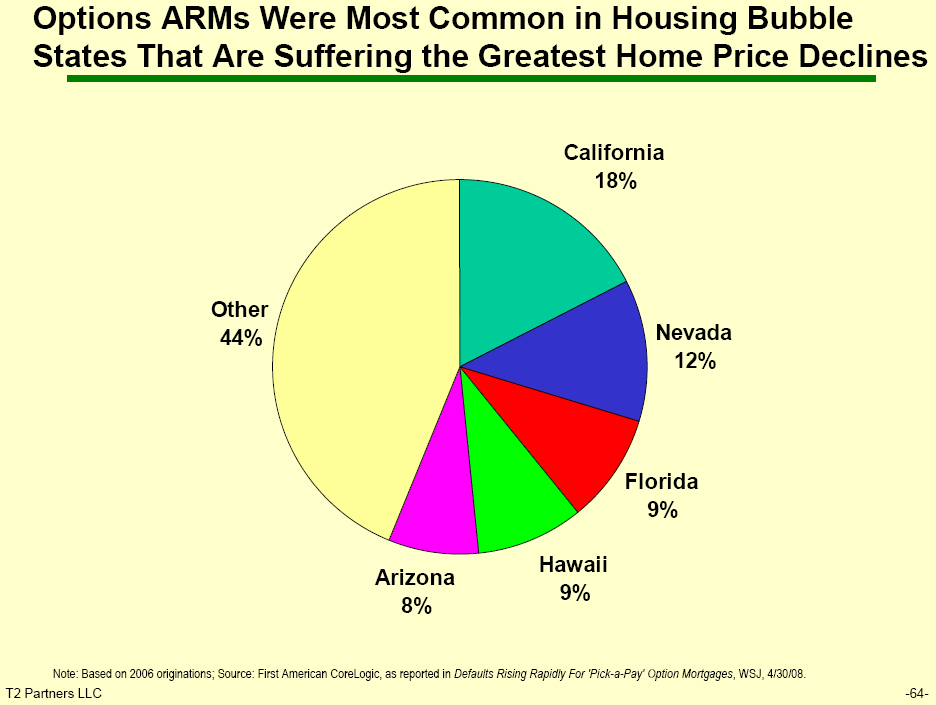 The article focuses on the Inland Empire:
"Of the 20 Zip codes with the highest share of underwater loans, seven are in California and four are in Riverside County, the vast exurb southeast of Los Angeles where the Bohnens live. Riverside's unemployment rate has zoomed to 10 percent, well above the national average of 7.2 percent. About 94,200 people in the county are looking for work, many of them formerly employed in the real estate, banking and construction industries, according to the county's economic development agency."
The piece focuses on the Inland Empire, which has been ravaged like a hyena eating a carcass by the recent bubble bursting.  Prices have cratered and unemployment has skyrocketed.  These areas are the reason California will not see any housing bottom until 2011.  These areas also had an incestuous relationship with housing.  Big-ticket stores sold items to fill these big McMansions, paid realtors, lenders got their delicious cut, and all seemed glorious in housingland.  Now that the golden calf of real estate is gone, these communities are realizing why it is simply wrong to rely on one industry for growth especially if that industry is in an epic bubble.  The story does a good job highlighting the numbers by showing a couple of real world examples:
"The home to the left is listed for $699,900 and the other for $725,000. She and her husband owe $932,000 on their house, so they're facing at least a $200,000 shortfall. That's not what they expected when they bought their home two years ago. The economy looked good then, the housing market was still thriving and the house seemed like a steal. It was the cheapest available in the exclusive gated community that they had been eyeing for some time."
So what do you really do here?  Realistically, prices are going to come down even lower and lower in a limbo to the bottom.  The problem arises when you anchor your belief in bubble world economics and now expect that prices will be rising in the future.  They bought at the peak and as the article highlights, they both had jobs dependent on the housing market thriving.  So now that the market has tanked, they are also facing the wrath of wage and salary deflation.  The end game is here and Option Pac-Man has run out of real estate dots to eat.  This is going on across the country but here in California, the concentration of Option ARMs has made the amount of money breathtaking.  The story in the Inland Empire is playing out multiple times a day like a broken cuckoo clock:
"Now the Bohnens are tapped out. They missed their third mortgage payment yesterday and can barely keep up with their homeowner association dues. Their twins are in college and their 4-year-old in day care. They're working with a housing counselor to try to modify their loan."
Really, what can you do with a nearly $1 million loan?  Their income is shrinking or stagnant while their mortgage payment is growing.  Before you feel sorry, you will want to hear what is going on in the trenches:
"There's this easy come, easy go mentality," said Mike Novak-Smith, a real estate agent in Moreno Valley, a working-class part of the county. "Some people would rather hold onto their pickup truck or Mercedes than their homes."
I've recently heard some Podcasts of the Dave Ramsey show.  I have multiple shows I listen to but some of his stories revolve around people paying down their debt.  And when I say pay down their debt, I mean everything.  Typically, he'll have a story about a family who paid off their $100,000 mortgage or someone who just wiped out $30,000 and do a radio celebration.  He'll ask how they did this and many times you'll hear things like:
"I sold the boat."
"We ate rice and beans for 5 years."
"We ate out less."
"I sold my luxury car and bought a used bucket."
It is a simple lesson in frugality.  Now, I usually smirk when I hear these stories because I compare them to the above case of someone moonwalking away from their home to spare the much needed Mercedes.  The psychology of many here in California during the boom was that the avalanche of debt would never catch up to them.  I still think that people don't realize how big a $500,000 mortgage is (that was the peak median price of the state according to one data source).  Now with prices half off, people think this is the bottom and will somehow come back up.  They will not.
The troubling psychology behind this exposes what I have argued many times.  Many are living in a silent depression and most Californians were all hat and no cattle.  The fact that these people want to hold on to their luxury symbols is that most people probably believe that keeping the car would catch more eyeballs on the street.  After all, how many people see your pad?  A car will be seen when you go out, go to work, and visit friends.  It is a perverted epidemic here in the state but the repo stats are showing that this too will pass.  We are living in a financial 1984.  Many that look rich are broke and drowning in payments.  Debt is wealth.
Just to highlight how bad things are, here are more stats on the Inland Empire:
"In 2006, about 25 percent of Riverside County home buyers took out loans without making a down payment, according to SMR Research, which analyzes mortgage data. For those borrowers, Novak-Smith says, their loan payments are akin to rent: They essentially have no stake in their homes, which makes walking away easier."
And this isn't only to beat up on the Inland Empire.  These loans found there way through the entire state of California.  The fact that 25 percent of people made no down payment is simply stunning.  That is, they have absolutely no skin in the game.  Here is a new twist to the psychology of these borrowers; they view their loan payment as basically paying the rent.  In fact, it is worse.  At least when you sign a lease you can leave in a year if you like.  With these underwater mortgages, the only way out is via foreclosure or forking over tens of thousands of dollars for someone to buy your home.  Short-sales?  Come on.  From people I've talked to lenders did very little short-sales and the stats back this up.  With little skin in the game including from lenders, many are choosing to take a hit on their credit score.  Yet I would argue the majority actually have no money to make the new adjusted payment.  They don't have a choice.  Oh, but the game isn't over yet:
"I had one the other day and she's telling me, 'We're going to buy this other house and let the one we've got go because it's a money pit," Clark said. "They have three homes, including a vacation home and rental property. . . . I keep telling people: 'You signed a promissory note. You told the bank you'd pay it back. It's like marriage. It's for better or worse."
Don't you feel sorry for someone with 3 homes including a vacation home and rental property?  One quick thing our government can do to stop this moral hazard from getting worse is revamping the title check system.  Let us be honest.  Most loans are now government backed and sponsored.  As such, anyone looking to buy a home needs to have a deep title check and anyone with multiple homes or loans should be exempt from buying a new place with a government loan.  Period.  This is a perfect example.  I would suspect the above scenario is with someone with still good credit.  Keep in mind to make the teaser rate payment is easy.  It is when the recast hits that the problems begin for these uber speculators.  What they want to do is while their credit is pristine, buy another home at a rock bottom price and let their current home go back to the bank as a parting gift.  Is this really what we had in mind when we think of the poor family struggling to make a loan payment?
I despise this scenario because it really keeps us from going forward with more sane policies.  I think of a family in Ohio or Michigan, states that have been struggling for years and a family with a $70,000 or $80,000 mortgage on a modest home.  The home may be worth $50,000 or $60,000 now.  In these cases, the government can step in to help and it would only cost maybe $10,000 or $20,000.  The above California scenario would cost $200,000 to $250,000 assuming we use the $1 million home.  Is a family in California deserving of 20 or 25 times the help of someone in other states?  I'd actually argue the family above should have their vacation home yanked to pay for their current home.
And government help especially in option ARM and Alt-A orgy states like California are a waste of time:
"Federal regulators recently held a one-day seminar in Riverside for troubled IndyMac customers interested in a loan modification. About 4,200 were invited. Only 250 showed up, half of whom probably will not qualify for a more affordable loan." 
Bwahaha!  This is exactly what I have been talking about in my article moonwalking away from your home mortgage.  The government is assuming these people actually want to stay in their home.  They want to stay in their home as long as they make a profit.  They are speculators.  They are no better than the banks that made these insane loans.  They married each other and now want others to suffer the ills of their mortgage divorce.  That is why I am so disgusted by the $700 billion TARP and this notion of a bad bank that is now making the rounds.  What I am for is cram-downs.  These people with no skin in the game need to be held accountable just like banks.  If a bad bank is set up, you can bet your skin that the vast amount of loans in terms of nominal value will come from California and Florida.
Many lenders are holding on to these toxic assets just anxiously waiting for that bad bank to get started so they can dump them off to you.  That is right.  You will own these loans.  How does that make you feel?
Before you answer, we already can see that what we've been predicting is coming to light:
"Already, 24 percent of option ARMs were at least two months late in September, up from 5 percent a year ago, said Mahesh Swaminathan, a Credit Suisse mortgage strategist."    
So much for blaming this entire mess on poor inner city subprime borrowers.  That mess is largely over.  We are now dealing with the mania and speculation of greed from borrowers and lenders on supposedly prime candidates.  But you'll love how people are rationalizing this entire thing:
"Did you know that the housing market was going to collapse?" she says to her husband. "Did you know I was going to lose my store? Did you know you were going to lose your job? Come on. There was no reason to believe any of this would happen. It's not like we did anything impulsive. You've been doing this job for 10 years and making good money."
"Twelve years," he said. "It's been 12 years."
Just because you haven't seen a black swan does not mean the world lacks this species.  They did do something impulsive like running off to Vegas to get hitched by an Elvis impersonator.  They bought and over leveraged themselves.  No one told them to sign for a home that almost takes them into a 7-figure debt.  They didn't live prudently.  You think having a million dollar home is a constitutional right?  There were many legitimate and rational reasons to believe this was going to happen.  Yet how can you argue with those blinded by the rose-colored glasses of greed and delusion manifested by their own pipe dreams of being mini Trumps?  If they think things will be better soon, they can look at Japan who has seen virtually no growth in real estate prices for 20 years after their stock market and real estate crash.  12 years may actually be the time it takes for us to see California prices ramp up again.
Did You Enjoy The Post? Subscribe to Dr. Housing Bubble's Blog to get updated housing commentary, analysis, and information.