The economy is once again in full delusional mode with consumer confidence earlier in the week hitting an all time record low and GDP contracting.  But guess what?  You wouldn't know that by looking at the stock market.  The S & P 500 for the week is up 8% and there has been no good news at least in terms of the economy with companies announcing layoffs on a daily basis.  This jump is simply the market jumping off a technical support level and folks jumping back into the shark tank even though every fundamental indicator is blinking red.
In today's article I am going to talk about the oncoming tsunami that I have talked about months before but now, the time has arrived and politicians are desperate.  This massive second round is the $500 billion in pay option mortgages that are now recasting in major numbers.  The full speed will be entered in early 2009 but we are already going to see some major pain.  There are 10 reasons why California will not bottom out until 2011 please read this important article.  You think things are bad?  The Governator is calling a special session next week because we already have a short fall in revenue.  What a stunning shock.
First, let us dig up the third quarter notice of default data and also foreclosure data for California which I have been tracking for years: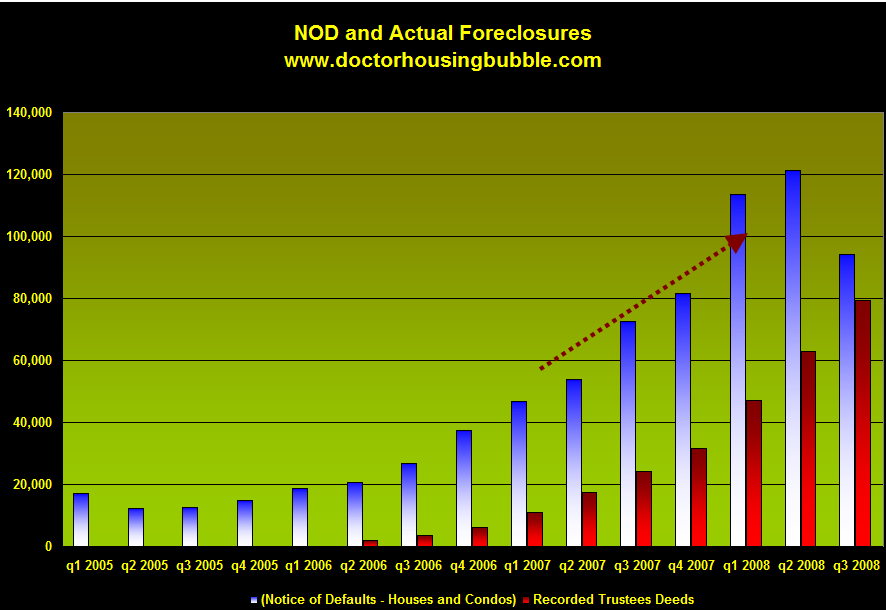 *Click to enlarge if you dare
This to the untrained eye looks like a major turning point for the market.  Notice of defaults (NODs), the first stage in the foreclosure process actually decreased for the first time since the second quarter in 2005.  This is fantastic news right?  Actually it is once again the government trying to sweep the actual problem under the rug while not really confronting the real issue.  The recent big drop in notice of defaults has to do more with legislation signed by the Governator, SB 1137 which requires lenders to meet with borrowers prior to filing a notice of default to go over the options available to avoid foreclosure.  So this is simply a reflection of lenders retooling and meeting the new law.  Here is a sample conversation between a lender and borrower, let us listen in:

Lender:  "Hello Mike.  Thanks for coming by the office to discuss your current options."


Borrower:  "No problem.  So what can you do for me?  Can you hook me up with a 2% mortgage?


Lender:  "Not quite.  We first need to look at your budget and loan and see what we can do.  How much do you make and what is the loan balance?"


Borrower:  "Yeah, I make $60,000 a year and my current mortgage is $500,000 at 6%.  Can you like drop it to $250,000?"


Lender:  "Not really.  So let me get this straight, your net monthly income is $3,582 and your current mortgage PITI is $3,517?"

Borrower:  "Exactly!  See why I need the loan modified down to $250,000?"

Lender:  "Well I'm not sure how you're making all your other expenses with that stunning $65 a month surplus.  From what I'm seeing, you're pretty much screwed."

Borrower:  "Hey!  I thought this new legislation was supposed to help me."


Lender:  "It is.  It required us to meet with you and make a good faith effort.  We did.  I have good faith but I can't walk on water and there is no way this mortgage will work out."
So there you go.  Many lenders hold these craptastic mortgages on their books and so far, no viable mechanism is in place to get these horrifically toxic loans off the books.  The capital injection into banks is actually for new lending but guess what?  Banks are hoarding the money like rotten stinky squirrels.  And to be honest, they should be doing this!  Even though the government is screaming for them to lend, it doesn't matter if you don't have a qualified market of borrowers to lend to.  The only way banks can start lending again is if they once again ignore any standards and start giving money to people making $14,000 a year a $720,000 mortgage.  I don't see that happening.
So the drop in NODs is simply this playing out.  But foreclosures are still screaming upwards as you can see from the chart above.  There is no stopping that.  All the NODs that have been issued in months past are now beyond this legislation and given the process can go from 6 to 9 months, we are simply seeing the backlog starting to hit the data.  We will continue to see this.  After all, someone that lost their job can't make a $1,000 payment and let us forget a 3 or 4 thousand dollar payment.
Median Price VooDoo
I've been seeing a meme going around with some mainstream media articles talking about the median price caveat.  What is their current argument?  Well, since most of the sales in California homes are distressed and many are previous foreclosures, the prices are now much lower thus skewing the data much lower.  Well no crap!  Why weren't they putting these caveats when the prices were appreciating 25+% year over year?  The same logic cut this way as well.  They want to have it both ways.  The median price is a good indicator because many of these pundits live in bubbles hoping that tiny niche markets start seeing prices drop.  Well guess what?  The vast majority of people are buying and living in other areas aside from Santa Monica or Newport Coast.  So looking at these tiny markets is pointless.
This is a common problem.  Many of the pundits keep saying that the prices are falling hard because the few sales that are occurring are in the most distressed areas with the biggest price cuts.  Well guess what?  This is the market now.  People in "prime" areas can remain as delusional as they like but that will not move homes.  They can pine for the economic heyday of bubble prices but it doesn't mean that day will come again.  That is fine, they will be stuck.
In addition, the median price reflects the bulk of sales.  So if most sales are foreclosed properties well guess freaking what?  That is the new market!  Try asking $1 million for your 500 square foot Culver City Real Home of Genius shack and see if it sells.
You may have also been seeing that some big media papers are cutting staff.  Why?  They can't cut it like many other businesses in this market.  In addition, they have lost large audiences to blogs and other sources since frankly, blogs have gotten it right and they have not.  Why would you keep reading an "expert" that missed the biggest economic calamity of our time?  I think many people have reached this conclusion and are going to the new experts thus diluting their market share.
Pay Option ARM Chart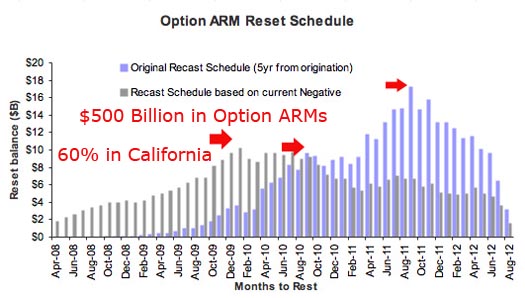 Take a long hard look at the chart above.  Since 80% of people on pay option ARMs make the minimum monthly payment, many will actually be recasting months before their scheduled date.  Why?  Many of these loans have caps that once they reach a certain balance (i.e., 125%) they will recast.  This is why these loans were simply the most idiotic pieces of crap ever engineered.  I hesitate to call this engineering since it was a hackneyed and pointless loan that served no purpose except to exist in a bubble market.  They have no place in a stable housing market.  Critics that argue otherwise are ignorant of human nature.  If banks that made these loans collapsed completely on their own stupidity so be it.  No problem.  But now that this mess got to this point and the American taxpayer is on the hook up to $1 trillion and bailing these same people out, there is a need to reexamine whether we should ban these for life especially if they are asking us for the money.
That is why there is a need for regulation.  This free wheeling crony capitalistic model is coming to a spectacular end.  Even Alan Greenspan the maestro of much of this easy credit admitted his "model" of the world didn't operate quite as he expected.  Sorry Alan, the ideal world of Ayn Rand's Atlas Shrugged doesn't really exist.  People will not go off in their own self-interest and by everyone pursuing their own greed create a better society.  What does happen is greed exponentially grows to a point of circus like spectacles and finally implodes with epic consequences.
There is now talk of new bailout version 5.0 for home buyers with loan modifications.  Senator John McCain came out earlier with the most absurd idea of buying up $300 billion in loans at face value.  This was the dumbest knee jerk response ever.  This will never work and was a political move for someone so behind on every issue of the economy.  Why is this so absurd?  It completely allows lenders to walk off unpunished and forces the government to pickup the pieces with the borrower.  After all, the math looks like this:
Lender:  $500,000 note
Borrower:  $500,000 mortgage
Lender to Government:  $500,000 note
Borrower:  $500,000 mortgage
The only one that benefits is the lender.  The borrower still has that face value mortgage.  If we are to rework the note it will come 100% at the taxpayers' expense.  If an idea like this went through all the above pay option ARMs will be launched onto the taxpayers books and who is going to oversee that ethics are taken care of here?  The same folks that clearly had no discipline or ethics in the first place?  Frankly, I'm glad that the majority of the population is seeing through the crony capitalistic model.  They may not be completely comfortable with a new paradigm but certainly this current model is flawed to the nth degree.  This tsunami is coming no matter what.  The important thing is who is in place to oversee the process.  This has the potential of sinking the entire economy for a decade.
Did You Enjoy The Post? Subscribe to Dr. Housing Bubble's Blog to get updated housing commentary, analysis, and information.