L.A. is the most unaffordable housing market in the entire country.  Beyond the pretense that everyone is rich and has money stashed in their backyards being guarded by Chihuahuas with cubic zirconia necklaces, most in California are living deep in debt.  Those buying homes today are either investors, wealthy foreigners, or locals leveraging to the max for that wonderful crap shack.  What makes the LA/OC market the most unaffordable is that wages flat out do not justify current home prices.  Since LA is a majority renter county, it is important to look at dynamics in this group.  One study from UCLA found that LA renters devote nearly 50 percent of their income to rent.  Taco Tuesday isn't only a baby boomer mainstay, it is a necessity to pay the rent.  The disconnect only got more profound over the last two years.  Housing prices in the LA/OC area went up by 28 percent while wages went up by 2 percent.  Thanks to maximum leverage loans, big investor demand, and low interest rates, people can buy a $700,000 crap shack and pretend they are truly rolling deep in cash.  All the data coming out is showing that many are flat out pretending and living paycheck to paycheck, even with expensive budgets.
The big disconnect between wages and home prices  
It is good to see more people seeing the disconnect for what it truly is.  All we are seeing is more money being siphoned off into the housing industry.  The amount of justification now coming out for crap shacks is at levels last seen in 2006 and 2007.  Just take a look at the glorious deals you can have and be our guest and plunk down $700,000 for a box that needs major remodeling and lock yourself into 30 years of mortgage payments.
The LA/OC market isn't the only one seeing this dramatic disconnect.  The San Francisco market which is even more bananas than SoCal saw even a larger disconnect.  Take a look at wage changes versus home price changes over the last two years: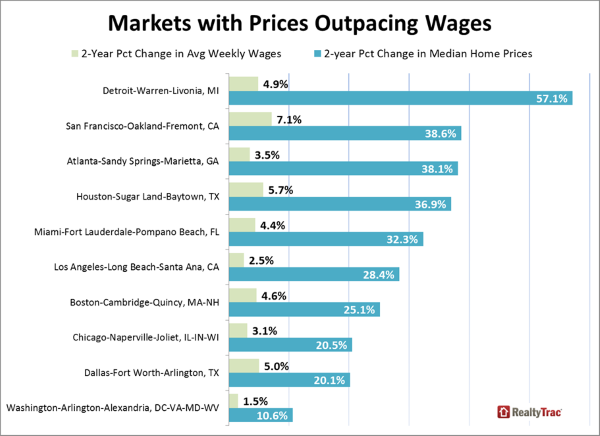 This isn't happening only in wealthy areas.  In fact, Detroit where homes can be bought for $500 saw prices go up by 57 percent while wages went up 4 percent in the last 2 years.  This is being heavily driven by investors (as many other areas in the chart above).  San Francisco home prices went up a stunning 37 percent from already very high levels while wages went up by 7 percent.  In always sunny LA/OC, prices went up 28 percent while wages went up a "whopping" 2 percent.  And then we are surprised that we are seeing rental Armageddon like scenarios.
Because of the high cost of living and many Californians living in sardine like conditions, we have a very high level of poverty: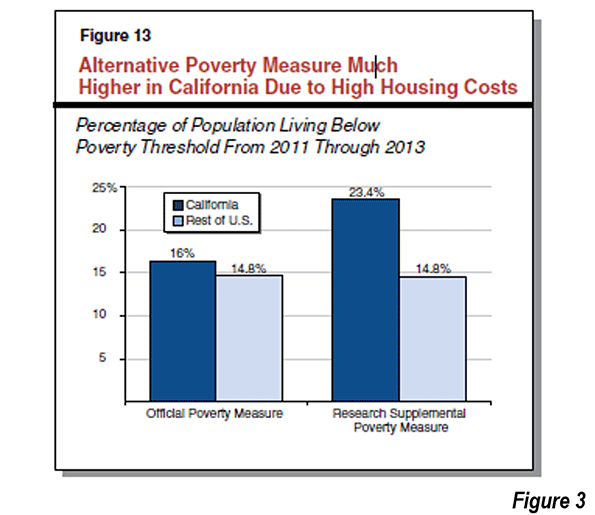 Bubbles occur when prices rise because of irrational behavior.  Many people buying in the LA/OC area are buying with the underlying notion that prices will only continue to go up.  They are buying their ugly crap shack in hopes they can build some equity and move into their semi-ugly crap shack and then finally into their dream property ladder property.  This idea that people buy and stay put is nonsense, at least when looking at data.  The fact that we have gained so many more renter households in California is merely a testament to people being unable to afford homes, even with low down payment loans hitting the market.
Sales volume continues to be very low.  You have many baby boomers seeing their adult kids moving back home since they can't compete in the current housing market.  At least they can pop down to the corner vegan market and enjoy a good salad together and then head back to their crap shack.  Again, when you look at the detailed data on the Torrance housing block you find that most people bought at reasonable prices compared to incomes at the time.  In fact, virtually the entire neighborhood would be priced out if they had to buy today.  I've seen this in Pasadena, Huntington Beach, and Culver City where one older neighbor is walking into the house with 99 Cents Store only shopping bags and Wal-Mart bags while another is pulling into their new purchase with Whole Paychecks bags and a leased Tesla plus the gift of paying 10 times more in property taxes just because they were born at the wrong time.  It is funny how the anti-legislation crowd is more than happy to keep Prop 13 legislation as long as it benefits them directly.  It is also the irony of San Francisco that in the 60s and 70s the city saw a young and largely poor artist crowd move in giving the city its vibe.  Now NIMBYism is in full effect and even the middle class is being pushed out.  Good luck being a regular artist in San Francisco and paying $4,000 a month for a studio full of roaches.  Even highly paid tech workers are renting.
The market right now is running on fumes and extremely low sales volume is a reflection of the chart above.  That is, wages just can't support current home prices without massive mortgage debt.  The investor crowd pulling back is having a big impact.  Then again having a taco truck and vegan store on the same corner is the LA/OC way.  But paying $700,000 for a crap shack is different from buying a $5 fusion taco.

Did You Enjoy The Post? Subscribe to Dr. Housing Bubble's Blog to get updated housing commentary, analysis, and information.