The high cost of housing has bigger consequences than simply seeing $700,000 crap shacks littering the landscape.  People are spending large portions of their money on rents and also mortgage payments.  Los Angeles leads the way in both of these categories.  The typical renter in Los Angeles spends nearly 50 percent of their income on paying the rent.  We are number one in this category.  The typical home buyer is spending roughly 40 percent of their income on mortgage payments.  We are in the top 3 in this category (San Francisco leads the way).  Of course many people can't keep up.  Alternatives include the 2.3 million adults living at home with parents.  The other option is leaving the state to places like Texas.  And for others, you simply fall through the gentrification cracks.  Los Angeles leads the nation with the highest homeless population.  The problem is only getting worse.  Since 2013 as home values went up, the sheer number of people living on the streets has increased by 10 percent.  The mayor even declared a state of emergency and announced a $100 million plan for dealing with the problem.  That is a drop in the bucket unfortunately.  The housing crisis has wider problems than merely overpriced stucco boxes.
The homeless population in Los Angeles
Many people think of the homeless in Los Angeles as being confined merely to Skid Row.  Skid Row is the designated area in Downtown Los Angeles populated by many homeless residents.  However, there is now growing homeless populations in Venice, Studio City, Highland Park, and Santa Monica.  The challenge of course is the reality that rents are outpacing any real income gains.
There is some interesting data to look at.  For example, in the 1960s on Skid Row there were 10,000 affordable housing units, SROs (single-room occupancy hotels).  By the 1980s there were only 6,700 units.  Today, there is only 3,600 SRO units.  Part of this has come with the gentrifying of Downtown Los Angeles.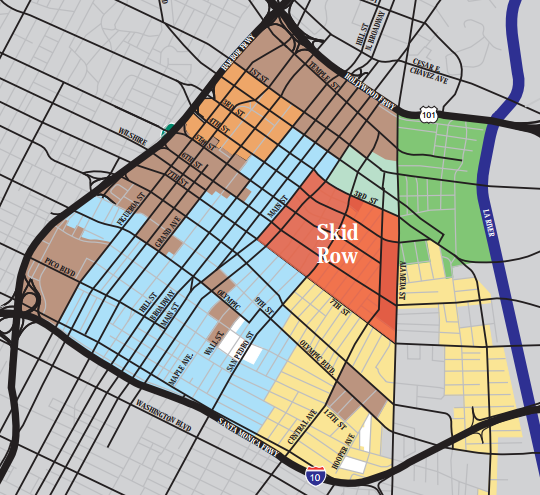 Skid Row is made up of 50 city blocks or 0.4 square miles.  The area is east of the Downtown Historic Core and the high-rise district of Bunker Hill.  But this is only one part of where the homeless problem is hitting.  Take a look at Studio City:
"(Studio City Patch) Studio City is a lovely community. I have been a resident of Studio City for 20 years. The neighborhood has changed quite a bit with construction always going on but the city remains a community.

The homeless residents of Studio City are on the rise. Many of the people have had bad luck with the unstable economy. Others are common homeless people we have all seen.

The important thing to remember is they are still human beings. We can close our eyes and ignore the problem or we can be kind and open our hearts somehow.

It has been brought to my attention a homeless man was evicted from his Studio City rental home of 19 years. The city took possession of his belongings and he now walks around with a cart trying to survive each day."
According to Zillow, the typical home price for Studio City is $849,250.  The big challenge of course is coming from rising rents: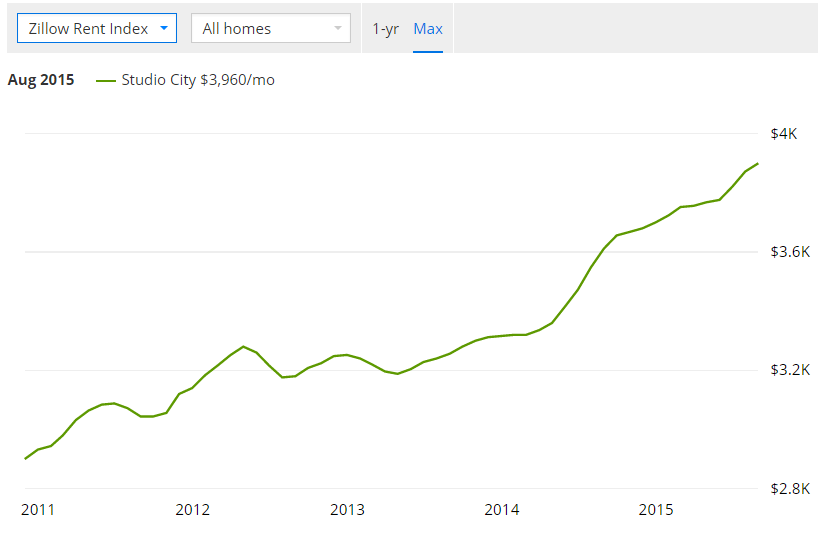 In the last four years alone, rents are up 30 percent in Studio City.  How are people affording this?  Well the answer is that Angelinos spend the largest amount of income on rentals.  It would be one thing if incomes were keeping up with rent increases but they are not.  Some say "well something has to give" but that is already happening.  We've been highlighting the changes over many years:
-People doubling and tripling up living like sardines

-Adults moving back home with mom and dad (2.3 million and growing)

-People are leaving the state to cheaper places like Texas for over a decade

-Wealthy foreigners are buying up large amounts of property in highly desirable areas (i.e., San Marino, San Francisco, etc)

-People are spending a larger amount of their net stagnant income on rents and mortgage payments

-Low interest rates keep home values artificially high

-People are on the edge obviously with the homeless population now reaching a record

-Tech/stock money boosting prices (we've been on a 6-year bull run – although 2015 is slowing down)
In sharp contrast, you have other folks renting out gorgeous homes for rent and turning them into party locations:
"(Beverly Press) A neighbor's house near Sandy Martin's home on Mulholland Drive turned into a veritable gambling casino for more than three months. People arrived late, played into the early morning and there was full "military security," she said.

They brought hookers, who were very nice, and they would leave in the morning by limo," Martin said. "But the noise at the house at night is too loud. They open up all the doors and everyone can hear it. I don't care if they have a party, but if it's after 11 p.m. or midnight, they wake me up with the noise."

"They're running a business in the neighborhood — this is a business," she said. "My neighbor gets $15,000 or $20,000 a week. Does he pay taxes [on that]? What does he do with the money? He's making a business."
This is the end result of squeezing out of the middle class for the state.  Welcome to the new face of SoCal housing.

Did You Enjoy The Post? Subscribe to Dr. Housing Bubble's Blog to get updated housing commentary, analysis, and information.