I've talked about the reality that many native Californians have been leaving the state in droves over the past decade.  Many are moving to lower cost areas much to the dismay of locals in places like Texas.  The California effect has impacted many areas in the Southwest driving real estate prices higher.  An interesting article popped up in my feed this week about the top 20 areas where Americans are ditching.  No surprise, the Los Angeles metro area is right on the list.  Reasons for people leaving the area?  Ridiculous housing prices and people not wanting to live like sardines and pretend they are living the highlife.  The poser crap shack buyers are somehow deluding themselves thinking that all of this is sustainable and good for the economy but all it does is recreates a favela like atmosphere.  The LA/OC area is already the most expensive in the nation relative to incomes and home prices.  You would think San Francisco and New York would lead the list but people in those areas actually make higher incomes overall.  Let us take a look at this trend more deeply.
The moving chess pieces of American cities
The trend is simple to understand.  Locals can't afford housing prices and are moving in with mom and dad or leaving the area.  Home sales go to wealthier foreigners:
"(Bloomberg) Interestingly, these are also the cities with some of the highest net inflows of people from outside the country. That gives many of these cities a steadily growing population, despite the net exodus of people moving within the U.S.

So what's going on here? Michael Stoll, a professor of public policy and urban planning at the University of California Los Angeles, has an idea. Soaring home prices are pushing local residents out and scaring away potential new ones from other parts of the country, he said. (Everyone knows how unaffordable the Manhattan area has become.)"
Here is the map: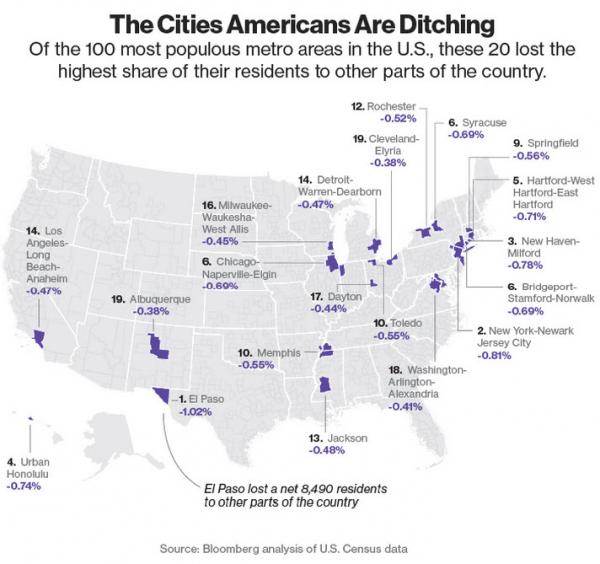 Of course the crap shack cheerleaders see this as a positive while people vote with their feet and money.  Many are renting.  Many are leaving.  And some are super-leveraging into these properties.  The foreign money arrives in certain markets but not all.  We've talked about this before but people are picking up on this:
"And as Americans leave, people from abroad move in to these bustling cities to fill the vacant low-skilled jobs. They are able to do so by living in what Stoll calls "creative housing arrangements" in which they pack six to eight individuals, or two to four families, into one apartment or home. It's an arrangement that most Americans just aren't willing to pursue, and even many immigrants decide it's not for them as time goes by, he said."
I love how people just assume that sardine living is what "others" will do so therefore, demand will always be there.  Americans are not buying this.  Texas has been a big recipient of Californians heading out.  Look at this chart: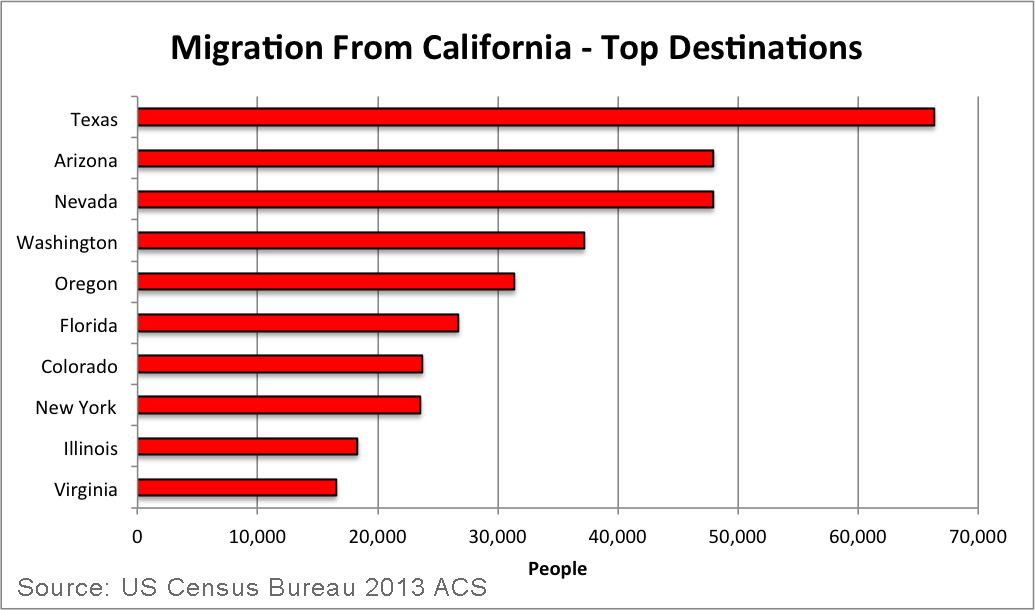 The big driving factor of course is housing.  What is interesting is that since the housing bubble imploded in epic fashion, the drive up in prices has come because of investors and foreign money.  All of this on the back of thin sales volume.  California has shifted into rental Armageddon mode where household formation is happening in the rental category while the homeownership rate declines.
Some think the American Dream is to live in some overpriced crap shack and chop away for 30 years on a Great Depression built home.  But this is a minority view and many are simply leaving.  Why earn a low wage in California when you can earn a low wage in Texas and possibly own a home?  I'm sure this is the logic running through the hundreds of thousands that have left.  When we said the middle class is disappearing in California we meant this literally.
SoCal is now one of the top 3 areas of the country where current residents are foreign born: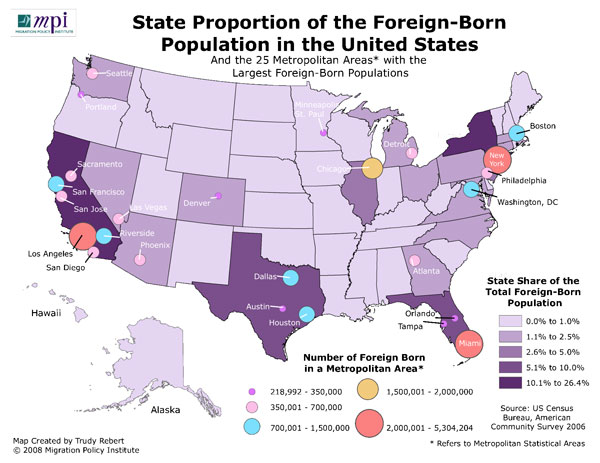 And many of the recent buyers have come from China.  And this nonsense that households in L.A. make giant sums of money.  The median household income is $55,909 for the county.  How many households make more than $100,000?  Let us take a look:
$100k to $149k (13.6%) – not enough for a crap shack
$150k to $199k (5.9%) – enough for a crap shack
$200k or more (6.6%) – does this crowd want to live in a piece of junk home?
So in reality about 12.5 percent of households can afford a crap shack and keep in mind many of these households already own (and many are welcoming back those lower wage children back home).  So your pool of potential buyers is tiny.  This is why sales have gone stagnant after the investor crowd pulled back.  The big push now is coming from foreign money and highly leveraged households.  As things slow, inventory starts to build up.
It should be no surprise that the L.A. metro area is one of the top areas Americans are ditching.

Did You Enjoy The Post? Subscribe to Dr. Housing Bubble's Blog to get updated housing commentary, analysis, and information.