Well that wasn't a good way to start the week.  The S&P 500 fell a stunning 6.66% (no need to read anything further into that) and global markets seem to be back into panic mode.  It seems like people are realizing that the Federal Reserve and their mortgage buying spree was simply a way to protect the too big to fail banks.  What use is a record low interest rate if your paycheck is shrinking or no jobs are to be found?  Certainly there are very few new career opportunities to justify home values in many bubble locations.  What is happening today is merely a realization of the obvious; the large bailouts were simply a redistribution of wealth to protect the crony banks that were heavily invested in the real estate market.  That game is largely over and many painful years later more and more people are gaining consciousness regarding this mess and how it was mishandled.  The crushing losses in the stock market will hit heavily in states like California where a large portion of the tax base is directly connected to capital gains.  Do you think the recent stock action is going to add to the tax base?
The demographic nightmare
Half of the state home owners in California, roughly 7 million are aging baby boomers.  The bulk of home sales in the last decade did come from this group or people that are older: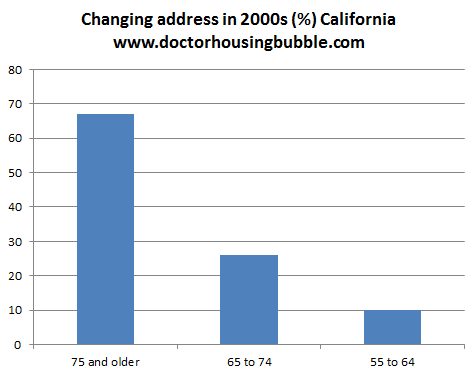 Source:  Census

67 percent of those 75 and older changed addresses in the last decade, 26 percent of those 65 to 74 changed addresses, and finally 10 percent of those 55 to 64 changed addresses from 2000.  This is important to note because in a state like California with a housing bubble still going, you have a wealthier older generation now selling to a generation that has a lower standard of living.  Banks can play charades and hide inventory in balance sheet trickery but there is nothing that can reverse the aging of this nation.  And many baby boomers are still expecting top dollar for their inflated real estate.  Who will they sell to?  One another?  A younger and poorer generation?  The math simply does not compute.  The Fed would like to entice more suckers into the game by artificially slamming mortgage rates to record lows: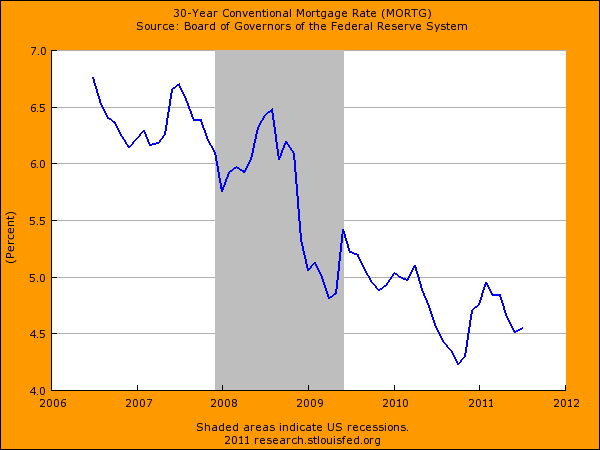 Ironically most of the activity has come from people refinancing their mortgages which are as a group financially doing better than most.  Ultimately the only underlying force that will reverse the market is if the economy reverses and people begin earning higher household incomes.  So far we have seen no evidence of this.  With the stock market imploding like it did back in 2008 and early 2009, do you think incomes are slated to go up anytime soon?  And the shadow inventory is still extremely large: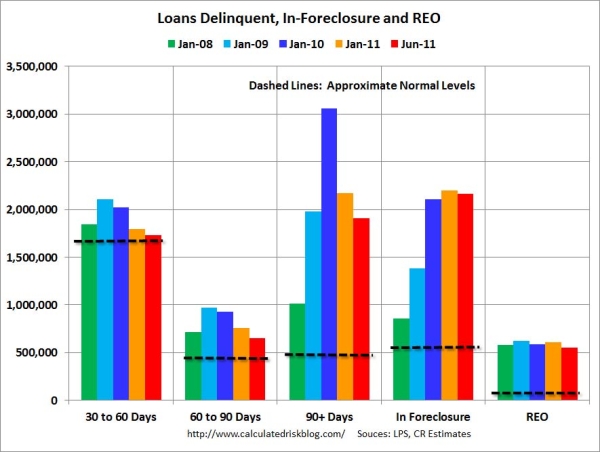 Source:  Calculated Risk
This is one of the most telling charts.  You have close to 500,000 homes that are bank owned in the shadow inventory.  But you have another 5,500,000+ in the delinquency pipeline.  Most of these will be a drag on prices and with demographics shifting, this is not going to be good for prices.  Plus, all those boomers and their 401ks will be selling into a market with less money so who will buy all those portfolio liquidations?  I have found no argument that convinces me of rising home prices at least for the next five years.
The pangs of unemployment
What is even more troubling is the length of unemployment: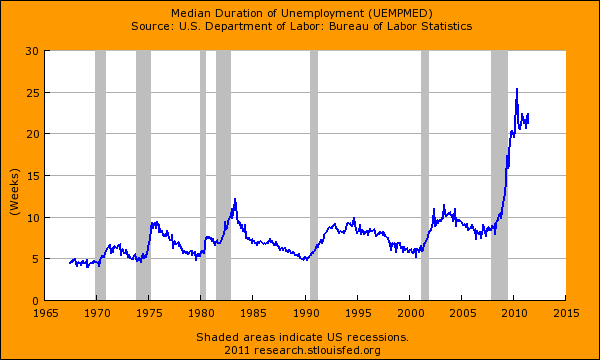 This is by far the worst economic crisis since the Great Depression.  The only reason GDP was up and we were technically out of recession is because of trillions of dollars flung at the banking sector.  Yet the real economy is in shambles and contracting severely.  Many Americans need only look at their balance sheet to see how things are going.  I saw this headline today: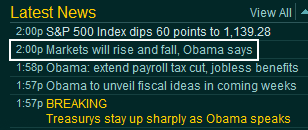 Shortly after this, the market resumed tanking.  It reminded me of this SNL clip: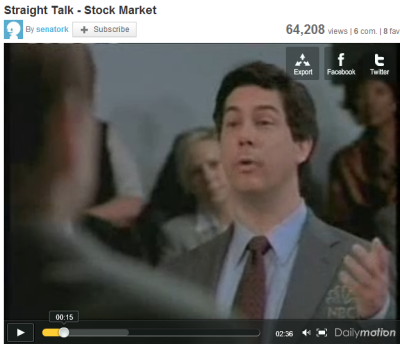 Source:  Daily Motion
The market goes up, and the market goes down, but in the end the market goes up.  You need to justify the price of a good and not have this belief of permanent growth economics.  This problem is many decades in the making.  You have a new generation that is very likely to be less well off than the large baby boomer generation that benefitted from the world destruction of World War II and the U.S. being the largest player on the block.  The Great Depression saw radical shifts in how business was conducted.  There was a public realization and action taken against the big banks.  Today, we get the worst of both worlds.  We have bigger banks stealing from the public and no actual reform.  The crash is still here and if you have no job which millions don't, then the stock market is merely a fantasy casino.
The stock market is now merely catching up to the trend in real estate: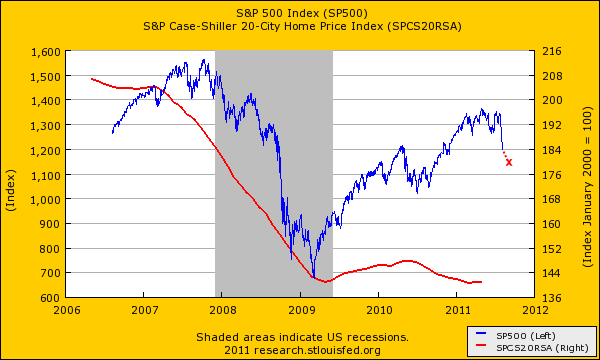 Our current financial system is too obsessed with investment banking and real estate.  That is the core of the issue here.  In fact, our central bank with the Federal Reserve basically enacted a trillion dollar plus action to buy up mortgage backed securities that had little to no demand in the real world markets.  This was going to be temporary until it wasn't.  Instead of allowing for a massive reformation of the banking sector, resurrecting Glass-Steagall, and clamping down on rampant speculative greed and graft we swallowed it up into our national economy.  Is it a shock that our credit has been downgraded?  We basically co-signed a loan with our gambling cousin Tommy and he is heading out on the next flight to Brazil.  Who will pay the bill?

Did You Enjoy The Post? Subscribe to Dr. Housing Bubble's Blog to get updated housing commentary, analysis, and information.