The infamous shadow inventory is still very much with us.  It is this distressed mass of inventory that is destined to create a massive drag on the economy for years to come.  As we saw this week the revised GDP figures were weaker than expected.  As stimulus funds are drawn out of the system the economy is quickly showing that it is unable to stand on its own two feet.  The only reason banks appear on the surface to be better off is the suspension of mark-to-market and other financial gimmicks. Although banks are working through troubled inventory they are trying to do it in a controlled fashion that essentially only helps their own bottom line.  Yet the housing market is still faltering and shadow inventory is still near peak levels.  We have interesting new data showing that the shadow inventory problem has not improved and is likely to cause problems for many years to come.
The shadow inventory landscape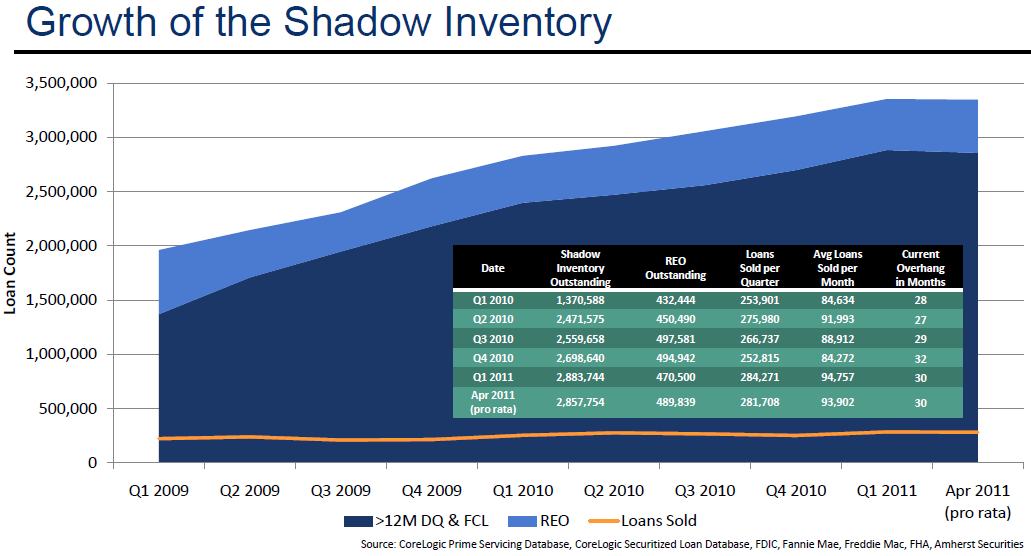 Source:  The Atlantic, Amherst Securities
This chart is both troubling and illuminating.  Laurie Goodman from Amherst Securities has tracked the housing market for years and has provided excellent data on the shadow inventory issue.  As the chart clearly shows not only has shadow inventory grown, we now have 3.35 million homes in this category.  It is worth spending some time explaining the chart above because it gives us a good sense of what is happening in the market:
Dark blue:  loans that are 12 months past due and foreclosures

Light blue:  REO (bank owned homes – foreclosure process completed)

Yellow line:  Loans sold each month
What was found in the data was that since January of 2009 the shadow inventory has increased on average by 60,000 per month.  The liquidations of 90,000 per month have done very little in making this pool to go down.  What this tells us is that banks are willing to sacrifice the economy over the next decade to leak this inventory out to market.  Keep in mind the banking system has the full attention of the Federal Reserve by buying up mortgage backed securities and trying to keep mortgage rates artificially low.  We also have the government purchasing up loans with programs like those with FHA insured loans that simply keep the market inflated.
The best solution for the economy would be to move property on a significant level even if it meant home prices additionally fall.  The big losers of course would be the banks and given that the financial sector carries heavyweight in this country, that is unlikely to happen.  I heard a politician this weekend say, "if you run up debt, it is your obligation to pay it down and stick with your commitments."  The caveat of course is exempt from the banks.
The solution is to let home prices fall and reach a natural bottom
Basic economics would tell you that if supply is increasing too much then you may want to look at price to move inventory and create more demand.  The market is desperately trying to find lower prices.  It is the banking system and the government that ironically tries keeping home prices inflated even though many American families cannot afford to purchase homes with their current incomes.  The only benefit of low mortgage rates and low down payment mortgages is that it allows banks to continue the game of keeping their balance sheets comfortably inflated.  This does nothing for the overall economy except continue a charade that is clearly cracking.  This is why shadow inventory is still near a peak even though we keep hearing that everything is fine.  If you look at home prices versus new homes for sale you realize that the market is looking for cheaper properties: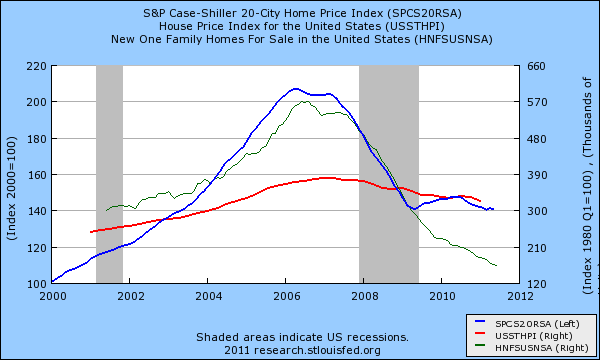 The above chart shows the drop of home values yet also shows that new homes that carry higher prices has also shrunk in terms of inventory.  People can only afford so much.  The market would be able to filter some of the problems out if prices were allowed to correct further.  Yet the market we currently have is really a large benefit to investment banks and the government with a smaller impact on the rest of Americans.  At this point the banks and government are largely fused into one.  The typical American is simply squeezed in the middle.  Home prices are still too high for their largely stagnant incomes.  They are cajoled into taking on larger and larger mortgages simply because mortgage rates are artificially low.  We have the lowest mortgage rates in history even though we are facing debt default!  Try explaining that.
The report also found that we will need to create an additional housing demand of 3.6 to 5.7 million units over the next 6 years if we are to remotely begin solving the shadow inventory crisis.  People are willing to buy if the price is right and that is why even low mortgage rates are not enough of an enticement to lull buyers into the fold.  Keep in mind we also have regional bubbles in areas like California where home prices are still radically out of line with local area incomes.  Inventory on the surface looks to be falling yet shadow inventory is still high:
Non-distressed homes for sale:                                172,000

Bank owned (REO):                                        73,000

Auction + notice of default:                        136,000
This is the problem.  So even if you clear out the current inventory you still have a pipeline of distressed property that will come online soon.  If it doesn't, it simply is added to the already staggering shadow inventory figure. Now last month some 38,000 homes were sold in the state of California.  Now this might sound good but look at this figure:
First half of 2011 foreclosure filings California:    263,500 (average 43,916 new filings per month)
This is exactly why the shadow inventory keeps moving up while the public property data seems to be going lower.  Banks are simply hiding the shadow inventory and hoping the government keeps bailing out the banking system while letting the overall economy sink.

Did You Enjoy The Post? Subscribe to Dr. Housing Bubble's Blog to get updated housing commentary, analysis, and information.