What if I told you that you could have a $600,000 mortgage for a monthly payment of $1,700?  Sounds like a great deal right?  Of course the only way to get this kind of action is by going into the "exotic" mortgage options that everyone once thought were put to rest.  I was going through some of my mail and noticed a surge in the last year of offers for creative mortgages and credit card offers.  The volume is close to what it was in 2005 and 2006.  I'm thinking that the difference this time is that the insane offers are now only going to those with decent credit as opposed to every person in the virtual phonebook.  One flyer caught my attention regarding interest only mortgages.  Interest only?  I thought these were done.  So I decided to run a scenario for an $800,000 home purchase with $200,000 down (25 percent).  What I found was interesting and also highlights how some people are assuming a big down payment is somehow the immunity from risky moves.
The interest only loan is back!
The interest only loan has slowly crept back into the market over the last few years.  A few years ago, only a few players were offering this loan with large down payments (30 and 40 percent as a minimum).  Today you can have it for 20 percent.  Check out the numbers that I ran for a $600,000 mortgage on a home with a price tag of $800,000:

Not a bad deal!  Sure, for the best rate you'll need to pony up $18,056 in closing fees but check out that ridiculously low monthly payment.  Astute readers have pointed out many times that when it comes to housing, the only thing that matters is the monthly payment.  Let us set aside that we are paying $800,000 for a home.  I've missed these loans because they really highlight the manic mentality of our current housing market.  When someone goes into an interest only loan like this they are making a bet that housing prices will be rising in the future.  For those that make the minimum payment, they are definitely making this bet because after 10 years, you still have a $600,000 mortgage to pay off.  If you do this and home prices stall, you are basically renting.  After 10 years you can sell and take out your down payment but you need to factor opportunity costs lost from that $200,000 not being put to work elsewhere.
There is no guarantee on anything in life as we all know.  Heck, 10 years ago housing bubble 1.0 was merely in its embryonic stage.  What has happened since then?  A roller coaster ride of ups and downs.  We are now back in full manic mode especially in California, where these loans are likely being used: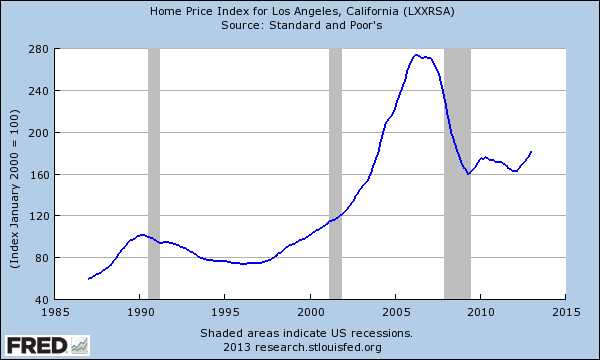 Home prices are back to where they were in 2004 (nearly a lost decade).  So taking on a 10 year interest only loan on an $800,000 home is a big deal.  Keep in mind that going back for a half a century the average mortgage rate was around 7 to 8 percent.  Let us assume that rates in 2023 go up to 6 percent and your only option is to refinance into a conventional 30 year fixed rate mortgage.  What does the payment look like?
30 year fixed rate mortgage ($600,000) at 6%:                     $3,597
That is a big difference from the $1,687 in the 10 year interest only option.  Also, don't forget that you have taxes, insurance, maintenance, and all the other typical costs of owning a home.  For an $800,000 home we are looking at an additional $800 to $1500 a month depending on where the home is located.  So even with the interest only loan, we are looking at a monthly payment of $2500 to $3200.
Yet this kind of loan helps to explain some of the irrationality occurring with some buyers.  Keep in mind that very few actually have this amount of a down payment.  The all cash buyers of today are investors (buying up 34 percent of SoCal properties).  Given the smaller and smaller number of American families that are able to keep up, don't be surprised if that mortgage deduction isn't curtailed at some point (especially with broke states hungry for money).  I can certainly see it being capped at $500,000 or $750,000 – probably less given the median home price in the US is less than $200,000.
It is interesting to see the interest only option now making a strong comeback in the market.  Just because you put a large down payment doesn't mean you are safe.  This reminds me of a beagle burying bones in an area prone to sinkholes.  A large down payment only means you were able to save for a very long time.  Once you plow it into a home of this price and going with an interest only loan, you are making a big bet on the future.  I was off when I said most ordinary people were off limits from the maximum leverage being provided by the Fed.  Apparently with a 20 percent down payment, you can get some of the action as well.

Did You Enjoy The Post? Subscribe to Dr. Housing Bubble's Blog to get updated housing commentary, analysis, and information.