Real estate cycles turn as slowly as a massive cruise ship.  Unlike the stock market where a stock like Facebook can fall 20 percent overnight, real estate tends to boom and bust at a much slower rate.  There is an odd logic to the current market.  "We bought a few years ago and look how late to the game you are!"  Then when asked if some would buy today, "no, but it can only go up!"  Coming from an investor mindset, if housing values are priced in a good range you should buy, just like you would buy an undervalued stock.  When you are spending $1 million on a crap shack, you need to do some serious due diligence.  It is odd that house humpers always use the "but you can't treat your home like an investment" line and then talk about how reasonable it is to pay for an absurd amount for a property in a subpar neighborhood with underperforming schools. Then they compare real estate to stocks!  Of course it was a matter of time where the market would hit a bump and here we are.  Even Robert Shiller hints at this being a turning point.
As the market turns
In the last year, the absurdity of the market came full circle.  Home values in some areas were going up $50,000 to $100,000 a year.  Why work when you can simply live off equity gains?  But here in SoCal, where people live a Hollywood debt fueled lifestyle the homeownership rate hit a generational low and this is from recent data:
You want to own?   You need to pay an absurd price for a crap shack.  And this is happening in many large metro areas but things are changing:
"(Bloomberg) They were fed up with Seattle's home bidding wars. They were only in their late 20s but had already lost two battles and were ready to renew with their landlord. Then, in May, their agent called.

Suddenly, Redfin's Shoshana Godwin told the couple, sellers were getting jumpy, even here in the hottest of markets. Homes that should have vanished in days were sitting on the market for weeks. There was a three-bedroom fixer-upper just north of the city going for $550,000, down from more than $600,000. They made the leap in early June and had closed by the end of the month, for list price.

The U.S. housing market — particularly in cutthroat areas like Seattle, Silicon Valley and Austin, Texas — appears to be headed for the broadest slowdown in years. Buyers are getting squeezed by rising mortgage rates and by prices climbing about twice as fast as incomes, and there's only so far they can stretch."
This story is playing out nationwide as a few things are hitting at the same time.  Inventory is slowly rising, mortgage rates are having an impact, and people are seeing price gains slowing so why rush?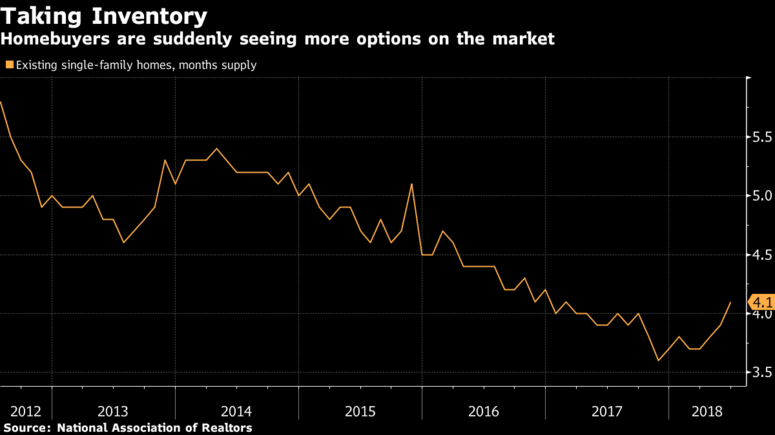 This is the first time in many years where there does seem to a broad base of inventory increasing.  And there are deep generational differences in this cohort.  I know of many people with very high incomes and no kids and with no plans of having kids.  They largely travel and spend a large portion of their time at work or traveling.  Why would they buy a crap shack?  Others buy and totally miss the budget mark.  They have kids, don't realize that childcare in places like LA or OC will cost you somewhere between $1500 and $2000 per month and then as the kids get older, they think they have to compete with their debt saddled budgets simply to throw expensive parties with jump houses, catering, clowns, and all other sorts of things just to feel they are making up time because they are strapped to their cubicle for 40 to 60 hours per week to pay for the massive mortgage, multiple car loans, daycare, and other expenses.  And college!  Good luck with that race.
The housing market has been running on fumes and has been in the tailwind of an incredible stock market recovery.  People would like to buy but simply do not have the budget to do so.  You are also seeing foreign money soften up a bit as the current administration has been tough on China.  Is this good or bad is yet to be seen but in places like San Francisco, Arcadia, and Irvine you have an entire cottage industry catering to Chinese money to buy real estate.
The market is slowing down.  The question yet to be seen is whether this will be a minor correction or an actual bust. We've clearly been in a boom.  What comes next?

Did You Enjoy The Post? Subscribe to Dr. Housing Bubble's Blog to get updated housing commentary, analysis, and information.