Last week I was driving throughout the Inland Empire and one thing becomes rather apparent.  There is a ton of building out in the Inland Empire – this applies to work on freeways, new housing communities, and new commercial development.  Also, traffic is a nightmare.  Westside traffic is also horrendous.  There are many people that make the commuting odyssey each day from the Inland Empire into L.A. or O.C. and that commute is only going to get worse from what I was seeing.  I was also in the Bay Area recently and prices there defy gravity.  In the Inland Empire you can get a McMansion while in the Bay Area you will get a crap shack for one million dollars if you are lucky.  It really boils down to a lack of housing inventory and uncertainty that has made builders anxious since the housing bubble is fresh in their collective memories.  But alas, the public is drawn to housing like moths to the light.  Being stuck in mind crushing traffic for a brief period only highlights that people are willing to sacrifice quality of life for a piece of the American Dream.
Housing inventory, where art thou?
Home prices have been moving steadily up for a few years now and typically when prices start moving up and inventory is tight, builders get building even if this means converting apartments into condos in areas where NIMBYism rules the day.  That is simply not the case this time around (not in mass and only now does it seem like building is accelerating).  Builders look at demographics and realize that renting is going to be the bigger trend moving forward.
And this is apparent when you look at existing housing inventory: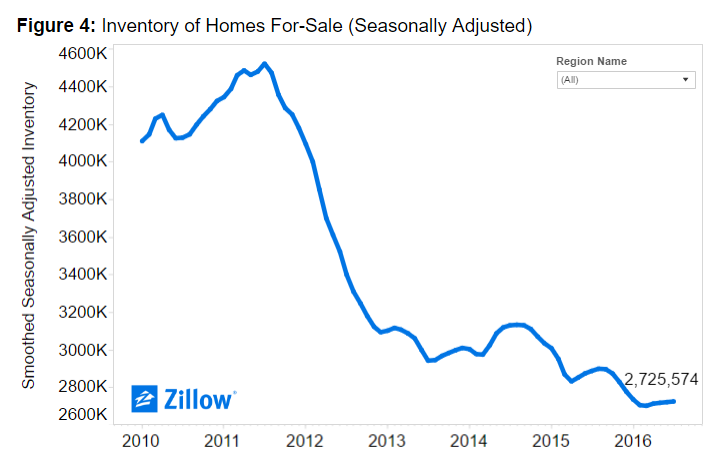 Back in the summer of 2011 there were 4.5 million homes for sale.  Today it is down to 2.7 million.  That is a big drop in available inventory.  It also helps to explain why people are desperate to spend ridiculous amounts of money on a crap shack.
Say you buy a $700,000 crap shack with 10 percent down.  You take out a $630,000 mortgage at 3.5 percent.  The true cost of the home is going to be $1,018,433.  In other words, even when housing cheerleaders house hump the low mortgage rate, you are still paying $1 million dollars for a piece of junk over a 30 year note.
Okay, but maybe you have an eye for deals.  Look at this place in Oakland:
2682 Parker Ave, Oakland, CA 94605
"Great opportunity for first home buyer and investor.2 beds/1 bath main house & Studio w/full bath.Updated kitchen w/granite counter & SS appliances.Remodeled both baths w/tile and inlaid Mosaic.Laminate floors throughout,Dual pane windows,new fixtures,fresh paint.Nice deck for relaxing.Long driveway."
Okay.  So you can be a homeowner and investor in one shot here.  And this is all yours for $400,000.  The main pad is 2 beds, 1bath and the studio has a full bath.  The property is listed at 998 square feet so you can imagine that the studio is small.  You are also close to a zoo so there you go!  This is a Bay Area flip.  Look at the price history: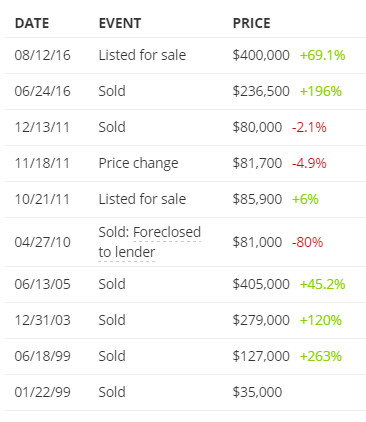 It sold for $80,000 back in 2011!  Then in June of this year, someone paid $236,500.  Some HGTV house porn later, the property is now "worth" $400,000.  Yeah, low interest rates and rental trends explain this kind of behavior away.  No, what is going on is house horny action and manic like pricing behavior.  Say a minor recession hits.  You think collecting rents is going to be easy?
Another Bay Area company, Google lets us get a more realistic view:

Yup.  Good deal.  Keep on drinking the Kool-Aid.

Did You Enjoy The Post? Subscribe to Dr. Housing Bubble's Blog to get updated housing commentary, analysis, and information.