Bless our real estate addicted society.  You would think that a housing crash unlike anything seen since the Great Depression would teach us some lessons.  It has been two years since the recession started and a decade long housing bubble.  The first thing you would probably remove from the market is the toxic mortgage sector.  Somehow in the mind of the politicos and Wall Street, the idea of allowing low down payment mortgages is still part of the turbo capitalist psyche.  Recent data from FHA loans is abysmal.  In fact, we are seeing subprime like trends.  Recent data is suggesting that it is only a matter of time before the FHA goes to the American people for a bailout.
What is troubling is that instead of stopping the problem, lenders are ramping up their FHA backed loans since banks are hoarding money like packrats.  On Thursday Edward Pinto, a financial services consultant and also a former chief credit officer of Fannie Mae (1987 – 1989) gave testimony to the U.S. House of Representative Housing and Community Opportunity Subcommittee.  So Mr. Pinto must know something about credit risk.  The first chart presented is absolutely astounding: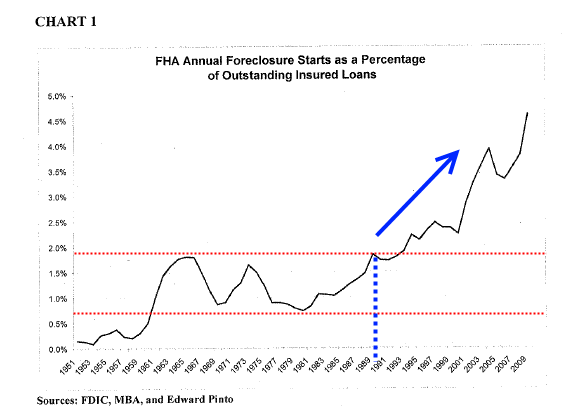 From 1951 to about 1990, FHA annual foreclosure starts stayed below 2 percent.  The range was tight.  However, from 1990 to our current bust the FHA annual foreclosure rate has doubled and shows no signs of stopping.  You would think that with Alt-A loans and option ARMs we realized how bad it was to give people loans with little or no money down or having Warren Buffet as a co-signer when you work at Wal-Mart.  Precaution unfortunately is not being taken.  In fact, the government is basically stepping in to make up for the lack of toxic mortgage lenders instead of creating a more stable mortgage system.
Both the FHA and Veterans Administration now make up over 90% of all high loan to value mortgages.  The vast majority of these loans have LTV over 96% which is smart if you enjoy driving off economic cliffs.  Keep in mind that the government is now insuring loans even though the housing market has not stabilized.  In the report issued on Thursday another risk highlighted was the ability for people to use the $8,000 tax credit and apply that to the downpayment requirement.  So you have one government program screwing with another.  Think of someone buying a $200,000 home.  For a FHA loan, you would only need roughly 5 percent for a downpayment, or $10,000.  Use the tax credit and you are buying a home for one month of rent!  Can you say zero down?
FHA is basically eating up the slack from imploded toxic mortgage lenders.  FHA insured loans are now up four times in volume from their 2006 pace.  They will constitute some 10% of all outstanding loans by the end of the year.  And in some areas, these new low money down loans are making up a big chunk of new sales:
"(DQ News) At the same time, a common form of financing used by first-time home buyers in more affordable neighborhoods remains near record levels. Government-insured, FHA mortgages made up 37.4 percent of all purchase loans in August, up from 37.0 percent in July and 27.1 percent in August last year."
Did you get that?  In some regions nearly 4 out of 10 home purchases came from these little money down loans.  This isn't some low priced region.  This is high priced Southern California.  And this brings us to another risk brought by these loans.  The loan cap is now up to $729,750. Now why do you need such a high cap when the median home price across the U.S. is less than $200,000?  Of course, this is basically allowing major bubble HGTV addicted areas like California and Florida to use up these loans to create basically another housing bubble.  As we realize, even if you have a high income, if you don't have skin in the game you will walk.  Those Alt-A and option ARM borrowers in California are strategically defaulting even before the 2010 recast wave hits next year.  It is naïve to think people won't walk away from these loans either.  The only difference now is you have to document your income.  Is that the only lesson we have learned!?  Talk about lack of analysis.
The FHA also has a long history of fraud which is perfect since most defunct toxic mortgage factories were full of fraud as well.  These are basically toxic mortgage-lites and now we can rest assured that since they are looking at two years of income, all is well in Candyland.  And loans are getting crappier and crappier: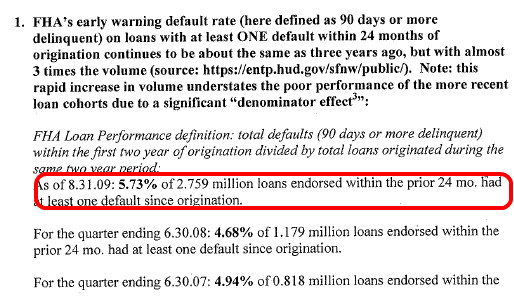 If things are getting better in the housing market why are these loans imploding?  This isn't linked to option ARMs but is linked to poor lending philosophy.  There was also recent legislation requiring lenders to increase net worth requirements on September 18, 2009.  Yet this is a joke since four lenders make up 85 percent of all FHA loans:
(1)  Wells Fargo
(2)  Bank of America
(3)  Chase Home Finance
(4)  CitiMortgage
The too big to fail otherwise known as the Larry, Moe and Curly of lending are now government fronts pumping out near zero down mortgages.  Make no mistake that FHA is now growing in this environment because the government and Wall Street are determined to recreate the ecology that caused this housing bubble in the first place.  Yet it won't work and it is putting the country at risk.  If the dollar tanking isn't warning enough, we are going to get a wakeup call next year with commercial real estate and the Alt-A and option ARM tsunami.
Another shocking yet not surprising highlight in the report is the ever diminishing fund for losses with the FHA:

Just like the FDIC DIF going to zero a few days ago, we can expect this fund to do the same thing.  But guess what?  We are on the hook for these loans since they are government backed!  Instead of heeding the warning from that first chart above, FHA insured loans are being pumped out in mass because crony banks don't mind gambling with your money while keeping reserves hiked up for the losses they know are coming down the pipeline.  What did TARP do?  It allowed toxic banks to survive courtesy of taxpayer charity.  As I predicted when TARP was put in place over a year ago, the American people have gotten nothing in return.
And while people are pumping their fist in the air for victory because of loan modifications, does anyone even bother to look at the details of what constitutes a loan mod?  Loan modifications are glamorous versions of rearranging the deckchairs on the Titanic and a waste of money.  Let us look at some details:

If you want to sum up the above it is extend and pretend.  First, overdue interest is capitalized into the actual mortgage increasing LTV thus increasing risk.  This is negative amortization-lite by the way and one key problem with option ARMs.  Another smart move is basically extending the term on the loan up to 40 years!  Good times in the government mortgage sausage factory.  They took the ideas of the sewage industry, otherwise known as subprime and Alt-A mortgage brokers and made them government policy.  If you need any more support how pathetic the success rate is, just look at the 59.1% re-default rate.
Want a simple solution?  Instead of giving these loan servicers $1,000 per modification, how about you give $1,000 to the owner so they can use the money for a rental deposit?  Isn't that more efficient in the long run anyway?  They clearly cannot afford to live in their home and that is okay!  Owning a home isn't a right by the way.  Why not give out a rental tax break?  Rental vacancies are now sky high and this will add pressure to commercial real estate.  Then again, we are asking for some logic here from Wall Street and our government and they have proven to us that government, Wall Street, and housing simply do not mix like drinking and driving.
We get some excellent suggestions regarding FHA insured loans in the testimony: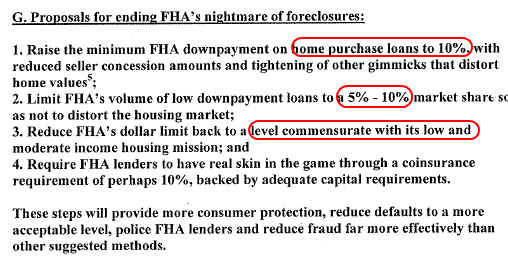 Yes, yes, yes, and yes!  10 percent should be an absolute minimum and no, you can't use any tax breaks for the downpayment.  This is money that you save.  Not a damn nationwide subsidy.  And one point that is absolutely obvious is how in the world is a $729,000+ loan a low to moderate home price?  This is nuts!  Lower the cap to national median prices.  The Federal government subsidizes this so it only makes sense.  You want a $400,000 loan?  Then let Bank of America hold the loan on their book with no government backing.  We can rest assured they'll be doing better due diligence.  Keep on pumping out FHA insured loans and what do these banks care?  These are the same toxic banks that were responsible for the housing bubble so we can rest assured we are in good hands.
I love in the attachments Mr. Pinto includes an article showing the problems going on with the FHA.  But this chart just cracks me up: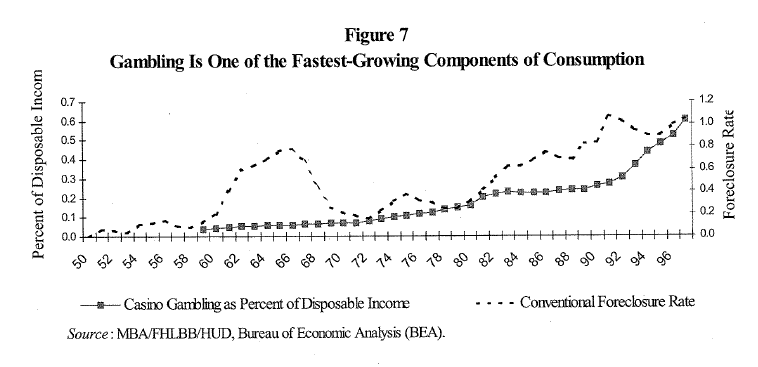 So it is true!  The perfect correlation is increased disposable income in gambling tying in with higher gambling with toxic mortgages.  What is so maddening about these reports is that it was showing clear cases of where the risk was in the system.  Take a look at this report by Fannie Mae in 2006: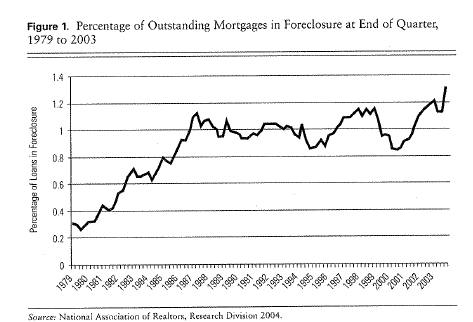 And of course this chart is only worse today.  So it isn't that no one saw this entire mess coming.  What really occurred is no one in a position of power had the fortitude to act.  That is the issue.  The system was flooded with plutocrats listening to their lobbying masters and these Cassandra's were merely pushed down the funnel of oblivion.  Until we can reform the governing system, we can expect more crap to fly.  That is why the tax credit is being championed by the real estate industry shills even though the cost to taxpayers is counterproductive and such an utter waste of money.  Yet these shills kick money down to our beloved Congress.  And that is why even though we have hard data showing the train that is coming down the rails with FHA instead of applying the brakes, the government is greasing the track!  Then you have the real estate industry cronies jumping up and down at the prospect of the credit being removed.  Most credible analysts and economists do not stand behind the tax credit.  It is a waste of money.
You can download the full report with attachments here.  It is worth a read.  Too bad the plutocrats will continue to sleep with their lobbyist and FHA is merely another problem for another day.  FHA is the loan of choice for fellow comrades.
Did You Enjoy The Post? Subscribe to Dr. Housing Bubble's Blog to get updated housing commentary, analysis, and information.