In the department of crazy and loony housing ideas, the government has taken the place of some of the defunct toxic mortgage vendors.  Some of the popularity of the $8,000 tax credit has gotten many people off the fence to purchase a home.  Instead of the Alt-A or option ARM junk, the government is front loading incentives to suck people into the home buying vortex.  Let me be clear, this is a tax credit.  Got that?  Meaning, someone is paying for this $8,000.  Of course, we should already learn our lesson that giving front end goodies like teaser rates on option ARMs isn't a good thing, but what the heck does Wall Street and our government care about long-term sustainability?
The National Association of Realtors is doing 6 percent flips with the success of the tax credit:
"NAR estimates that about 1.8 to 2.0 million first-time buyers will take advantage of the $8,000 tax credit this year, with approximately 350,000 additional sales that would not have taken place without the credit."
With 2 million people benefitting from the tax credit and only an increase of 350,000 additional home buyers, the taxpayer subsidy is gigantic (those NAR lobbying dollars paid off).  Calculated Risk broke the numbers down and arrived at a cost of $45,000 to the taxpayer for each additional home sale.  This of course comes on the front end since it seems like we are blowing our entire fiscal sanity on gimmicks like this and other fun house experiments like cash for clunkers.  I say front end because if we look at the IRS Form 5405 we find this convenient little fact that the NAR doesn't seem to dwell on: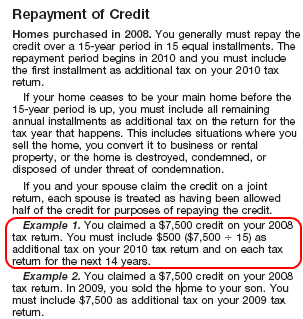 Bwahahaha!  Should have waited until 2009.  So those people who bought in 2008 need to pay this back.  But wait!  For those who bought in 2009 it is free money express time: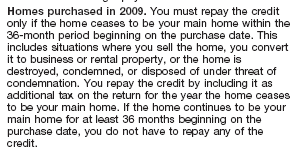 $16 billion cost to taxpayers for 350,000 additional home sales.  And given the reckless gimmicks and crony capitalism, we might have a $15,000 tax credit for 2010.  If you doubt the futility of this money spending, let the customer speak:
"(NWI Times) We were planning to buy a home before the tax incentive was announced. The $8,000 was a bonus, but it wouldn't have stopped us if it hadn't been available," Alyssa Newman said.
Like the Newmans, homeowners are finding another incentive to buy — falling prices.
"There's a really good market for homes under $200,000 and especially for homes priced at $150,000 and under," said Kristin McCoy, a Realtor with Wold Realty in Schererville. "If it's in good condition (and) there are multiple offers — it's gone. Many sellers don't know what a fabulous market this is."
But time is running out to qualify for the tax credit, says Jim Oster, broker-manager of the Lansing Coldwell Banker real estate office.
"Because you have to close on the house before November 30, about the latest you could buy a house is October 15," Oster said. "There's been buzz about renewing the tax credit, but I wouldn't count on it."
The damn insanity of it all is that home sales are going up because prices are falling!  Yet here we are, giving incentives where they are simply not warranted.  The market is correcting itself.  Same thing with cash for clunkers.  $3 billion to have a jump in auto sales for a month.  How many of those people were going to buy regardless of the incentive?  At times I feel that I'm taking crazy pills.  The government is applying a taser to a fish out of water and is getting excited that it twitched.
But when you think things can't get more mind twisting, the government and Wall Street step in to amaze us once again.  Did you realize that many are buying homes with zero down through FHA loan programs?  Forget about Alt-A and option ARMs for a second, many are buying homes with zero down financing sponsored by the government!
"(BusinessWeek) The days of home buying with little or no money down may be back-this time thanks to Uncle Sam.
Blamed for contributing to the housing bubble, zero-down-payment loans largely vanished when the market crashed and Congress blocked seller financing for government-backed loans. Now the federal government will be forking over cash at closing.
Buyers who haven't owned a home for three years or longer are eligible for an $8,000 tax credit, thanks to a provision in this winter's stimulus package. Now, under a little-noticed program announced May 29, the Federal Housing Administration will steer the funds to cover closing costs directly-in some cases even offsetting the 3.5% minimum down payment FHA loans require. That's enough to cover most or all of the down payment and fees for homes up to the U.S. median price, now about $169,000."
So right now we are juicing the housing market with financial steroids.  How so?
-$8,000 tax credit
-FHA sponsored loans (only need 3.5% down payment)
-lower housing prices
The major push here is the lower prices but given the first two, prices are being artificially pushed higher.  Good times in the Taj MaUSTreasury.  The mission of FHA backed loans was to give lower and middle income Americans the opportunity to buy when conventional financing would be harder to get.  Stop me if this sounds familiar (ahem, subprime and other toxic mortgage waste).  But that is the pretext.  Sort of like option ARMs and how they were for rich doctors and glamorous actors who simply did not have the time to document their 7-figure incomes.  In reality, people used the loans to speculate and got in over their heads.  Now, the only barrier for people buying is having 2 years of W2's and 2 years of tax returns with decent credit (which is a broad group) and you can go zero down.  But didn't you say we need 3.5 percent as a down payment? Didn't you hear?  You can do a special combo and combine the already low FHA down payment and juice it with the tax credit:
"(HUD) The American Recovery and Reinvestment Act of 2009 offers homebuyers a tax credit of up to $8,000 for purchasing their first home. Families can only access this credit after filing their tax returns with the IRS. Today's announcement details FHA's rules allowing state Housing Finance Agencies and certain non-profits to 'monetize" up to the full amount of the tax credit (depending on the amount of the mortgage) so that borrowers can immediately apply the funds toward their down payments. Home buyers using FHA-approved lenders can apply the tax credit to their down payment in excess of 3.5 percent of appraised value or their closing costs, which can help achieve a lower interest rate. To read the FHA's new mortgagee letter, visit HUD's website."
Non-FHA buyers can use seller funded down payment assistance and you can own a home with zero down.  And if you want to see how much you can qualify for in Los Angeles County, let us take a look: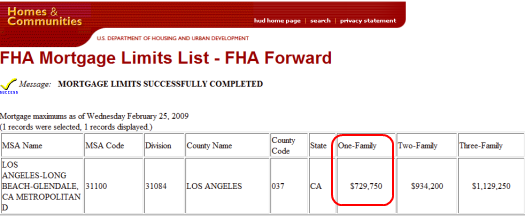 I sure shed a tear for the low income people buying those $729,750 homes.  It really is a sad state of affairs.  You thought Alt-A and option ARMs were bad but you have seen nothing yet.  We already know that a lower down payment increases the risk of default but here we go encouraging it.  And the shadow inventory just keeps growing: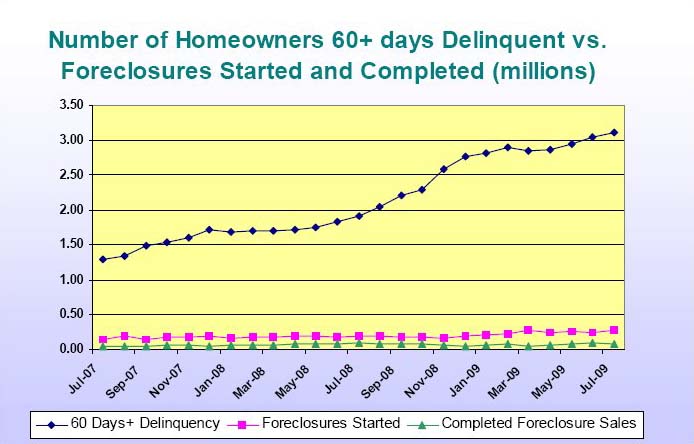 Source:  Hope Now, Calculated Risk
While the 60 days late is shooting off the chart (tracking upward since May of 2008) foreclosures are only slightly increasing (both starts and completions).  Part of this has to do with loan modifications which have been a tremendous disaster since most re-default a few short months later.  So all we are doing is kicking the can down the road and giving servicers $1,000 for each crappy worthless loan mod.
Let us go back to FHA loans shall we?  You would think that these are going to the bread and butter states where no bubbles hit right?  Nope.  In fact, Southern California is eating this crap up:
"(DQNews) Last month's median was the highest since it was $278,000 last December, but it stood 46.9 percent below the peak $505,000 median reached in the spring and summer of 2007.
In the region's more affordable areas, many first-time buyers continued to choose government-insured FHA financing. Such loans were used to finance 37.2 percent of home purchases last month, up from 36.9 percent in June and 19.7 percent a year ago."
What a stunner.  You mean giving subsidized easy money to people in gold rush mentality California is going to work?  And if you are thinking that it is hard to get beyond the underwriting think again.  I've talked to a few brokers and they have told me they can qualify people with debt to income ratios of 31 percent all the way up to 50 percent.  The first ratio examined is the front ratio.  In this ratio they take your total monthly costs (principal, interest, taxes, insurances, HOA fees if applicable) and compare it to your gross monthly income.  So if your housing payment is $1,000 and your income is $3,000, your front ratio is 33 percent.
The other more critical ratio is the back-end ratio which looks at your monthly credit expenses.  This includes your housing payment but also car payment, credit card payment (minimum), and student loans.  So assuming the above still applies, we then have $1,000 for your home, $200 for your car, $50 for your credit card, and $100 for your student loans.  The back-end ratio is 45 percent.  Depending on your reserves, work history, and other factors you will still probably qualify.  Keep in mind this doesn't factor in other costs!  You can have a $300 cell phone bill and that isn't in here.  It is whatever pops up in your credit history.
I pause because here in California, the unemployment rate is now up to 11.9 percent and the state just had to grapple with plugging $60 billion in budget deficits this year.  Instead of hunkering down and worrying about stabilizing employment, we are pushing people into buying homes.  I look at things like this and just see an anxious poker player going all in on a bluff.  He is hoping that on the river, he will get employment but early indications do not look positive.  What does he care?  He is gambling with house money.
Did You Enjoy The Post? Subscribe to Dr. Housing Bubble's Blog to get updated housing commentary, analysis, and information.