I've gotten a few e-mails asking about loan modifications and their success rates.  There is a reason I rarely bring the topic up.  The primary reason is that they are, for the most part failures and another handout to the housing industry.  Remember the Hope Now program?  I actually called this program up when it first started and was connected (amazingly) to a helpful person.  Yet they had no power.  All they were able to provide was a listening person on the other line.  That program of course failed because it had no teeth to dig into the actual mortgage and principal.  With loan modifications, the reason they have been such big failures is they fail to strike at the core of the housing problem.  Overvalued homes.
Have you noticed how little the media actually talks about how homes are overvalued?  Or how little attention is given to the oncoming Alt-A and option ARM tsunami?  Maybe they don't want to disrupt the fantasy world of those that hold these mortgages.  Yet that is not the reality of the situation.  I can only shake my head when I hear that servicers are getting "incentives" to modify loans.  This is more money down the drain because we already know that many of the modified loans re-default: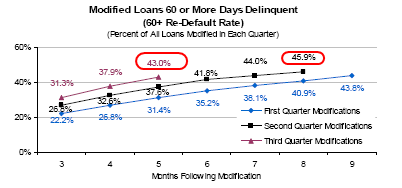 This is absurd.  Nearly half the loans after 5 months are back in the default bin because they fail to address the root cause of the problem.  Homes are still priced too high in many areas.  People conveniently forget that we had an epic housing bubble with unstoppable price gains for a full decade.  Now with two years of declines they suddenly expect that home prices are somehow adjusted?  They are not.  Take a look at the Case-Shiller Index: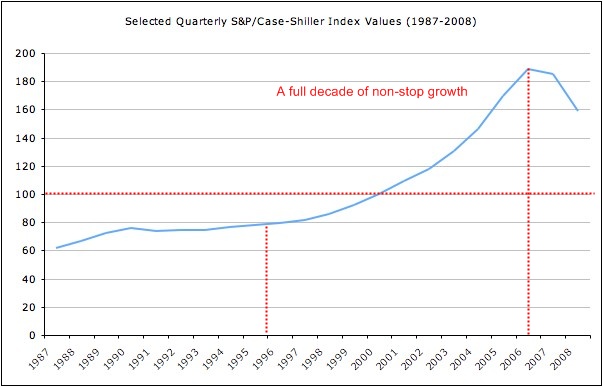 Prices are still too high even after the enormous crash.  To highlight this crash, take a look at the current drop which is still going on: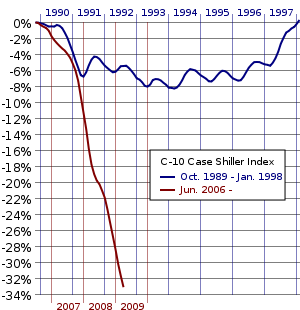 The problem with loan modifications is they fail to address the major reason why people are defaulting.  Homes are underwater.  And since the housing industry has done such a good job lobbying Congress over and over through various administrations to strip out cram-down legislation, there is rarely any teeth in modifications.  For the most part, the servicers are motivated for the incentive they get and that is largely it.  Plus, they are unable to work with the actual holders of the note since the actual mortgage has been chopped up in many different areas.  The U.S. Treasury and Federal Reserve are trying to figure out every scenario imaginable to offload the toxic mortgage waste onto the taxpayer.  At first, the notion of modifying a loan sounds good but most of the cases are token kickbacks to a public that is frustrated with $13 trillion in bailouts and commitments being given to a crony banking system.
Let us get back to the topic of why loan modifications are failing.  Look, I know that the sound of modifying a loan seems good on the surface but the fact of the matter is, over half of the modified loans re-defaulted.  This again is a Band-Aid on a broken bone.  The data on loan modifications will speak for itself: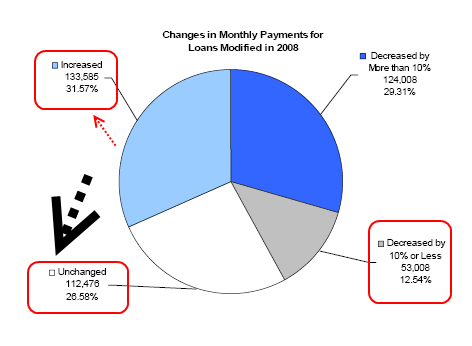 To start with an obvious observation, over 58 percent of loan modifications result in a higher monthly payment or a payment that remains the same!  So nearly 60 percent of people that had a loan modification are basically running the Red Queen race.  What is even more astonishing is 31 percent of modified loans actually had an increase in monthly payment.  An absolute joke.  26 percent basically had no change in payments.  So what is occurring?  Money is flowing once again to the housing industry in the form of incentives to servicers.  There literally was no point in these modifications.  Is it any surprise that over 50 percent re-default only 5 months later?
Another 12 percent had their payment decrease by less than 10 percent.  At least this is better.  But many times this was done by extending the term of the mortgage out for a longer period of time or dropping rates.  Yet that principal is nice an intact!  Thanks cram-down foes!  The hypocrisy is incredible.  Here we are giving the banking system trillions of dollars in a carte blanche style and they are nit picking loan modifications.  The problem is we are once again trusting the same industry that brought this country to the first ever housing led recession.  When I used to argue how corrupt the industry was, people would just say, "oh, there's only a few bad apples in the industry."  That of course turned out to be completely false.  Let us look at some criminal activity shall we?

First payment defaults are a warning sign of fraud.  What is a first payment default?  Oh, you'll love this.  This is basically where a borrower fails to make the freaking first payment!  Absolute fraud.  And look at the above rates.  The 4.37 percent for subprime loans is incredible.  But take a look at the Alt-A products.  Yup, those suckers are moving on up following a trend that we are all too familiar with.  This isn't one or two bad apples.  This was an industry that operated like a casino giving out loans to anything that moved.  And now we are entrusting this same industry to modify the loans of the people it screwed?  What a shock that re-default rates are up over 50 percent.
The cram-down is the only option.  You make the lender eat it.  The taxpayer has already been forced to eat Fannie Mae and Freddie Mac, AIG, and we practically own a piece of every large bank in the country.  The cram-down would have had a better success rate because you address the root of the problem that is the actual principal value of the mortgage.  That is, you bring down the price of the home to market rates.  It is useless to lower rates or extend the term if the price of the home is still underwater.  It might sound good to the press or make the servicer happy to get a fee, but in the end the borrower will be back at square one because many homes are still over valued.  That is the crux of the problem yet no one can openly admit this.  It is the elephant in the room.  Home values in many metro areas are still too high!
Some of the data on these loan modifications came out in April of 2009.  So it is a little older.  But as expected, loan modification redefault rates are expected to go higher:
"(WSJ) Yesterday's Journal reports that Fitch Ratings looked at mortgages bundled into securities between 2005 and 2007 and managed by some 30 mortgage companies. Fitch found that a conservative projection was that between 65% and 75% of modified subprime loans will fall delinquent by 60 days or more within 12 months of having been modified to keep the borrowers in their homes. This is an even worse result than previous reports by federal regulators. Even loans whose principal was reduced by as much as 20% were still redefaulting in a range of 30% to 40% after 12 months."
What does this mean?  We have been rearranging the deck chairs on the housing Titanic.  Do you really think the banking industry cares about homeowners?  Of course not.  In fact, I would suspect that these weak loan modification programs are designed to buy some time before they can perfect the public-private investment program and do the ultimate loan modification in history by unloading all the toxic waste to the government.  At this point, it won't be the banks kicking people out of their homes but Uncle Sam.  Can you envision how well that will politically play out?  At that point, the banks will have most of the taxpayer money and we will finally get down to some serious loan modifications much too late.  Look at the above projections with a 75 percent re-default rate.  It is a joke.  What is going to happen with $1 trillion in toxic waste once we enact the PPIP?
Loan modifications for the large part don't work because they are operating in a bubble world.  That is, they still expect housing values to maintain their once appraised price.  Yet those prices were largely irrelevant.  This is like someone buying a Pinto on a 20 year loan for $20,000 and thinking they got a deal because of the cheap monthly payments.  That is, until they realize they have a Pinto and $20,000 was too much to pay for it.  So what makes you think that extending the payments to 40 years is going to make it any better?  It won't.  Until we have sensible cram-down legislation, any talk of loan modifications is simply a patchwork of distractions to keep us from looking at the trillions being looted from the public.  How about having housing prices reflect local area incomes and the notion that people will once again go back to 30 year fixed mortgages and down payments?  What we need to modify is how the system currently operates.
Did You Enjoy The Post? Subscribe to Dr. Housing Bubble's Blog to get updated housing commentary, analysis, and information.