The Federal Housing Administration (FHA) was created in 1934 during the Great Depression to give low to moderate income Americans a chance at pursuing the American dream of homeownership.  Even in the best of times, the FHA was only a small fraction of the mortgage market as it was never intended to be a big player.  Today the FHA now backs 30 percent of all loans outstanding and is quickly burning through its reserves.  You would think that the FHA would try going back to its core mission of helping those it initially set out to help.  Instead, it is now being used as a backend tool to fund absurd mortgages that don't fit into any other current government loan programs.
In Southern California, where the median home price is $300,000, 4 out of 10 loans made since May of 2009 have been backed by FHA loans.  This is happening in a market that is 65 percent more expensive than the nationwide median home price.  Think this is bad enough?  Now the FHA will be funding loans for apartments out in Manhattan that have market rates of $820,000 to $3 million.  That FHA sure knows how to stick to their mission statement:
"(Bloomberg) The Federal Housing Administration agreed in March to insure mortgages for apartments at the 98-unit Gramercy Park development, known as Tempo. That enables buyers to make a down payment of as little as 3.5 percent in a building where apartments are listed at $820,000 to $3 million.

"It's a government seal of approval," said Gollinger, a director at the Developments Group of New York-based brokerage Prudential Douglas Elliman Real Estate. "We need as many sales tools as we can have these days, and it's one more tool."
This kind of lending is patently absurd just like option ARMs and other no document loans.  Just because you are putting 3.5 percent down is no reason for making you a solid financial bet moving forward.  The predatory nature of Wall Street banks seeks to exploit the weakest link in the current financial system.  FHA is the perfect target.  Is it any wonder why FHA loans defaults are flying off the charts?
If we look at 60 years of data, we find that FHA foreclosure starts as a percentage of all mortgages hovered in a tight range.  This range was from 0.75 to 2 percent.  But starting in the 1990s it broke out to 2.5 percent.  Why?  First, the FHA only backed a small proportion of loans relative to the size of the mortgage market.  But starting in 2000 things simply went haywire.  FHA foreclosures went exponential during the housing bubble and now are flying off the charts.  If we slice the data further, we can see that FHA loans are performing much more poorly than the headlines will show: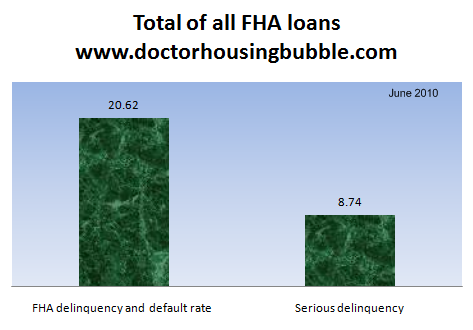 Source:  HUD
All the mainstream headlines have missed the most important point above.  What they quote is the "serious delinquency" rate which has decreased slightly over the last few months.  This is good right?  Only if you have no sense of what is going on and believe in mark to market fantasies.  The only reason the rate has fallen is because the FHA has been insuring large volume in recent months so these loans of course are current!  But just give them a few months or even another year and just wait.  If we look at the bigger picture, at least 1 out of 5 FHA insured loans is already behind by one payment.  And now the FHA is going to fund loans on insanely expensive Manhattan apartments?  The FHA is simply stepping in to fill the void of the now defunct toxic mortgage lenders.
Low volume to replacing toxic lenders
The FHA was never a giant player in the mortgage market and it was never intended to play such a role.  The mission for most of its history was to help a small segment of the home buying population that might have been too risky for conventional banks.  But now, the FHA is being used as a tool for some of the most expensive markets: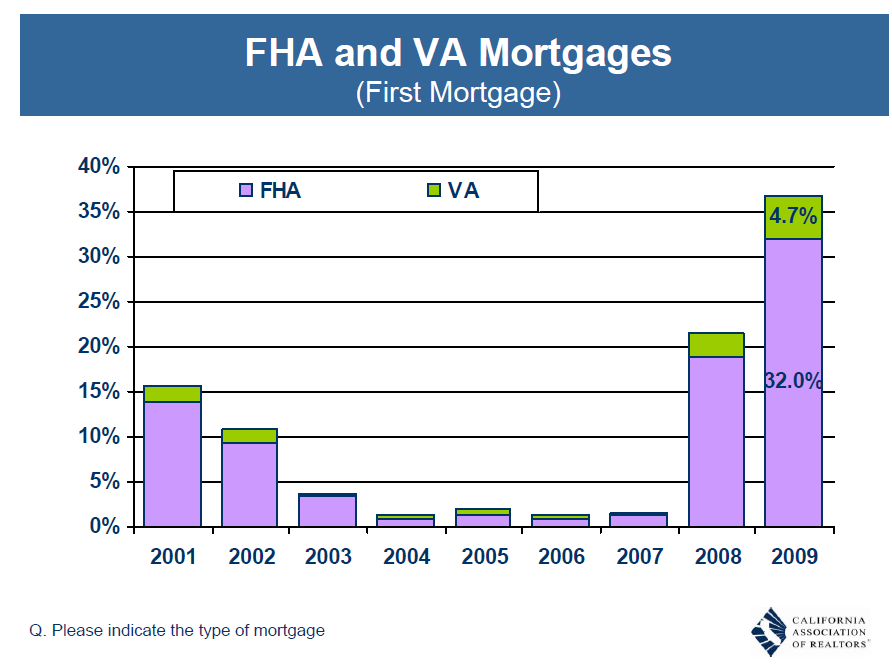 Source:  CAR
Looking at this data it is becoming obvious that the FHA is now functioning as a conduit to bridge the market that was lost when the toxic lenders failed.  The FHA backing those highly expensive apartments in Manhattan is merely another way average Americans are subsidizing the speculation of real estate in bubble areas.  Say you were a wealthy investor or someone merely with a 3.5 percent down payment.  Why not buy the $1 million apartment and hope it inflates in the next few years?  If it does, you can enjoy the benefit of using other people's money leverage and cash out.  If prices drop even by 5 percent, you are now underwater.  And as we all now know, those that are underwater are more likely to walk away.  Those with higher mortgages have an even higher incentive to walk away.  These kind of ideas and practices show how screwed up the housing market remains especially when it comes to the FHA.
Bailout in the making
If you believe that the FHA will require no bailout then you probably also fall into the camp that believed that somehow Fannie Mae and Freddie Mac were going to turn us a profit.  Of course now that we own Fannie and Freddie completely, the losses are rolling in like you wouldn't believe.  Billion dollar quarterly losses are common.  The FHA will be the next big bailout and with current actions like those mentioned above, it is only a matter of time.  Just take a look at the reserve fund to see if you can spot the trend: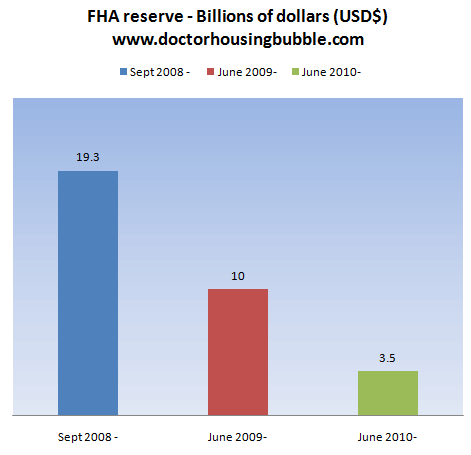 The fact that 4 out of 10 loans here in Southern California are FHA backed simply highlights that the FHA is backing loans in markets that are still in housing bubbles.  California and New York still have inflated prices in many areas yet the FHA is becoming the lender of first resort in these areas.  What will happen if the markets correct further in these areas?
FHA will implode just like Fannie Mae and Freddie Mac
The FHA is merely taking on too much risk and much of this is at the request of bankers and the real estate industry.  What do they care if the loans implode down the road?  They will get their commission cut and will be gone before problems hit just like all the option ARM and Alt-A lenders.  It is a market of perverse incentives and without any reforms with teeth, the crony capitalism continues.  In fact, we found out after toxic lender superstar WaMu imploded that they had a blacklist of appraisers that actually were get this, honest.  That is right; if you came in too conservative with your appraisal you were blackballed.  So basically WaMu would tell you what price they would expect and voila, it happened.  Appraisers that met the target received more business while those that did their jobs lost out.  What happens in this kind of market is incredibly bad behavior is rewarded and all risk is shifted to the taxpayer.
The FHA insured $71.4 billion in loans in Q2 of 2010 alone.  In 2007, the FHA insured $79.5 billion in loans for the entire year.  Here is some perspective: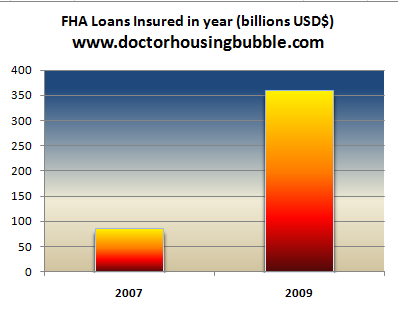 Start insuring those high priced apartments and the nominal value of mortgages insured by the FHA just increases substantially.  Who wins here?  I have no problem with banks using their own money to lend on these apartments or on other highly expensive real estate.  But what a stunner that over 95 percent of the current mortgage market is government backed (i.e., FHA, Fannie Mae, Freddie Mac, etc).  So the Federal Reserve also steps in to buy more mortgage backed securities to keep rates artificially low.  The market is completely and utterly broken.
So what is the solution?  Banks need to be treated as utilities.  Those that want to gamble and operate like hedge funds can do so but with zero government support.  If they fail they go down with no taxpayer support.  In other words, break the big banks up so they are not systemically destructive.  This is the absolutely right thing to do.  Right now the stewards of the mortgage market are the too big to fail banks.  Basically Bank of America, Wells Fargo, JP Morgan Chase, and the other players operate as middlemen to push out these government backed products.  It doesn't take a genius to underwrite a government backed loan.  So why not cut them out completely and basically pass on the savings to Americans?  Of course this would be very difficult to happen given the cozy relationship between Wall Street banks and our government.  I'm amazed by how many people still believe in the banks and say, "well if we let them fail, then god knows what will happen."  Look at our current economy.  It is a royal mess outside of Wall Street so we already know what happens.  Basically what our current strategy relies on is continuing to believe in the housing Ponzi scheme.  Bernard Madoff went to prison for that yet big banks get more taxpayer money.
You think the foreclosure situation is getting better?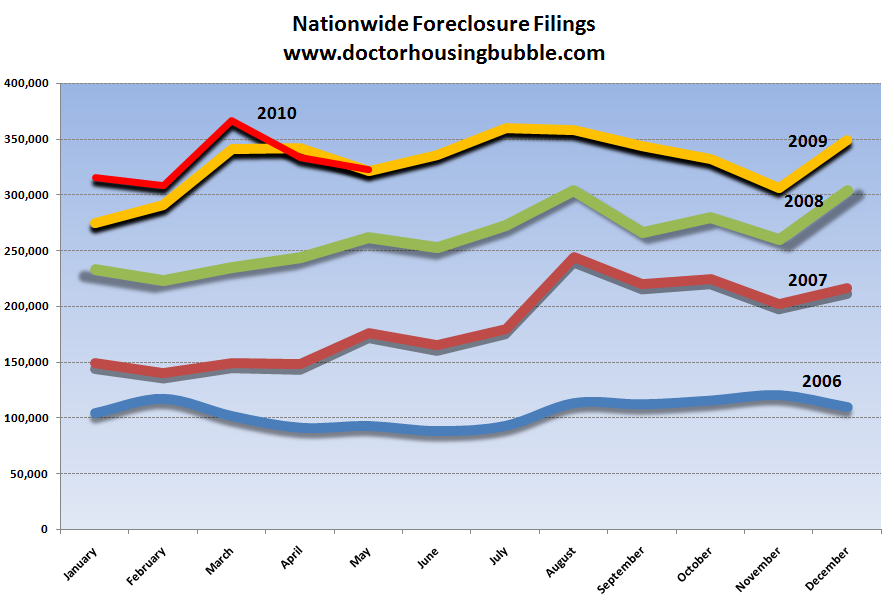 We are basically tracking the peak of monthly foreclosure filings.  The FHA has stepped in and filled the void of the toxic mortgage operators.  3.5 percent down is just as bad as going in with nothing down and a strong FICO score.  If you add in the tax credits, many people were buying basically with nothing down after the tax benefits were included.  This is housing bubble 2.0 except with one major difference; home prices are stagnant and all the risk is now shifted to the government.  The market is desperately trying to correct in many regions because local families can't afford homes without taking on risky mortgages.  Just because the government backs a loan doesn't mean it is safe.  FHA insured loans are helping the truly low income buyer needing that million dollar Manhattan apartment or the overly priced Southern California real estate.  Is this really the new mission for government backed mortgages?

Did You Enjoy The Post? Subscribe to Dr. Housing Bubble's Blog to get updated housing commentary, analysis, and information.