Nothing in life is free and going into deep debt to finance your current lifestyle rarely ends well.  There seems to be a current narrative that completely disregards the challenges faced by younger Americans.  The obsessive focus by the Federal Reserve on housing is tragic since the Fed was instrumental in laying the foundation for the housing bubble in the first place.  They were also obsessed with low rates in the early 2000s.  It appears that no lessons were gained from that period and like the Great Depression, a cultural amnesia has taken place.  The Fed has a bloated balance sheet of over $2.8 trillion and will smash that sucker up as they begin buying $40 billion in MBS per month.  Yet what one hand gives out, the other takes away.  What about the future generation (aka your children) that will be contending with a vastly more expensive education system and fewer options for a secure retirement?
Public education in California
The two main higher education institutions in California are the University of California and Cal State systems.  Both have seen their tuitions soar upwards starting in the 2000s.  Keep in mind this happened during a time when household incomes went stagnant.  First, take a look at the UC: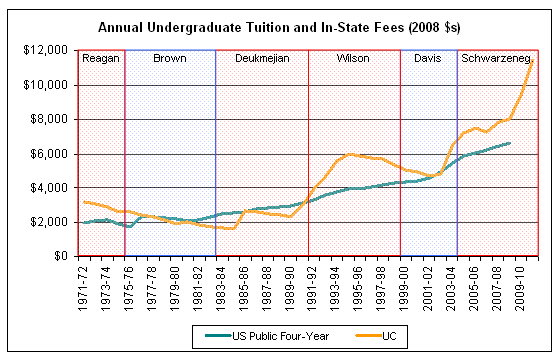 The chart only goes out to 2011.  Current tuition and fees are now over $13,000 (or over $52,000 for a four year degree).  Back in 2000 when household incomes were the same, the annual tuition was around $4,000.  The state of California has shifted its priorities and has continually run budget deficits since the economy went off the cliff in 2007.
The Cal State system has seen a similar rise in fees: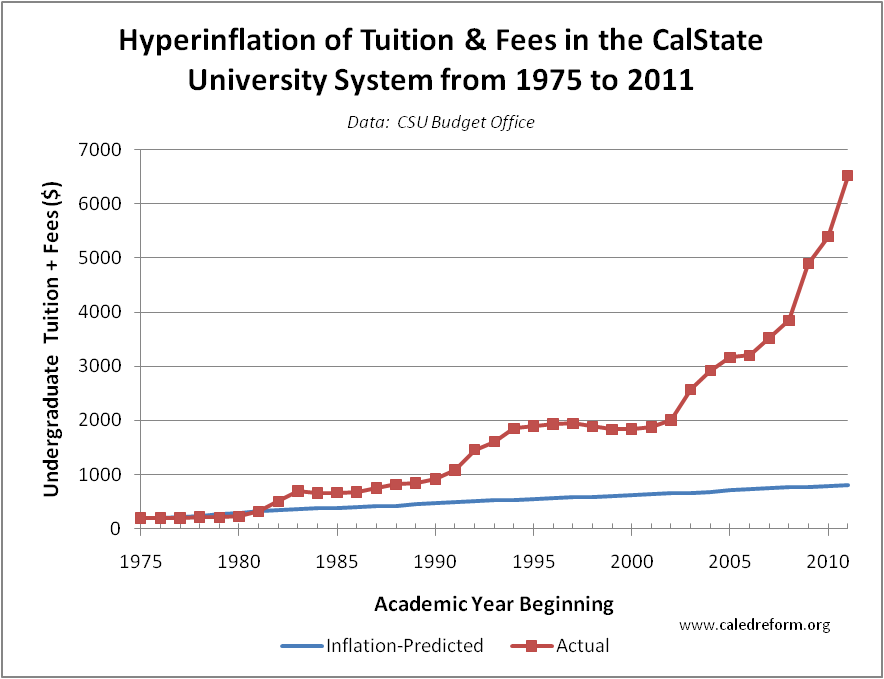 Source:  Cultural Psych
Back in 2000, the annual tuition was less than $2,000 for a year at a CSU (less than $8,000 for an entire four year degree).  Today it is over $6,000 per year (or over $24,000 for a four year degree).  As we initially stated, everything comes at a cost.  Some naïve readers seem to think the Federal Reserve has the money to bail out the housing market.  They do not.  That is why their balance sheet is above $2.8 trillion and will grow larger.  We continue to deficit spend as indicated by our $16 trillion national debt.  This debate has been going on for ages.  The only difference now is that it is obvious what group is largely shouldering this burden.  Younger Americans.  This is the hidden cost of everything.  If the Fed is going to blow $480 billion in MBS purchases over a 12 month period, there are many other areas that will aid the employment market in this country much more than funneling even more resources into housing.
Low rates except for the young
The current low rates have benefitted large banks the most and also current homeowners.  Yet many younger Americans do not own property.  Many are carrying large student debt burdens as noted by this year when we passed the $1 trillion student debt loan threshold.  Many unsubsidized government backed loans carry an interest rate of 6.8 percent which is nearly twice as much as the current 30 year fixed rate mortgage.  So what is being saved in one area is being ignored in another.  Do not think that these hikes in tuition are being shouldered with part-time work (it will be a challenge to earn $13,000 as a student and do well academically in a field like engineering).  It is amazing how some that got their degrees decades ago have forgotten how to actually use inflation calculators and figure out that today the true cost of education is much higher in a much tougher job market for the young.  Back then, you could pay for your education mowing lawns.  How many lawns would you have to mow for $13,000?
So what are parents doing?  The number of loans being co-signed has shot up: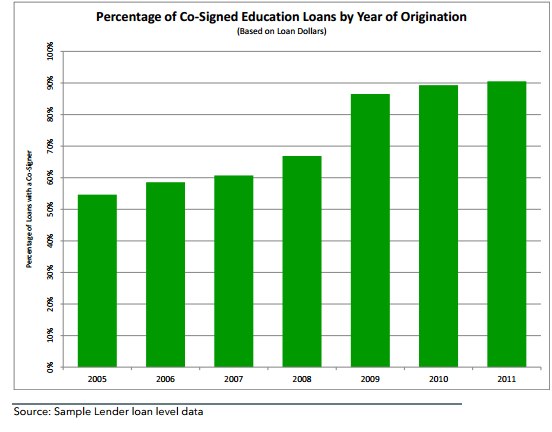 It is amazing the number of people that mortgage up to their necks and are now sending their kid to a private university with annual tuition of more than $50,000 per year!  Some have to send up to two or even three kids.  Do the math here and you realize that some did not clearly think about the end game.  And you see this in the comments with the rush of buying now happening in areas with good schools.  Why go after good schools if you do not have the end goal of sending your kid to a good college?  What will the cost of college be at that time?  Can the above trajectory keep up?  The name of the game is leverage up and hopefully you can service that massive debt.
Think tuition can't go any higher?  Think again:
"(LA Times) — Most UC students will get a breather of at least four months without a tuition increase. But then, all bets are off.

That's the result of a UC regents vote Wednesday freezing all undergraduate and some graduate school tuition as part of a funding deal with the state Legislature. If Gov. Jerry Brown's tax hike measure on the November ballot fails, however, the regents warned that tuition might rise 20%, or more than $2,400, and that course offerings and library hours could be significantly reduced soon after the election."
Is it any surprise that home buying among the young has fallen dramatically?  For those that do end up buying, many dive in a low down payment FHA insured loan since they are strapped for cash.

Did You Enjoy The Post? Subscribe to Dr. Housing Bubble's Blog to get updated housing commentary, analysis, and information.