Another interesting trend courtesy of the low interest rate environment created by the Federal Reserve is the feverish chase for yield.  In a previous article we discussed that a large part of the higher rental prices were coming from a segment that had lost their homes via foreclosure.  Since the housing bubble popped millions of Americans have lost their homes.  As the report also found, many of those stayed within the same area but likely shifted to a single-family rental or an apartment.  What we did not discuss however is how investors are playing a role in pushing up rental yields as well.  As bigger blocks of large investors purchase distressed properties, many add value to the property and try to push rental prices upwards.  I saw a presentation a few months ago of some local investors in Southern California purchasing older apartment buildings (some built in the 1970s) and upgrading them to more modern standards.  Once the upgrades were complete, these investors pushed rents up by 7 to 10 percent.  What impact is the flood of investors having on the market?
Shift from owning to renting
The drop in home ownership has largely come from the removal of two factors:
-1.  The easy access toxic loans that provided leverage to anyone with a pulse

-2.  The millions that have lost their home via foreclosure
Even with super low down payment loans like FHA insured products, many Americans simply cannot afford to purchase a home even in today's low rate environment.  Yet this low rate environment has had a big impact on rentals: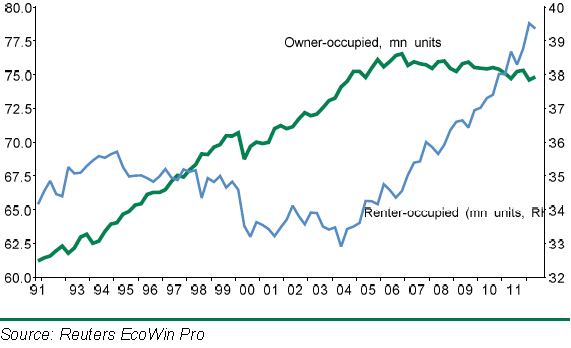 "BNP Paribas: – As investors seek returns, housing looks increasingly attractive. A lot of increased activity has come from cash buyers; the National Association of Realtors reports that the share of existing single-family home sales purchased by cash buyers has risen to just below 30% from 20% a few years ago. Private equity investors have also been reportedly buying blocks of homes for rental conversion."
This is major shift.  30 percent of recent single-family home sales went to cash buyers.  Private equity is now having a big impact on this market.  The chase for yield is largely driving these investors and rental yields are favorable in many markets.  Many investors have looked at markets that have been forgotten and jump in, buy up places in blocks, and try to push rents up because of the perceived added value of their upgrades.  It is an interesting process but once again the Federal Reserve is largely pushing big money into a market that is impacting most Americans.  At a time when incomes are stagnant higher rents stretch budgets even further.
Monthly payment versus price
The massive drop in mortgage rates is largely a method to keep home values inflated.  Do not doubt this for one second.  Even the Fed came out directly stating that QE3 was largely going to be a MBS program.  You do not get more specific than that.  They have an open commitment that is likely to buy nearly half a trillion in MBS within a 12 month period.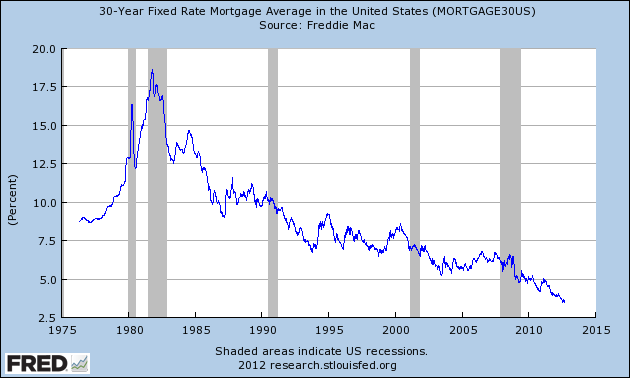 The impact is enormous here.  For example, let us run a $500,000 mortgage from 2000 at 8 percent and one today at 3.5 percent:
Principal and interest @ 8%:                        $3,668

Principal and interest @ 3.5%                     $2,245
To get the monthly PI similar to what it is today with an 8 percent mortgage would require that $500,000 mortgage to be at $300,000.  Even with a low rate people will be paying this much over the life of the loan only with principal and interest:
$500,000 mortgage PI @ 3.5% over 30 years:       $808,000
Add in taxes, insurance, and maintenance and you are inching closer to $1 million for a $500,000 mortgage.  The focus on the monthly payment is really driving a large part of the housing market today. That is why FHA insured loans have come in to plug the low down payment market left by the toxic mortgage debacle.
Thanks to these low rates, big investors are likely also bidding home prices up competing with families simply looking to buy a home.  More unintended consequences.  It is a fascinating trend seeing so many investors actually jumping into the rental game.  Big money however is fickle and as quickly as the trend ends, it will quickly evaporate.

Did You Enjoy The Post? Subscribe to Dr. Housing Bubble's Blog to get updated housing commentary, analysis, and information.