California has bucked the trend in terms of household formation.  Nationwide the number of households actually grew at a much slower pace during the recession but in California, the number of households actually fell.  Some are arguing that this is somehow a symbol of pent up demand.  That is very unlikely.  You have a split occurring.  In California, you have those that can buy and also afford the higher rents in the state and those that cannot.  Nationwide this issue isn't as prevalent.  Home sales have moved up but not to a blistering level that a historically low interest rate would spur on.  We should look at a few key things that have occurred in this controlled market.
Household formation
As we initially stated, household formation nationwide did increase throughout the recession but not in California: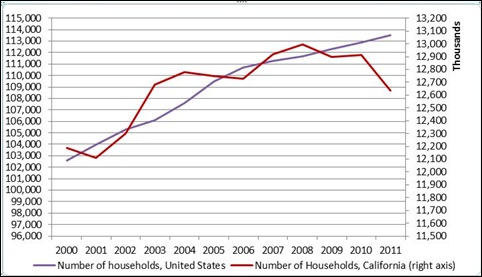 Source:  CAR, Census
The simple perspective is to say California has pent up demand.  I think the reality is a bit more complicated.  California is still an unaffordable state for many.  Sure, low interest rates and low inventory have pulled people off the sidelines.  So why did household formation trend in a different direction in California?  As we have stated, nationwide home prices measured with household incomes look affordable in many states but in many areas of California they are still inflated.  California still has one of the highest unemployment rates in the country so you have a split between households that can buy or rent in key areas and those that simply cannot and actually need to consolidate households if they wish to live here.  Population growth didn't stop during this time in California so something else went on.
Tiered prices
Los Angeles is the most populated county in the state and while reading the headlines you might think that prices are now rising at a rate that will "price you out" you need to look at the actual data: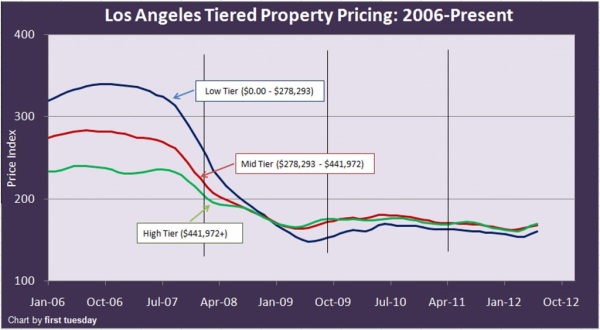 At best we are moving sideways from 2009 after a dramatic fall from the peak.  The low interest rates are masking a deeper change.  FHA insured loans are providing an unhealthy amount of 30x leverage for those coming in with low 3.5 percent down payments.  Why is the Case Shiller moving up slowly or even sideways in many parts of the state while median home prices in other measures are going up?  The mix of home sales has changed.  Since banks are managing distressed inventory the few homes on market are causing some people to jump out and compete with lower inventory.  Make no mistake, this is a fully controlled market.  Ben Bernanke even alluded to more asset backed purchases if he felt the economy needed this.  The Fed already holds nearly $3 trillion in questionable "assets" so would the Fed take on more?  Probably.  Yet this is uncharted territory for our entire economy.
One thing is certain however and that is all this bailing out of banks and low interest rates hasn't boosted the household income figure.  This is why I think household formation has fallen so hard in California.  The state has a larger portion of renters and with high rents many simply could not afford the price and have consolidated households.  Many that once owned are now moving into available rental space.
Home sales
In July 39,000 homes sold in California.  It is important to put this into context.  From 1998 to 2007 the 12 month average of home sales was above 45,000.   From 2000 to 2007 it was above 50,000.  The highest month of sales brought in 75,000 and the lowest month of sales was at 19,000: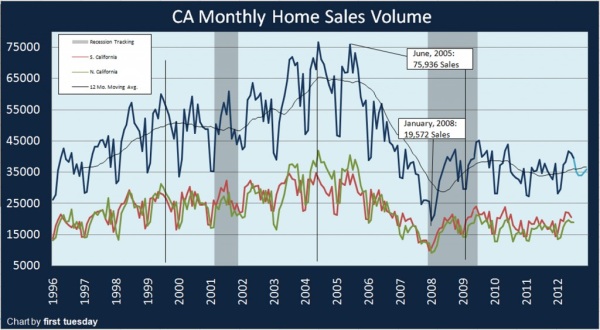 Even in boom and bust home sales are seasonal.  The spring and summer are the strong months followed by slower fall and winter.  There is no reason to expect this will be different this time around.  California has the added challenge of the dismal state budget and there will be a big ballot initiative this fall.  The high unemployment rate is also a big challenge that needs to be faced.  When 20 percent of your workforce is either unemployed or underemployed you will face challenges ahead.
Foreign buyer
Another argument I have seen is that of foreign money flooding the housing market and this will somehow keep prices moving up.  First, home prices did tank and foreign money was around in 2008 just like it is right now.  Next, foreign money is targeting only key markets and not the entire US.  Do you see foreign money flooding Michigan or Ohio?  So this should be rather obvious.  Also, when people say foreign money (as in markets even in other countries like Vancouver) what is really discussed is money flowing from China.  Similar things occurred when Japan had their boom and money was flooding into California.
Some tend to think that China is going to save California.  Yet China is now facing a slowdown brought on by a dip in global consumer demand: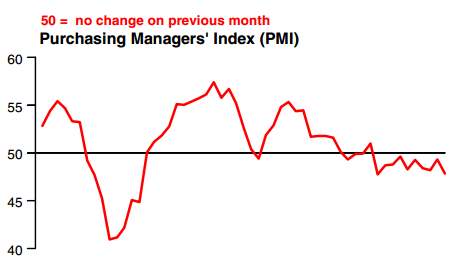 China has seen a contraction in PMI for 10 straight months and inventories are building up: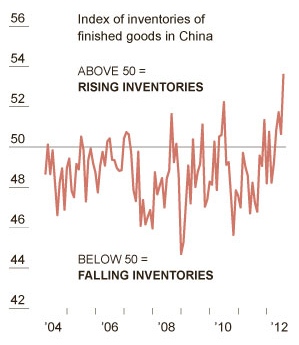 It is also important to note how small this piece of the market is but ironically, it is other countries that are bigger players here.  Foreign buying is a tiny piece of the pie:
"(LA Times) Foreign clients bought $41 billion worth of stateside houses and apartments during the 12-month period that ended in March 2011, according to the latest tally by the National Assn. of Realtors. That's roughly the same as the previous year…

More recent data square with the association's findings. According to DataQuick, nearly 55% of all U.S. residential real estate sales to foreigners from May to November last year were in Florida, and more than 17% were in Arizona. Nearly 6% were in California, and close to 5% were in Nevada, another state hit hard by the housing downturn."
Apparently California isn't the biggest draw of foreign cash contrary to those anecdotal stories.  Our friends in Canada are accounting for one-fourth of the foreign US purchases.  China and India account for 9 percent.  $41 billion is a tiny piece of the $1.07 trillion in domestic housing action.
Inventories in China tell an even bigger story regarding the global slowdown.  Will this impact foreign money flowing into global housing markets?  Ben Bernanke had a somber speech this last week and his rhetoric reflected an understanding that the global economy is still in a very fragile state.  Why else would he state that the Fed is ready to step in and purchase more asset backed securities?  California will always be a multi-faceted market but the echoes of "buy now or be priced out forever" are getting louder each day.

Did You Enjoy The Post? Subscribe to Dr. Housing Bubble's Blog to get updated housing commentary, analysis, and information.