Throughout the year I have seen a few sources point to data showing how the typical down payment has moved back to the proverbial 20 percent down level.  Many of these reports fail to account for the incredibly large number of investors buying property.  Many will purchase a home with all cash or will use investment loans that require typically 25 percent down.  Do you think that will skew the data?  Of course and never had we had such a giant segment of the market being dominated by investors.  Then you find many in higher priced markets like Southern California relying heavily on FHA insured loans where only 3.5 percent down is required (the typical FHA down payment is 4 percent).  Earlier in the week the Fed showed how the typical American family saw their net worth fall by nearly 40 percent from 2007 to 2010.  A big reason was the inflated value of housing and how reliant we are as a nation on home equity to boost our bottom line.  Remove that paper equity and you take household net worth back on a trip to the 1990s.  The housing market continues to crawl in uncharted territory with mortgage rates at record lows yet the economy is simply meandering by (i.e., $16 billion California budget deficit).
Clearing out excess inventory
Without a doubt the market is clearing out excess inventory albeit at a slow pace.  We can look at markets even here in SoCal where short sales dominate the sales activity and are being priced to move.  Yet you have those that are underwater (1 out of 3 in California with a mortgage) who simply sit in their homes continuing to pay their mortgage on their inflated asset.  It is amazing the length of time that distressed sales have made up over half of all sales.  I was digging through my data and found that for SoCal, since the summer of 2008 distressed sales (foreclosure resales and short sales) have made up roughly 50 percent of all sales each and every month.  Four years where troubled properties have been the majority of the sales market.
You can even see that vacant homes for sale across the nation are being worked through the system: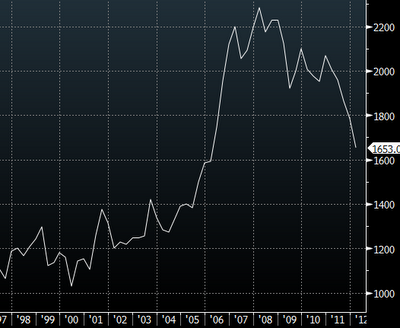 *Vacant homes for sale
As we work through the excess inventory we are seeing some action with housing starts: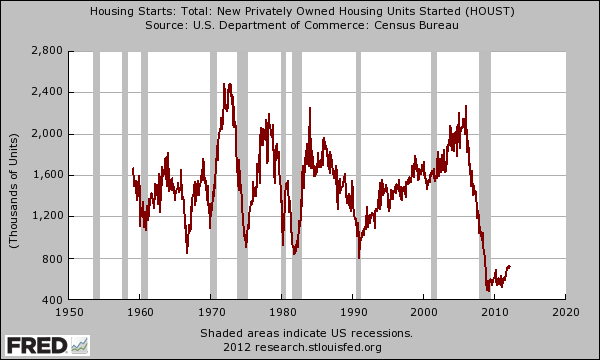 As many of you are fully aware, location does matter in real estate and single family housing starts for California have not improved: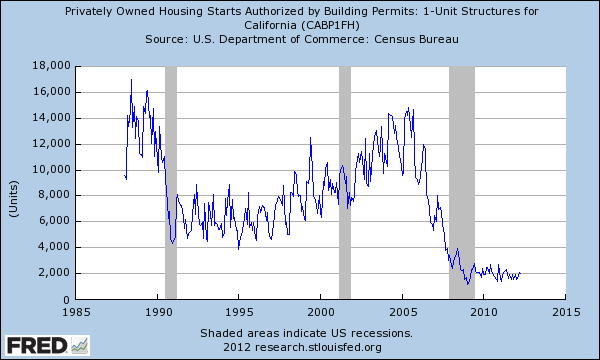 So you likely can take away from this that nationwide homes are moving at a brisker pace to the point where home builders are actually going back into the market.  In California with a big backlog of shadow inventory and inflated prices relative to incomes, home builders are largely absent from the single-family market.
Taking a hit to your wealth
While nationwide it was reported that Americans lost 40 percent of their net worth from 2007 to 2010, homeowners on average took a $70,000 hit to their bottom line:
Home owners net worth

2007 net worth $246,000

2010 net worth $174,500
How can that be positive for the prospect of higher prices?  It really isn't and that is why home prices are still at post-bubble lows.  Just because inventory is low doesn't mean the economy is improving.  It simply means that many are underwater or choose not to sell their home at current market prices.  It is obvious that demand here in the US is for lower priced homes even with historically low interest rates.  It is hard to say it with a straight face that a 30-year fixed rate mortgage is in the 3 percent range.  Yet household incomes have been hit very hard:

In the West, median household income has fallen by over 10 percent from 2007 to 2010.  One of the arguments being made in support of housing making a big turnaround is based on the low number of homes being built and also, the slow clearing out of distressed inventory.  There is no disputing that this is happening.  Yet to say this will boost housing is a stretch as we are seeing with lower household income figures.  Even looking at SoCal, what you will see is the dominance on low down payment mortgages and investors: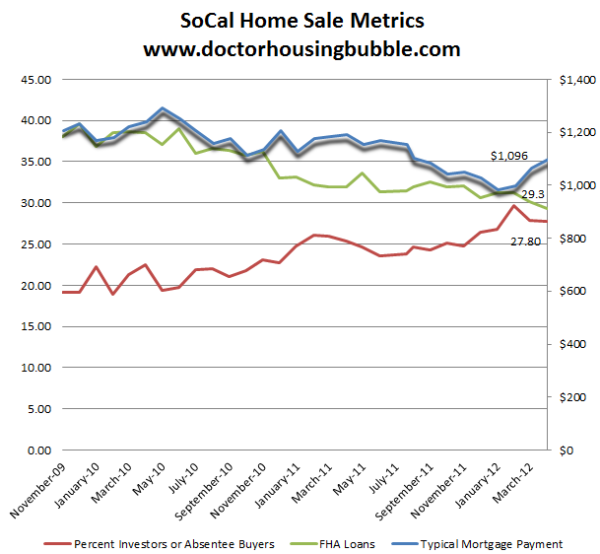 Investor/Absentee buyers and FHA figures are on the left and the typical mortgage payment is on the right.  Even today, investors make up a large part of SoCal home sales and FHA insured loans are still at 30 percent of the market.  In other words, nearly 60 percent of all SoCal buyers are purchasing homes with 4 percent down (the typical entry point for FHA) or are buying homes as investments.  What this misses is essentially what was reported in the Fed study this week.  Household balance sheets have been crushed.  Interest rates at comically low levels still cannot boost this market because the buying power via income is simply not there.  If 20 percent down for owner-occupied buying is common it is certainly not the case for SoCal.
Household formation has taken a trip down a new path recently: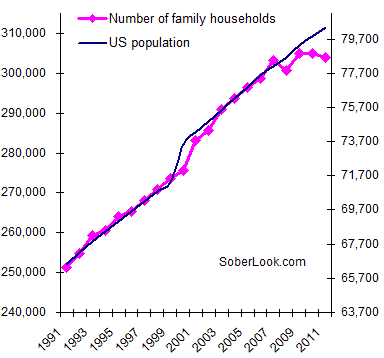 The number of US households by family usually kept track with population growth from 1991 to 2007.  Yet as you see above, that recently changed.  You have young Americans moving back home even after going to college delaying household formation.  Many are saddled with enormous levels of debt rivaling a mortgage in many communities.  This trend goes against the argument that there is pent up demand for home buying.  This suddenly becomes an argument of what comes first, the chicken or the egg?  I tend to side with the idea that housing will improve and grow if incomes (i.e., quality employment) improves.  Recent data suggests that many of the good paying jobs that were lost via the recession have not come back and many of the recently added jobs come from lower wage fields.  In other words, demand for lower priced housing either via rentals or home purchases is the trend even as we add lower paying jobs.
It is interesting to see the mini bidding wars here in certain areas of SoCal.  This reminds me of the burst of activity generated by the tax credit a few summers ago.  This time around the demand is being driven by insanely low interest rates and the perception that inventory is "running out."  The sense I have gotten from many of those buying is that they are planning on getting back on the property ladder treadmill.  "We plan on living here for 5 years and then we'll sell with the equity we gain and move into our dream home."  Of course many don't even bother running the numbers that their first few years are largely interest payments and there is little evidence suggesting prices will zoom up.  We're already seeing some of the steam pull back and we'll see if this market has any legs once we enter into the fall and winter season.

Did You Enjoy The Post? Subscribe to Dr. Housing Bubble's Blog to get updated housing commentary, analysis, and information.