The fog of low interest rates is really clouding the judgment of many prospective buyers.  The reason we have low interest rates isn't because the economy is booming or things are going strong for the state.  The reason interest rates are low is because of the second round financial crisis in Europe but also the Federal Reserve pushing rates to their lower bound range.  In other words low interest rates are a reflection of how bad the overall global economy is.  California is in bad shape yet pocket market delusion is back in full force.  Even when you talk to people they transform into real estate zombies when it comes to buying a home.  "I've been waiting too long and need to buy!  These historically low rates are encouraging me to squeeze into a home."  Of course, if you plan on staying put this might make sense but people need to realize that rates this low are a major anomaly yet are buying as if this is the status quo.  You make money on the price of the asset and not so much on the financing.
A snapshot of Los Angeles County
I think looking at the entire housing picture is better than simply looking at one item.  The reality is that momentum has pushed prices a bit higher in the last few months.  Again this has occurred because of low interest rates brought on by a continuing global financial crisis.  The current inventory of Los Angeles County looks like the below: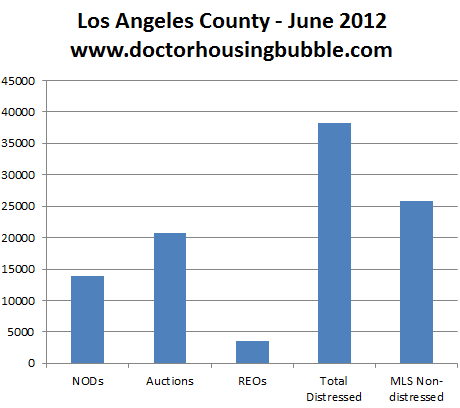 You still have more problem property versus actual organic home sales.  We really have an interesting market unlike any other in history.  A large part of sales are from the distressed pipeline.  Many are well aware of current market conditions and have simply decided to sit this one out.  I've talked with many baby boomers that have told me they are simply waiting "until prices recover" before they list their home.  I think they'll be waiting for a very long time before that occurs.  We are living in a Black Swan world.
The above chart still highlights a very uneven market.  The total distressed pipeline is much bigger than the non-distressed MLS listed inventory.  So what you are seeing isn't really a true reflection of the market.  Many have elected to ignore this and are simply buying because of low rates.  I have to shake my head when some talk about buying a home and walking away if prices would fall further.  So say you buy a place for $500,000 with a 10 percent down payment.  Would you really walk that easily away from $50,000?  That is why 9 out of 10 underwater buyers continue to pay their mortgage on time even though they are underwater.  Just look at how many people try to unload expensive European cars on Craigslist.  You make money on the price of the asset you purchase not on going with a 2.9% interest rate on a car selling for $80,000.
FHA subsidizing inflated housing markets
FHA insured loans are another disaster waiting to happen.  A recent report from the George Washington School of Business found that FHA loans are far removed from their initial mission and have been subsidizing inflated markets: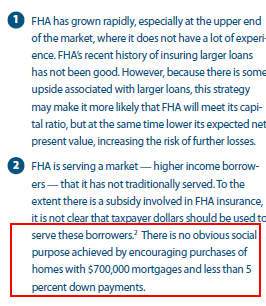 How can anyone look at using a FHA insured loan above say $400,000 and say it is to encourage affordable housing?  The median US home price is roughly $170,000 so they should peg it to that.  Instead we have these products encouraging maximum leverage and default rates are soaring.  This is a big issue for California.  In fact, many of the recent underwater loans have come about because of the FHA: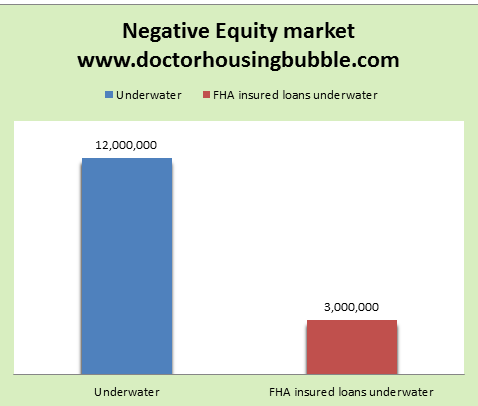 If you look at virtually all markets in SoCal beside the Inland Empire, they are much higher than nationwide median prices yet here we are using the FHA insured loans to keep the bubble market afloat: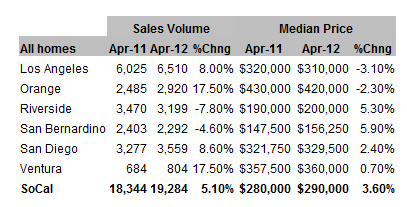 Those calling for a bottom fail to mention where the good jobs will be coming from to make the market rebound.  They also fail to talk about how all the rampant state budget issues will be solved without taxes or cutting.  What about the future prospects of younger adults?  We are now living in an "I got mine so screw the future" system.  As much as we chide Europe for their high youth unemployment rate, we need only look at ourselves here.  Do artificially high home prices really help young families looking to start out?  Ironically those that champion higher home prices thanks to the government basically owning the mortgage markets are at the same time looking to "cut" government spending even though there is no larger subsidy than what banks are receiving via the Fed and GSEs for housing.  In other words, very little consistency is provided here but a big heap of justification.  I will wait until we see solid employment growth before being some bobble head for higher home prices.

Did You Enjoy The Post? Subscribe to Dr. Housing Bubble's Blog to get updated housing commentary, analysis, and information.