The spring and summer housing season certainly brought many people out of the woodwork.  Similar to the First Time Home Buyer (FTHB) tax credit gimmick that created a temporary bounce in 2010 the rebound may be short lived if household incomes do not move higher.  By the way, for those that bought and sold in that time there are many circumstances where the FTHB tax credit needs to be paid back.  Surprise!  Today the big generator of movement comes from artificially controlled low inventory and stunningly low interest rates.  The Federal Reserve has essentially gone Soviet Union on the US housing market.  Without a doubt this has caused a mini-boom in the market but is this simply more fumes or something more sustainable?  We'll try to look at current data and try to examine where the market is heading for the rest of 2012.
Housing prices moving up
People may not realize that home prices rise and fall every year, bubble or no bubble based on seasonal factors.  The spring and summer are very important in setting the tone for future home sales.  On the psychological side of things, you are likely to get the best deals on dreary days deep in the winter when few people are actually looking for homes.  Yet looking at the 12-month moving average it does look like a bottom is in place nationwide: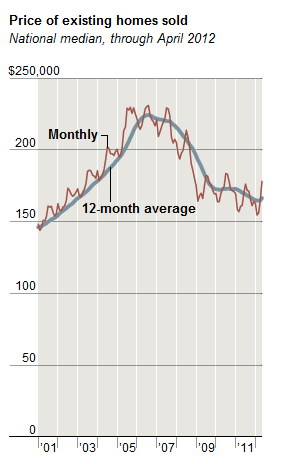 Source:  New York Times
You'll notice that the monthly price moves up and down based on seasonal factors.  The 12-month moving average gives you a better perspective as to the current larger trend.  Overall, you do see a move up in prices recently.  We'll examine this later but suffice it to say that it has very little to do with growing incomes or strong net worth figures.
Prices down from 2011 – net worth impact
An astute reader mentioned that the triennial Fed study only collected data from 2007 to the end of 2010.  Since most Americans derive their net worth from housing and the big collapse in net worth figures came because of reliance on home values, what has happened since the end of the study?  Nationwide home values have fallen over 3.5 percent so this is another kick to the net worth figures of Americans.
It is fascinating to see that from peak to trough, even areas presumed to be affordable where able to go even lower: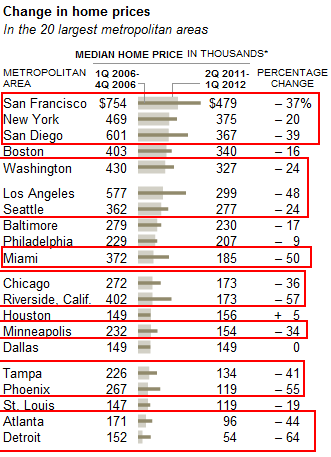 This is the large reason why net worth figures have been crushed for the vast majority of Americans.
Fed now promoting maximum leverage
It might be hard to believe but in 2000 the 30-year fixed rate mortgage was at 8.5 percent.  Not that it mattered since most were levering up with funny money no-doc, no-income, and no-pulse mortgages.  Since 2000 to current rates, the conventional 30-year mortgage has seen rates fall by an amazing 55 percent.  These low rates are here because of financial panic, horrible employment figures, and banking systems in ridiculous debt.  Make no mistake, this is artificial and spurred on by a poor economy.  The Fed now holds trillions of dollars in mortgage-backed securities and other archaic debt just to keep this game going.  Those that think rising rates would be a sign of inflation or a rising economy need only look at Italy, Spain, and Greece to see if rising rates signal a good economy.  No, rates can rise if people lose faith.  Fortunately for now, the U.S. is the least ugly girl at the dance so we are able to keep rates ridiculously low.  Yet is this a good longer-term strategy?  Eventually investors will want their money back (when do we think we'll pay off that $15+ trillion national debt?).
Even from the housing trough reached in 2009, mortgage rates have fallen another 21 percent from already low levels.  Yet prices made a new bottom.  The Fed realizes that households are in a much weaker financial situation (they just finished publishing their net worth data so of course they know what is going on!).  They also understand that housing is the biggest asset of households.  Their plan is basically to aid Americans in leveraging up to buy as much house as possible without breaking the monthly nut.  This becomes much harder now that rates are essentially at the rate of inflation.  In other words, the Fed with GSEs are pretty much the only game in town and how long can they keep expanding their balance sheets?  The Fed hinted at more MBS purchases and possibly QE3 but is this really a solution?  Make no mistake that the primary focus of support is to aid the connected banks and it is a consequence that the public will get help.  The big danger is the Fed loses a sufficient amount of credibility and once that is gone, it is hard to put the genie back in the lamp.  This is basically feeding the addicted debt ridden system with more debt.
Areas to see price increases from 2011
I was digging through the most recent Case Shiller 20-MSA report and looked at housing markets since 2011 to see which areas saw prices move up in this timeframe.  Six of the tracked areas moved up: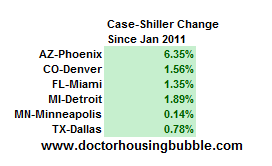 It is interesting that the only area seeing a higher than 2 percent rise was Phoenix Arizona.  All other areas barely moved up.  Phoenix and Miami are largely up because of massive price crashes and investors swooning in to purchase homes.  Even with this movement, prices are not flying off the shelves like Tickle Me Elmo.  Detroit is up because at some point, people will be interested in buying homes at near giveaway prices.  The Dallas area never really had a bubble so prices have simply moved sideways.
Areas to see price declines since 2011
Of course the vast majority of areas have seen prices move down since 2011: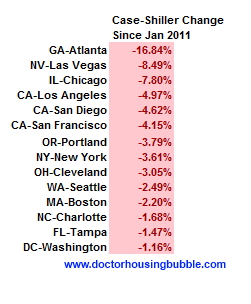 Atlanta has been crushed since 2011.  Las Vegas has seen prices go even lower even though investors were plowing into the market in 2009, 2010, and 2011.  Chicago has seen prices fall by 7.8 percent since 2011.  All large California metro areas have seen prices fall by over 4 percent.  What you are seeing on this list for the most part is inflated mid-tier markets correct even deeper.  There has been a flurry of buying recently that has pushed prices up but this is based on more Soviet Union style behavior:
-Banks are leaking out properties from the shadow inventory

-Really good deals are snatched up by insiders before they even hit the open market

-"Normal sellers" are still delusional and are not selling because expectations are off or because many are in negative equity positions

-Banks are making good deals to bulk investment buyers (i.e., not the typical America although the entire banking system is subsidized by the public)
This massive controlled system has resulted in the above.  The peak was in 2006 and here we are 6 years later seeing a new post bubble low and a short-term bump for prices simply because we have a controlled market.  Yet are Americans better off?  Obviously not if we look at net worth figures.  Then again, the majority of people are into the all hat and no cattle club and are fine with going into massive debt.  If you doubt this, just look on Craigslist or sites like Swap-A-Lease and check out where the bulk of "deals" are coming from for very expensive European cars.
New home sales boom or cleaning out shadow inventory?
The new home sales market has seen a move upwards recently: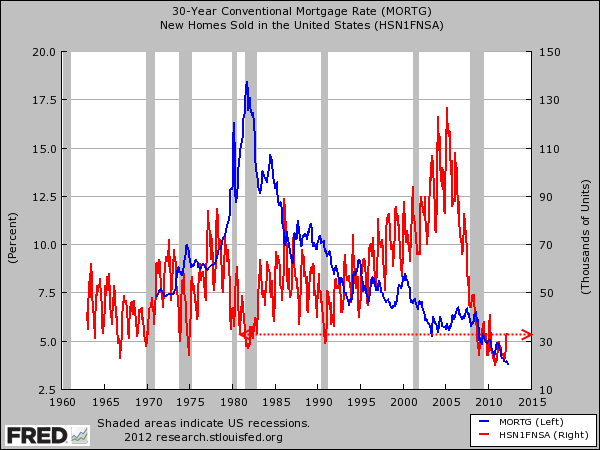 This is more significant in terms of trends for the market.  New home sales also means a demand for new home construction which is good for the overall economy in the sense that it creates decent paying jobs.  This is a more welcome trend to see.  Yet it is hard to apply more market based economics or financial projections here since the backlog is really being governed by the Fed and their too big to fail colleagues.  You've seen mainstream outlets that largely serve as platforms for cheerleading stating that there are bidding frenzies and supply is low but do not bother to crunch the numbers that are clearly available.  They are in the business of having you spend your money, real or borrowed.  There is little money to be had running stories about folks saving and paying off 30-year mortgages while living prudent lives.  They want you to take on that $700 lease on a European car and to take on that $700,000 mortgage.  Forget about the net worth data, if you don't have it just borrow it.  This is what always surprises me about those saying they "are calling the bottom" and somehow pat themselves on the back as if they were almighty financiers or economists.  Is this really a bold call?  How does this tie in with the fact that most Americans have seen their net worth deteriorate to levels last seen two decades ago.  Who cares!  We're calling a bottom because we are narrowly focusing on home prices, artificial inventory, and a market that frankly isn't a market anymore.  The bottom may not look all that impressive given the larger picture: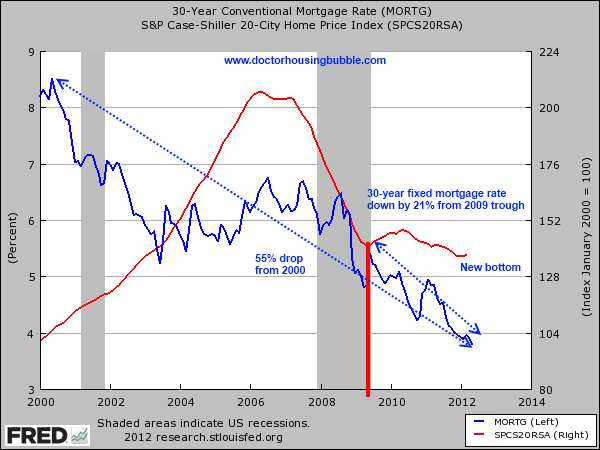 Are home prices nationwide at a bottom?  It looks like it.  But what will be the big driver for higher home prices moving forward?  That is the bigger call.  How long will rates remain low?  Are we looking at a Japan like scenario or can rates turn higher much faster?  Will incomes rise in the current decade?  These are more crucial questions to ask instead of claiming a short-term bottom is in place.  We'll get our taste of whether this is a more sustainable trend when the fall and winter hit and once the bread and circus of the 2012 elections are over.  Most people do realize that both parties are largely batting for the same team right?  In the mean time, go out, spend, and ignore those net worth figures.  A 40 percent drop is merely a scratch I say.

Did You Enjoy The Post? Subscribe to Dr. Housing Bubble's Blog to get updated housing commentary, analysis, and information.