Big investors have been a critical component to the housing market going back to 2008. Over the last few years, we have seen the smalltime ragtag mom and pop investor creep back into the market trying to make money on flips. Of course as the deals run thin and appreciation slows down as it has, it becomes more difficult to turn a profit. It seems like big money investors have already received the memo and have started pulling away from the housing market. As expected, this has put a wet blanket on the mania from 2013 where bidding wars were common and begging sellers for mercy was typical. Inventory has picked up, bidding wars have started to wane, and sales volume remains incredibly low. This is a big point to focus on. Lending standards at the moment are fair and look at actual household incomes. This is good. However, given the housing lust nature of California buyers and sellers, why is sales volume so anemic? Take a trip to your local bank and they'll throw money at you. Even ARM usage is picking up to stretch your budget. Of course sales volume is low because locals do not have the cash or income to support current home prices without the giant support of uncle cash buyer. Of course you have areas were foreign money flows in but this money is not blind and unlimited. If it were, don't you think sales volume would be off the charts for the state? Inventory is there. What is happening is big investors overall are pulling back and this does have an impact on the housing market.
When investors start to leave
Investors are now making up a smaller portion of total sales and also are making up a smaller portion of total transactions. In California, this makes complete sense given current prices. Many big investors were buying for rental purposes and cap rates are simply not attractive. I've talked with a number of investors and they started seeing prices as getting frothy back in 2013. The actual sales figures confirms this is a bigger trend.
Take a look at overall cash sales volume in California: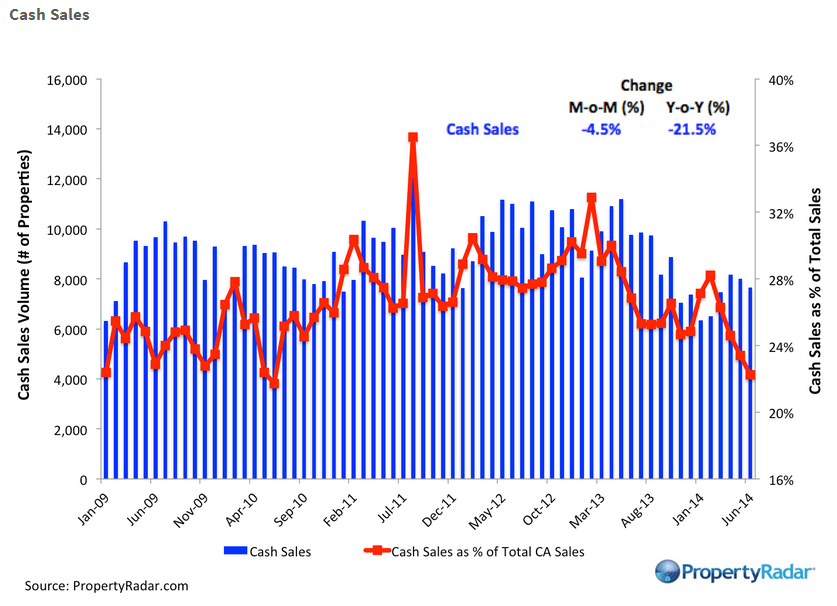 Year-over-year cash sales are down 21 percent. This is a big deal considering in many months cash sales made up over 30 percent of all purchases. Take a look at the chart above. The trend is rather clear. If 2013 was the start of another hot run, why would the momentum not continue into 2014? For households looking to buy today, they have to examine a few things: household incomes, down payment savings, and mortgage rates. Unless you have the cash ready and willing for a $700,000 crap shack, you are likely going to need to make a trip to a local bank or mortgage broker. Last time I checked, all of my contacts in the mortgage industry require income verification.
In spite of the boom in 2013, sales remain very low: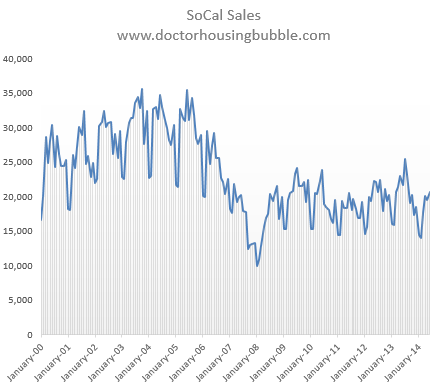 From 2000 to 2007 months where 30,000 or 35,000 homes sold in SoCal were very typical. Today, going over 20,000 is a big deal. Apparently once incomes were being checked, a massive pool of local home buyers were yanked out of buying. And it should be clear that it is not from want of buying. No, these households would once again go into full NINJA mode if they were given the chance. California is a lovely place to suffer from financial amnesia.
Take a look at sales volume in California overall: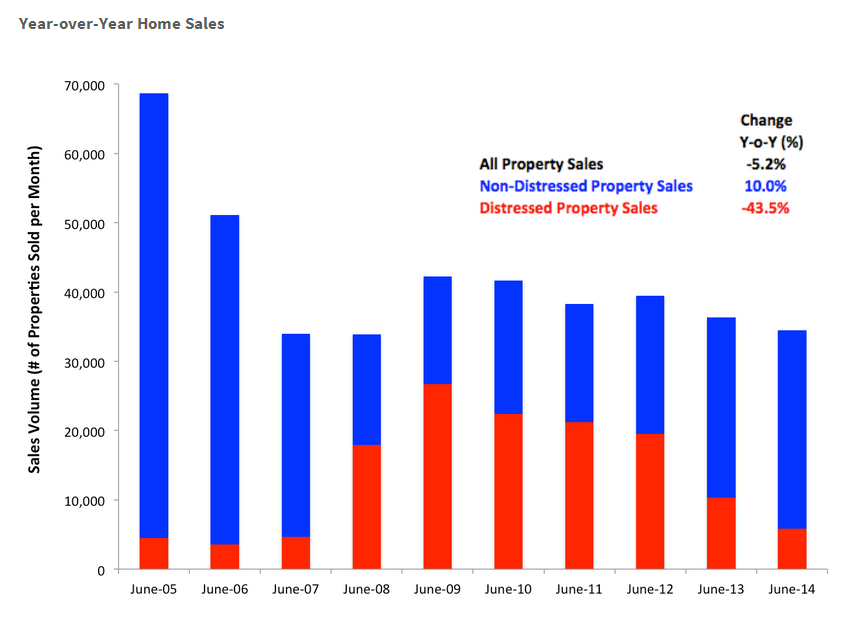 In 2005, we had close to 70,000 sales transactions in June. 2006 we had 50,000 transactions in June. After the bust, we were lucky to have 40,000 sales transactions in any given June. You'll notice that 2013 was actually a very weak sales year as we entered the summer. So what happened? Low inventory, banks leaking out inventory, and a big push by investors. Inventory is picking up, foreclosure re-sales are now a small part of the selling pool so this limits what banks are leaking out, and investors are slowly pulling back.
At current prices, buying a home is a big deal. It always is, but when you are shelling out $700,000 for a little stucco box with one toilet, you really have to think long-term here. Some try to boil it down in a way a five year old will understand with boring mantras "housing always goes up!" or "location, location, location" and assume this cookie cutter approach will apply to everyone. It obviously hasn't since 1,000,000 Californians lost their home since 2005. The momentum from 2013 has hit a wall. Where does it go from here? Obviously many investors have decided values no longer are worth their troubles.
Today I'll give you an example of a lower priced property where obviously, demand is not flying off the charts: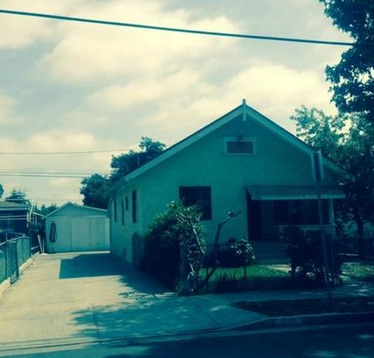 1040 W 3rd St, Santa Ana, CA 92703
2 beds, 1 bath, 1,076 square feet
I love the Instagram look to this photo. The ad is short and gets down to the point:
"Close to schools and downtown santa ana. Desirable area and close to parks."
Someone listed this home back in June for $335,000. $335,000 in OC? Sign me up! Of course no one was biting: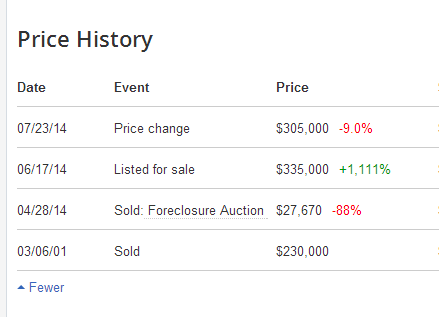 The place is now listed at $305,000 after getting a $30,000 price reduction. The hot summer selling season is not hitting all areas and sales overall are down and inventory is building up. Investors are clearly pulling back their money so we'll have to see how strongly this market can stand from regular old traditional buyers.


Did You Enjoy The Post? Subscribe to Dr. Housing Bubble's Blog to get updated housing commentary, analysis, and information.