Investor buying has pushed the real estate market into uncharted territory.  Starting in 2008 after the crash in home values, investors at first stepped in slowly and now they represent a dramatic share of all home purchases.  This may not matter to some in most states across the US but in places where investors are heavily focused, the power wielded by this group is still large.  Sellers for the most part, this includes the banks off-loading distressed properties (aka repossessed homes), look for quick sales at the highest price.  Sounds simple enough.  Yet most in the public stand no chance with the large money crowd.  For example, I know of people in targeted areas that scout for distressed properties and show up at auctions with checks ready to bid on properties.  Some are individual investors and some work for a larger system of buyers.  It is no new game with investors in the market but the volume of big institutional investors is definitely something new.
California purchases by big money
In 2007 very few investors were in the market at least relative to all home sales.  A low interest rate eco-system drove large pools of money into chasing real assets including real estate.  The large pool of money has had a dramatic impact on home prices.  Inventory is still very low and this is also part of the new psychology behind cash buyers.  Do the math.  Since 2008 you have close to 30 percent of all real estate transactions going to investors.  This figure could be more since some mom and pop investors are actually taking out mortgages.  But let us go with the "all cash" crowd that is recording no mortgage on the purchase.  Many of these buyers are aiming for rental securitization (meaning they have no plans to sell soon).  Contrary to the staying put for 30 years myth, most people move for a variety of reasons (i.e., growing family, divorce, job changes, etc).  Yet we now have a massive pool of real estate owners that have no plans of selling (at least for now):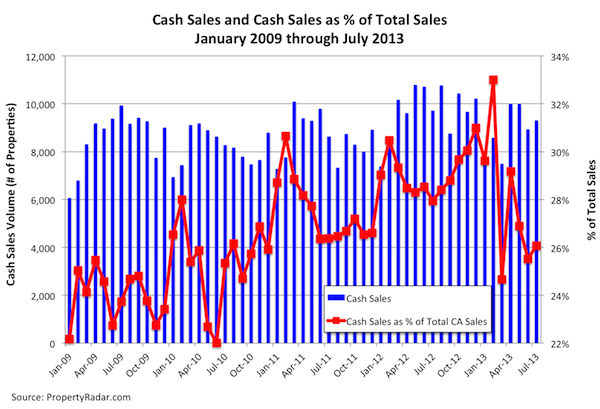 At one point in early 2013 roughly 33 percent of all home sales in California were ending up in the hands of investors.  Keep in mind this is occurring at a time when inventory is very low.  Inventory is also low for the following reasons:
-1.  Negative equity.  Still close to 2 million of California homeowners are underwater or slightly above water (i.e., 5 percent equity)

-2.  Investor buying – and holding.  This massive group has been dominant since 2008 and shifts the normal ebb and flow of buying and sales

-3.  Banks slowing down foreclose process.  Banks systematically leaking properties out to stunt the market and drive prices up
All these factors will make for an interesting 2014.  There was a slight pullback in investor buying at the end of 2014 and this has hit sales.  The big money crowd has certainly slowed down a bit: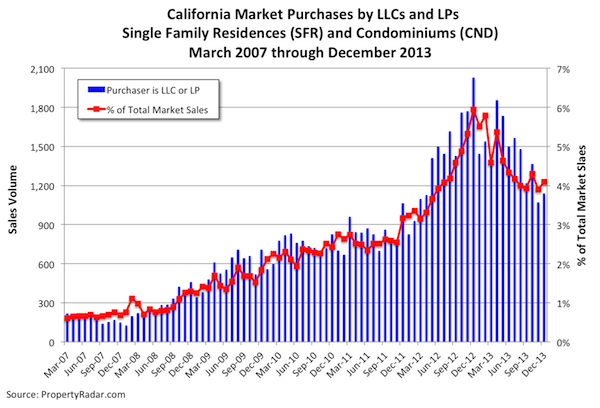 The above is a telling chart since this reflects purchases going to big money, not individual buyers.  In 2007, this figure barely registered under one percent of all sales.  At the peak, this was up to six percent.  It has recently fallen to four percent which is still high.
Even though prices in California saw one of the best years in 2013, December sales registered a weak showing, the slowest December going back to the meltdown days of 2007: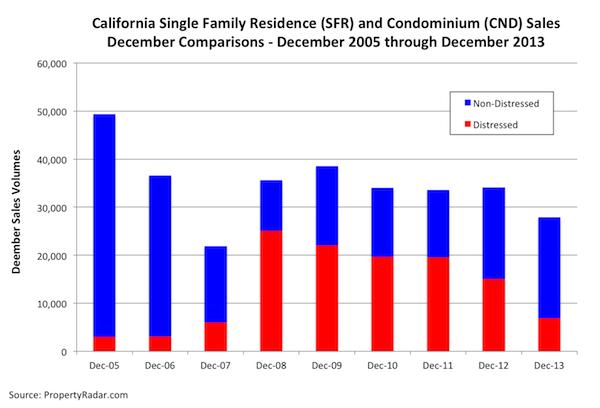 Investors are in it to make money and the Fed has created this low interest rate eco-system.  Why else do you have Wall Street and hedge funds suddenly interested in being landlords?  It is a hard grind business.  Rents are also impacted since many investors are pushing prices up on this end.
The impact on real estate psychology
It is interesting to see the shift in psychology in the market where investors dominate.  The view is now one of capitulation.  "Well you can't beat them!" seems to be the rallying cry.  Beat them at what?  Look, if you have the cash to buy a home and pay the monthly nut then there is little problem.  But for California only 1 out of 3 families can actually afford to purchase a home.  Affordability is derived from the price of a home and low rates add additional purchasing power (this is why ARMs and interest only loans are back in the game).  In 2003 through 2007 you saw this unfold dramatically as anyone and everyone had access to easy money and this was used to make up for weak income growth.  Why be prudent with money when you can buy a home anywhere, sit-back, and enjoy dramatic home price increases?  This was the era of the Flip This type reality shows.
Today, we now see many buyers stretching to buy via Adjustable Rate Mortgages and even interest only loans.  In other words, many are stretching every inch of their budget to buy.  What is telling to me, in spite of the wicked increase in prices in 2013, 26 percent of California homeowners are either underwater or have barely enough equity to sell their place.  Now I doubt these are investors that bought rock bottom deals since 2008 but this is a big chunk of the market that is essentially not ready to sell for profit.  Throw in the mix of golden handcuffed baby boomers and you can see why inventory in California is constrained.
It is undeniable the demand from the cash crowd: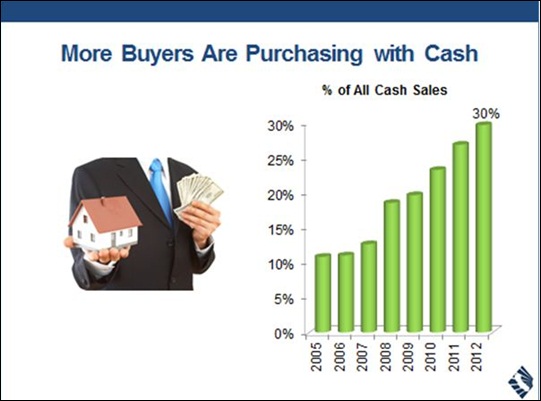 In California, around 10 to 12 percent of all sales going to cash buyers is normal.  We are three times that today.  Some tend to think that this volume of investor buying is the new norm.  I doubt that.  At some point these investors want returns either from rents or flips.  Rent yields go hand and hand with prices.  Keep in mind that rents have to reflect reality as tenants need to pay for that monthly outlay from wages.  No Fed to inflate your rental payment.  In California these yields are essentially non-existent and that is largely a reason why investor buying is slowing down.  Investors follow herd like behavior as well.  They just typically get out of the way before the train hits the regular mom and pop buyers.
For those buying in 2014, how are you penciling out the figures and in what areas are you looking at?

Did You Enjoy The Post? Subscribe to Dr. Housing Bubble's Blog to get updated housing commentary, analysis, and information.