Americans tend to shun generational transfers in wealth especially when they are unwarranted and not based on individual merit.  Heck, revolutions were fought with much bloodletting to rid the heavy chains of an aristocratic class that handed down the baton of wealth to future heirs.  The question of baby boomers and real estate is an important one because you have one generation with much of their wealth tied up in one asset class while younger generations struggle to get by.  In California, Prop 13 has been the subject of much debate and was at the hub of a rallying cry back in 1978 for tax reform, a rally many baby boomers remember (the older baby boomers were already in their early 30s at this point).  One issue that constantly comes up with Prop 13 is that you don't want grandma thrown out to roam around the streets of L.A.  Of course, this assumption is that most people stay put in one home for 30-years (this is factually not the case).  People move.  A lot.  The figures for California highlight a mobile class which flies in the face of Prop 13 justifications since properties are typically reassessed when they transfer hands.
When did California home owners move into their current house?
The data is easily accessible if you dig into Census databases.  Not pretty but it does shed the real story behind people and their actual behavior.  People tend to argue about housing benefits as if they lived in one place and never moved.  If this were the case, it would make sense to subsidize the living daylights out of real estate.  Instead, subsidies in housing have created perverse incentives that have now caused the market to go bananas and where a large majority of recent sales are now going to real estate investors.  That is another perspective of the story and caused by another form of subsidization of Wall Street from the Fed.  Let us look at the figures:

A large majority of Californians moved into their properties from 2000 to the present, roughly 69 percent.  That is a sizeable number.  Even if we look at 2010 to the present, we find that 30 percent of current households moved into their current shelter.  For California, 54 percent of households own and 46 percent rent.  So naturally, it is likely that renting households move more often (the data isn't broken down between groups).  So it might be useful to look at an area dominated by home owners.  Let us look at Yorba Linda where 80 percent of households own property and there are few rentals:

The statistics change a bit here as expected.  Close to 58 percent of households moved into their property from 2000 to the present.  So much for those lifers staying put for an entire generation.  Given that the bubble started raging when Wall Street got fully involved in housing in the late 1990s and our good friend Alan Greenspan started blowing mega-Fed bubbles, this is a good starting point of when those juicy golden real estate handcuffs started being purchased.
What we find in Yorba Linda is likely the case in more owner-occupied regions.  Santa Monica is the opposite of Yorba Linda with few owner-occupied places and tons of rentals:

Recent data shows that 70 percent of households in Santa Monica rent.  This is a much higher figure than statewide data but reflects a similar moving dynamic.  Nearly 67 percent of households moved into their property from 2000 to the present.  You have a small portion of single-family properties for sale so the battle for these properties is fierce.
What is more interesting and the data may have a tough time tracking, is that from 2008 to the present roughly 30 percent of all properties bought up have come at the hands of investors.  Run a thought experiment here.  Someone buys a property in Santa Monica and converts it to a rental.  The investor then rents the place out.  The Census data registers a new household moving in.  Now assume this investor bought five places.  Five new households move in but one is truly the controller here.  No grandma being kicked out onto Skid Row because of rising tax rates.
One thing is very clear here though, people move a lot regardless of owner or renter status.  In fact, people in the west move the most: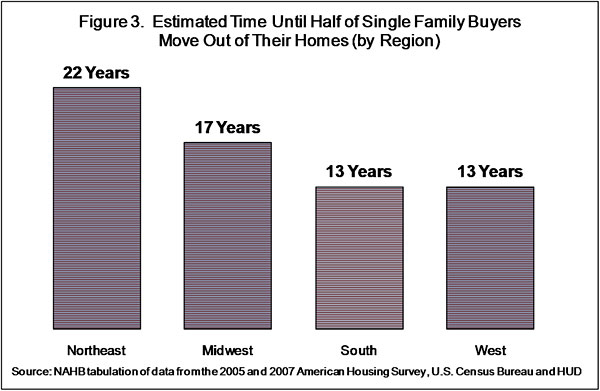 Within 13 years, half of the people that purchased a property in the west flat out are gone from their homes.  If they play the property ladder game then they basically purchase another property at the newly assessed price.  You can see why the state would enjoy more housing transactions.
Ironically, one of the consequences of the real estate mania stew in California is that a larger portion of the voting public is now becoming renters: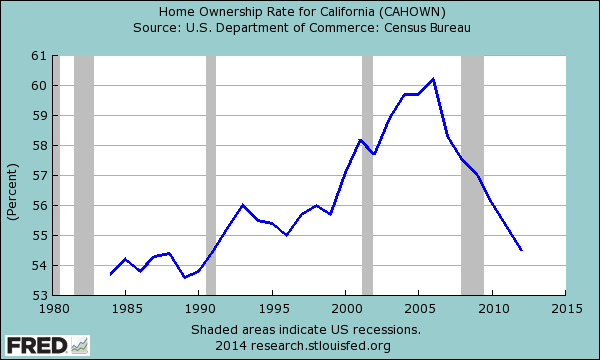 The California home ownership rate is back to where it was in the early 1990s.  The homeownership rate took a dramatic shift from the top and now with investors driving a large number of sales, fewer California households can actually afford to purchase a home.  It is human nature (a biological imperative no doubt) to think that you had some hand in your own success, even if it is largely a luck of the draw when it comes to timing the real estate market.  Many of us drew a solid hand by being born into the United States instead of some despotic nation.  There is no denying that.  Just like many boomers had the luck of the draw to purchase during relatively affordable times in California with limited global competition in terms of employment, steady growing income streams, and less speculation in the overall housing market.
23 percent of the California population is 55 or over.  Throw in those 45 and older and you are talking about 37 percent of the population.  Without a doubt, you have many households enjoying those golden real estate handcuffs but how big of a difference is this?  Take this house in Culver City for example: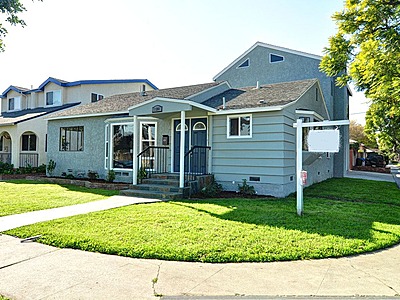 11201 Segrell Way, Culver City, CA 90230
3 beds, 3 baths – 2,343 square feet
The place is listed for sale at $974,900.  The place sold for $750,000 on August of 2013 for $750,000.  Nearly a $200,000 gain in a couple of months.  Sounds perfectly non-bubbly to me!  Previously, the place sold back in 1991 for $356,363.  The place had property taxes of $4,398 a year until this recent flip.  Now the current investor/buyer is looking at a $750,000 tax assessment but if they get their target list price, the new buyer will have to fork over taxes on a $974,900 property.  How in the world do you go from paying property taxes at a $350,000 rate to suddenly going to nearly $1 million in less than a year?  Surely the roads didn't get that much better in this time.  Are they suddenly building a new awesome school for your kids?  Maybe the air over this piece of land will be cleaner once you ink that new mega-mortgage.  Clearly grandma isn't being put out on the cold streets of Culver City to roam around looking over her shoulders for those tax collecting zombies while snacking on Slim Jims.
It should come as no surprise that a state with some of the most restrictions and red tape also has some of the most expensive real estate.  Some seem to welcome this new favela versus Park Avenue version of the future yet fail to examine what this does to younger generations.  It was interesting to read some comments from readers that were shocked that San Jose actually had some, get this, ghetto areas.  Of course!  Only 1 out of 3 California households can afford to purchase a home but people need to live somewhere.  People don't even realize that food stamp usage is up 55 percent in California for the recovery:

Source:  SNAP
As I have mentioned before, many of the people that bought in more affordable times and enjoy those grandfathered in Prop 13 rates are largely house rich and cash poor.  They peek out of their windows and see young professional couples move in with multiple degrees and flashy cars sporting juicy incomes while they pinch pennies living in their million dollar California granite countertop laden sarcophagus.  They complain and hem and haw but never cash in that golden ticket.  At least the data shows that the majority don't do this for a variety of reasons, mainly that it really is expensive to live here.  Yet there are plenty that enjoy those golden real estate handcuffs.  While one household is shopping at Wal-Mart the next door neighbor is unloading the SUV with Whole Foods grocery bags.  A very interesting dichotomy.  People seem to forget about the flood of foreclosures that ravaged the state only a few years ago – no need to dwell on that and California is notorious for economic amnesia.
Any other stories of golden real estate handcuffs and mega real estate handoffs trying to pass on those Prop 13 rates to family members?

Did You Enjoy The Post? Subscribe to Dr. Housing Bubble's Blog to get updated housing commentary, analysis, and information.