One of the best measures we currently have for tracking real home price changes is the Case Shiller Index.  The reason this measure is one of the best is that it examines real changes on repeat home sales.  So you are really measuring the real price change for the same property, or as close to it as you can.  The median price can show massive price movements down or up given what period of a boom or bust we are in.  The median price is useful in more stable housing markets but for over a decade we have had anything but that.  It is important to understand the difference in these measures because we are now seeing a large usage of the median home price in the press and this in turn creates a self-fulfilling prophecy.  The same can be said when bubbles burst.  I want to explore the Case Shiller closer for the Los Angeles market over the last few decades to track these changes and spot where we are in the current cycle.
Case Shiller Los Angeles
I wanted to map out the Case Shiller changes for Los Angeles on an annual basis.  What is fascinating is that in the late 1980s and early 1990s, Los Angeles had a big boom and bust as well.  In regards to an actual percent increase, we nearly approached the same peak as we did this time but the fall was much softer.  Take a look at some of the peaks and valleys going back to 1987: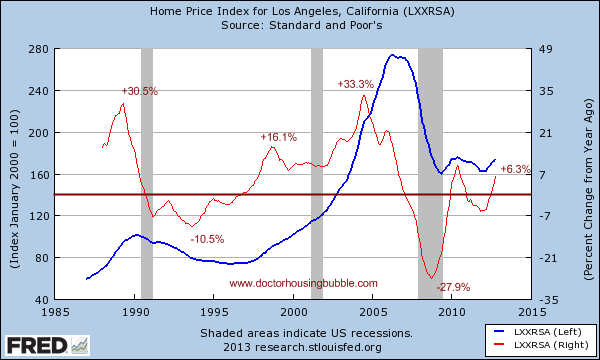 The dip in the 1990s was modest partly because real household incomes were still going up and we also had a solid boom in the technology sector.  This made up for some major cutbacks in the aerospace industry.  You can also see the larger 2000 peak and this was much more pronounced because it came on the back of already higher prices which started in the mid-1990s.  So these annual gains were much more significant since they compounded.
Looking at the blue line above, home prices for the Los Angeles region are now back to levels last seen in 2003.  However a larger part of the recent increase has to do with very limited inventory, some of the lowest we have seen in over a decade coupled with very low interest rates.  Take a look at this chart examining what kind of leverage has been added to the typical buyer: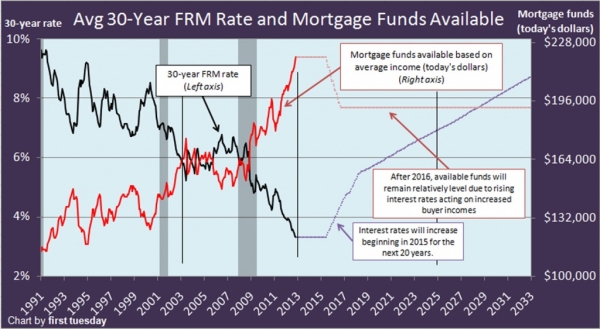 Back in the early 1990s the 30 year fixed rate mortgage hovered close to 9 percent.  At that level, a buyer with an average income was able to afford closer to $110,000 to $120,000 in a mortgage.  Today, we are inching closer to $228,000 with rates in the low 3 percent range.  We discussed this in a previous post showing that Japan in spite of low rates has seen zero real growth in real estate values for nearly 30 years.
What is interesting about the chart above is what happens in a few years.  You see what happens once rates begin to move up in 2015 as many are predicting.  At this point, even a slight movement up will disrupt the market (i.e., if rates go from 3 to 6 percent).  The amount people can take on decreases with the proportionate rise of interest rates.  So right now, even more modest predictions do not see rates dipping much further from here and subsequently, in a couple of years, rates are very likely to go up.
With housing booming, where are the good paying jobs?
Even with the 2012 boom in home prices in California and other parts of the country, one area that is not seeing job growth is with real estate agents: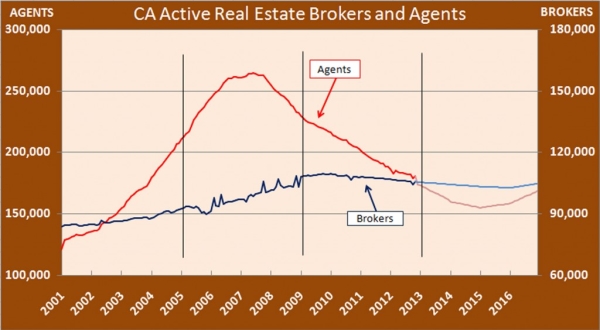 We have the same number of active real estate agent licenses as we did back in 2003.  As many of you know, this is a feast or famine profession.  You have probably 20 percent of agents taking on the lion's share of sales volume.  Many people have a license but never actively participate.  Many have only a handful of sales each year.  But this decline is sizable.  From about 270,000 or so down to 180,000 today.
What is interesting about this current part of the cycle is that a larger portion of the money is being made by investors and flippers.  Sales volume is the name of the game for real estate agents.  You make money when you buy and sell.  If we look at actual sales volume, we can understand why this trend is occurring: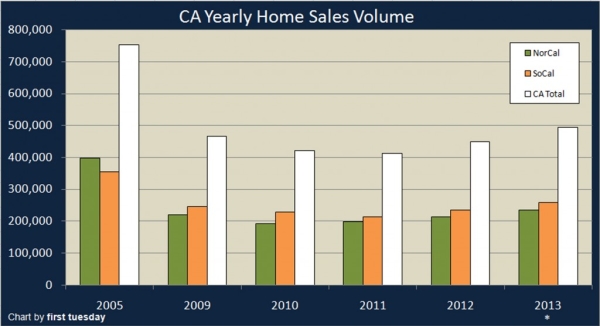 While home sale volume is high relative to say 2007 or 2008, we are far below a peak year like we saw in 2005.  In 2005 we were approaching 800,000 sale transactions in California.  Last year, it was around 430,000.
Are we on a sustainable path in terms of seeing prices increase?  Hard to say.  We probably have a bit more gas in the low interest rate gas tank and with low inventory on the market, those that want to buy have to compete with hedge funds, flippers, FHA insured loan buyers, and your regular family trying to buy.  The interesting thing is that psychology is very much in mania mode.  Like in the 2000s, a good number of people knew we were in a bubble but after seeing the gains in the market, many decided they were going to jump contrary to understanding the numbers.  Today, many understand that low rates are artificial, incomes are not going up, and a big part of the low inventory is based on how the banks are processing and leaking out distressed properties.  Understanding and action are always two different things however.  We don't need to dig into the archives of housing history to understand that.

Did You Enjoy The Post? Subscribe to Dr. Housing Bubble's Blog to get updated housing commentary, analysis, and information.