In 2000 roughly 5.8 percent of all California housing units were listed as vacant.  With the latest 2010 Census figures California is now listed as having 8 percent of all housing units vacant.  Keep in mind this figure doesn't include the occupied shadow inventory.  When I hear rumblings about a sudden home price recovery in California the arguments usually lack any substantive data showing how home prices will move up in the coming years.  Part of the reason why home prices will remain muted revolves around the removal of high leverage loans from the market.  As we all know, in any given year only a tiny portion of a city's inventory is moved via sales.  These sales make up the new "market" that most other surrounding homes base their future price.  Take Culver City for example.  Culver City has approximately 10,000 owner occupied housing units but in February only 8 homes were sold.  If more home sales are composed of lower priced distressed homes it is likely to depress overall prices moving forward.  The reverse was in order when the bubble took off.  Looking deeper into the future home sales will depend more heavily on household incomes.  This seems rather obvious but this self evident reality was lacking for all of the last decade.  In some niche markets you see all cash buyers moving in but they make up a specific portion of the market.  You have investors in lower priced areas dominating and investors picking up lower priced quality homes in solid markets.  This trend only has so much lasting power.  This is the current cycle of the California housing market.
Large number of vacant homes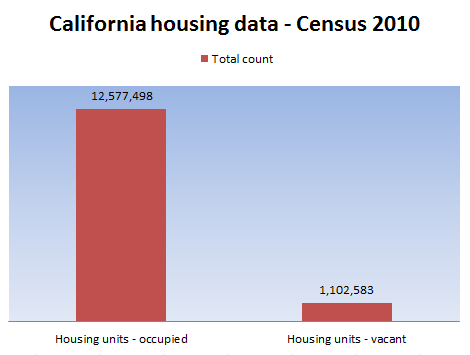 Source:  Census
It might come as a surprise to many that California has 1.1 million vacant housing units.  Back in 2000 California had 712,000 vacant units so over the decade we have increased the number of vacant units by 54 percent.  At the same time total housing units have increased by 11 percent.  The market has a potentially enormous number of homes that should fall into the sales pool.  Keep in mind this figure does not include currently occupied homes where borrowers have stopped making payments.  In California this is a large number.  We are seeing home sales move on lower priced homes and you are seeing this pattern play out in mid-tier markets as well.  The realization is coming slowly but as more and more homes are sold on the margins, future comparable home sales will be based on lower priced transactions (even if this means chopping $50,000 from a $500,000 home).  This is what we are seeing in the median price coming down in many California cities.
There are a couple of key factors as to why home prices have little chance of going up in these markets and in fact, will likely move lower.  First, many of these desirable cities were leveraged up through exotic mortgage financing.  We all know about the problems caused by these loans but what is usually ignored in the media is the ability of these loans to exacerbate a mania like we had in the housing bubble.  Desirable areas didn't suddenly become places of interest in 1997 or 2000.  But what did happen here is with the repeal of Glass-Steagall investment banks were able to flood the market with demand for junk mortgage backed securities and the desire to live in these markets was suddenly pushed to another level.  All people needed to buy was a pen with ink and a willing attitude to sign on a dotted line.  It might help to visualize how much leverage was in the market during this time: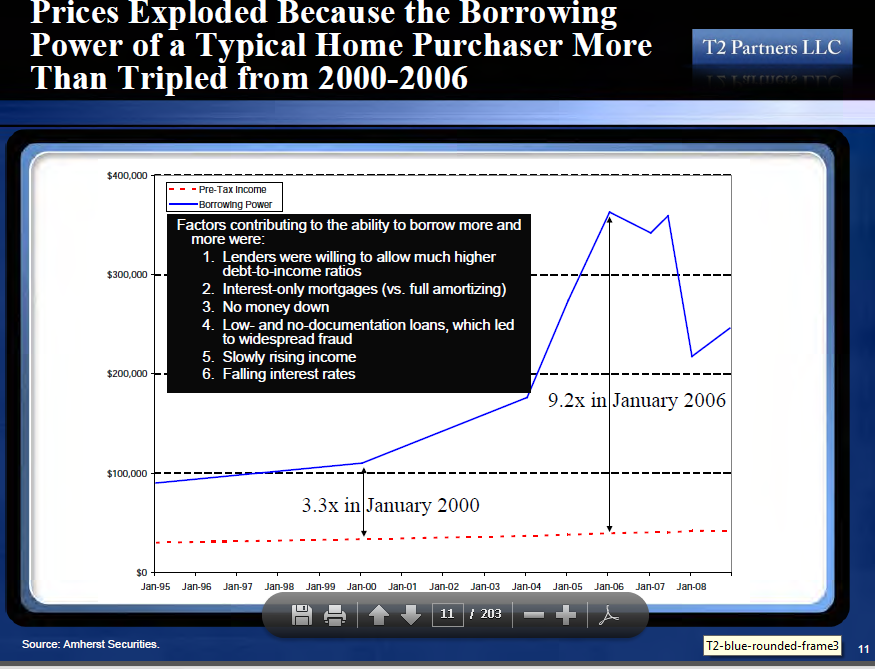 Source:  T2 Partners
This is one of the most important charts especially in forecasting future California home prices.  Nationwide the median home price is approximately $160,000 while the nationwide household income is $50,000.  Home prices nationally are 3.2 times the annual household income.  This is getting more into a sustainable range but I would argue it is still inflated because of economic conditions.  In California prices are still out of balance with household incomes.  The high leverage loans have been pulled from these markets allowing people to borrow 9 times their annual household income (or even higher in many cases).  Take Culver City as an example and use the pre-bubble figure of 3 versus that of 9 at the peak:
Median household income (2009):          $72,000

With pre-bubble mortgages:                     $72,000      x       3     =  $216,000

With bubble mortgages:         $72,000 x              9         =       $648,000
This is why you still see nonsense pricing in many mid-tier cities.  Current home prices reflect an era with high leverage loans but those are now gone.  Since so few cities sell in these markets at any given time the market takes time to adjust lower.  Lower priced counties like San Bernardino and Riverside are quickly approaching the pre-bubble price range but sales are also high in these areas:
Riverside median home price:                    $190,000

San Bernardino median home price:       $150,000
Los Angeles and Orange County have fallen dramatically from their peaks as well but some markets are only waking up to the new reality today.  Keep in mind many of these cities still price homes in the jumbo loan category even though households barely scrape in $100,000.  This leads us to our next important reason why large home price movements are unlikely to reappear, income.
Household income does not justify high prices
Without leverage you now depend on household income.  This is how the household income makeup for the state of California looks: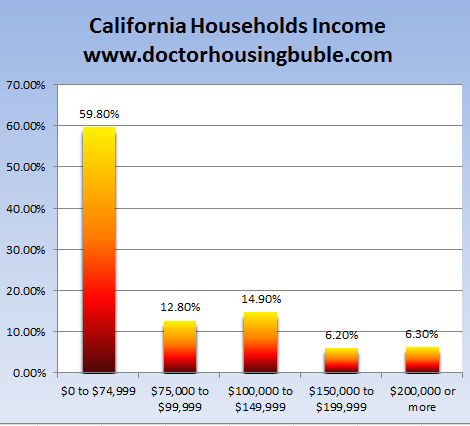 The median California home price is $244,000 at last count.  I would argue that a household would need $75,000 a year (at least) to purchase this home.  Well right there you eliminate 60 percent of all households.  The state is still over priced even though home prices have done this: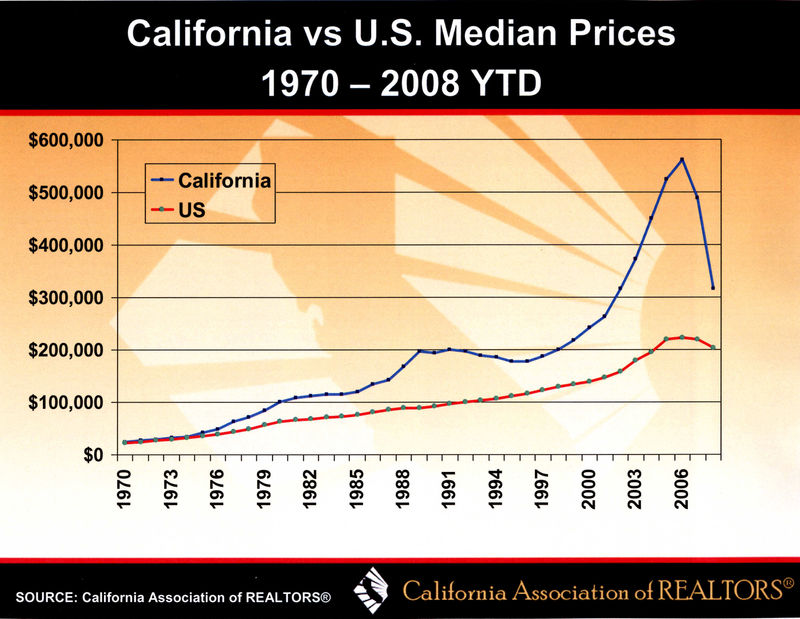 Source:  Anne's Land
Home prices have imploded for very valid reasons.  This was a mania.  In mania's irrational psychology takes over markets and economics takes a secondary position.  As the market awakens from its speculative fever reality starts sinking in.  This reality has hit some areas quicker but doesn't mean it won't eventually catch up to all areas.  People forget how much of the U.S. market ended up being 100 percent financed during the mania: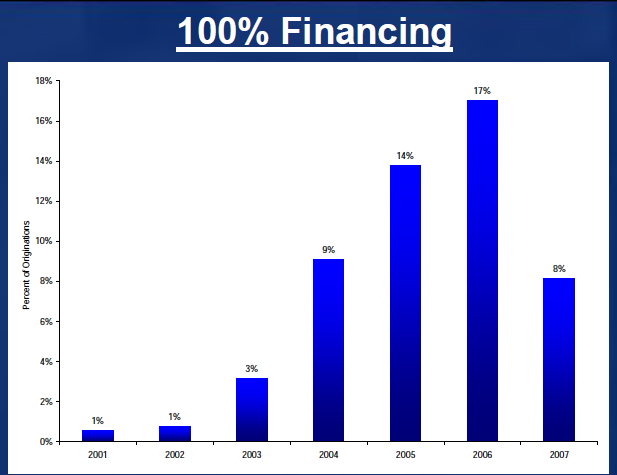 We are now in a new world.  A big reason for showing many examples of homes is to highlight the reality that many cities are still in bubbles.  The mania is still going on.  When people look back at $500,000 homes in Huntington Park they now realize how crazy that was.  Yet during those days in 2005 and 2006 it didn't seem like a bubble to the majority.  That will happen in many of the mid-tier areas.  These numbers are unsustainable and by definition will correct.  The only way prices remain is if household incomes suddenly bounce up to justify those home prices.  I don't see that happening.
California took punishment during the Great Depression:
The above is a picture of a Hooverville in Sacramento (not real estate San Francisco style) to show that even though things change, we are still impacted by national and global events.  Things radically change and the market dynamics have now shifted.  Banks are moving on shadow inventory in mid-tier markets because they now realize there may be lost decades in these areas.  The bailouts and profits since the massive taxpayer cash infusions have made their balance sheets healthy enough to move on and to speculate on the next new-new thing.  You think an institution that is willing to nickel and dime you on ATM fees is going to let folks stay in homes longer simply on charity?  The only reason they allowed this squatting to go on for this long is because they thought the bubble pop was merely a temporary downturn.  They now realize and I'm sure their internal economists realize the same thing by looking at the above data.  Prices have virtually no chance of bouncing back up.  Right now may be a great time to unload since there are a good number of cash buyers on the margins ready to pounce on decent properties.  Yet this will require banks to move on more desirable homes.  You don't see top paying cash buyers picking up fixer uppers even in solid zip codes.
I think you have many people that bought in 2009 and 2010 now regretting their mistake as they bought into a falling market.  This isn't the bottom so don't get caught up in the frenzy.

Did You Enjoy The Post? Subscribe to Dr. Housing Bubble's Blog to get updated housing commentary, analysis, and information.