The California housing market ended 2015 just like the stock market.  Losing momentum and looking overpriced.  In California a runoff of tech wealth has flooded into areas like San Francisco driving prices into the stratosphere.  People now seem to feel that real estate is untouchable and that the Fed somehow cares about some crap shack in SoCal.  The Fed has bigger fish to fry.  Foreign money has pushed prices up in certain cities but this money can be fickle.  Will this money continue to flow in?  The housing market in California looks due for a correction simply based on underlying fundamentals.  Most of the arguments for prices remaining high across the region seem myopically focused on the notion that foreigners and investors are somehow dumb when valuing assets.  I've spoken with a handful of investors, both local and from abroad and they are keenly focused on value.  There are a few challenges facing the California housing market and it is safe to say that things will limp along into 2016.
Housing in 2016
It is interesting to hear predictions on housing especially in 2015.  Most of the housing bulls seem certain that "others" will continue to buy even though they themselves are not buying.  If housing were such a sure bet from here on out, why not plunk down some cash and buy?  In California buying for cash flow is a losing proposition.  But over the last few years people bought to flip or to speculate on additional appreciation.  That has been the play for hot money.  But with price gains hitting a wall, will this continue?  Also, a 20 percent down payment on a crap shack can be $140,000 to $200,000 depending on the area you are looking at and this doesn't count the 30 year giant monthly nut.
First, housing in California is incredibly unaffordable to most families: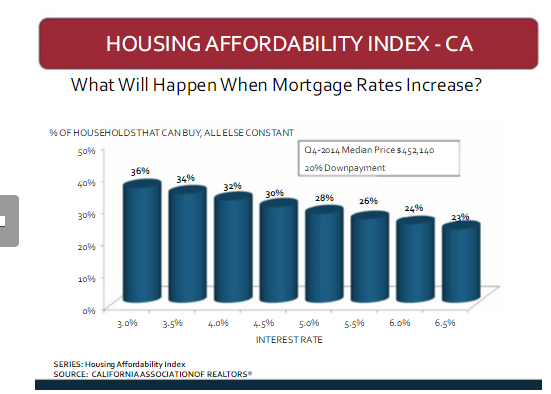 At current interest rates, only about 32 percent of households can afford to purchase a house.  And over the last few years the blind rhetoric that the Fed would never raise rates was broken.  The Fed just raised rates.  Now what?  The idea that the Fed is looking out for housing alone is nonsense.  They are focused on bigger challenges like keeping the stock and bond markets flowing and making sure the employment situation doesn't fall off a cliff.  Having ridiculously priced real estate in many regions isn't exactly a good thing.  This is more of an outcome of NIMBYism and hot money doing what hot money does.
Another argument we get is regarding pent up demand for Millennials: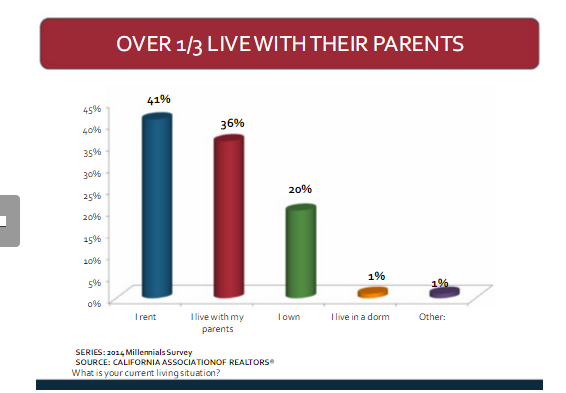 Most Millennials rent but an incredibly high number live with their parents.
Those that rent are surely rolling in money and are just waiting to buy right?  Not exactly: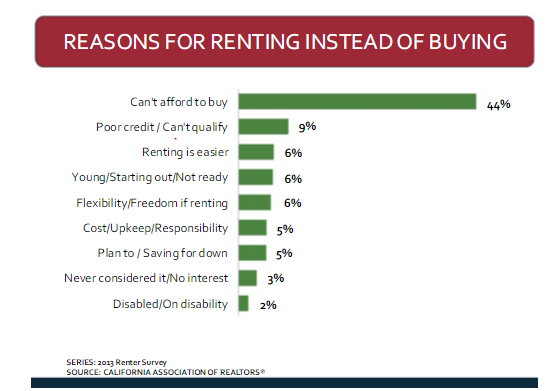 Nearly half of those renting flat out can't buy.  They can't afford to.  Sure you'll hear about anecdotes from house humping cheerleaders but data says otherwise.  Then why did prices go up?  Because of foreign buyers and investors.  Can you compete with an all cash buyer in San Francisco for a million dollar crap shack?  Do you even want to?  In reality the number of renters looking to buy is in the single digits.  And these are for renters.  Do many want to buy?  I'm sure they do but I'm sure many people would love to have a Tesla or a private jet.  Those living at home are even more broke since the bulk can't even afford a sky high rental.
What about new construction?  California is building a few new homes and developments but not many: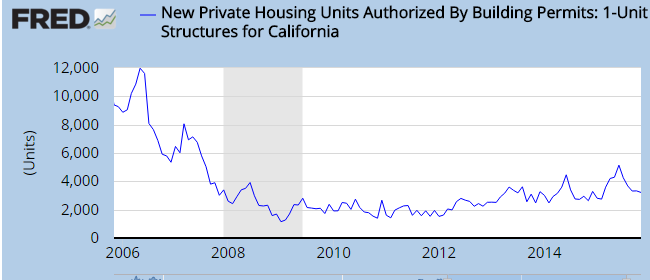 What is telling of the price gains is how widespread they are.  We aren't just talking about San Francisco or Santa Monica.  You are seeing practically every zip code in Los Angeles up by large margins over the last few years.  Yet incomes are stagnant.  The notion is every area is gentrifying.  That is simply not the case.  Of course the stock market has been in a major bull run since 2009.  We will see how real these gains are when the next slowdown in the economy hits.  People do realize that recessions tend to be cyclical occurrences right?  But of course, in financial amnesia California real estate never goes down, the sun always shines (except for El Niño years), and traffic is never an issue.

Did You Enjoy The Post? Subscribe to Dr. Housing Bubble's Blog to get updated housing commentary, analysis, and information.