Blame it on too much paperwork.  The house humping cheerleaders are blaming the drop in sales volume on too much paperwork instead of the true underlying culprit.  The real reason that sales collapsed was that prices are largely becoming unaffordable to most families.  In virtually every part of California home prices are out of reach for families without them diving into massive mortgage debt for a piece of crap stucco box.  Taco Tuesday baby boomers of course would like home prices to remain inflated but now they are getting a taste of economic karma when their boomerang kids move back home as adults.  An indication of this insanity in California is based on the volume of investors buying homes.  Last month 30 percent of home purchases went to all cash buyers.  This was the highest amount going back to 2012.  However, sales volume took a big dive.  In other words, a large portion of those that can buy are investors.  Is this trend sustainable?
Cash buyers make up a big part of sales volume
Cash sales jumped up significantly again last month thanks in large part to foreign money flowing in from China.  While cash sales jumped up, this is still a small portion of the market.  Most other crap shack wannabe buyers were unable to buy based on their pathetic income growth and the ridiculous sized mortgage they would need to take to purchase one of these cardboard boxes.  2015 looks like it will end with a wet towel thrown over the market.  Price gains have hit the expected wall.
First, it should be noted that cash sales were never a big part of the market.  In more "typical" years before housing turned into a speculative investment vehicle, cash sales made up about 10 to 15 percent of all sales.  Last month cash sales cracked the 30 percent mark of total sales for the first time since 2012: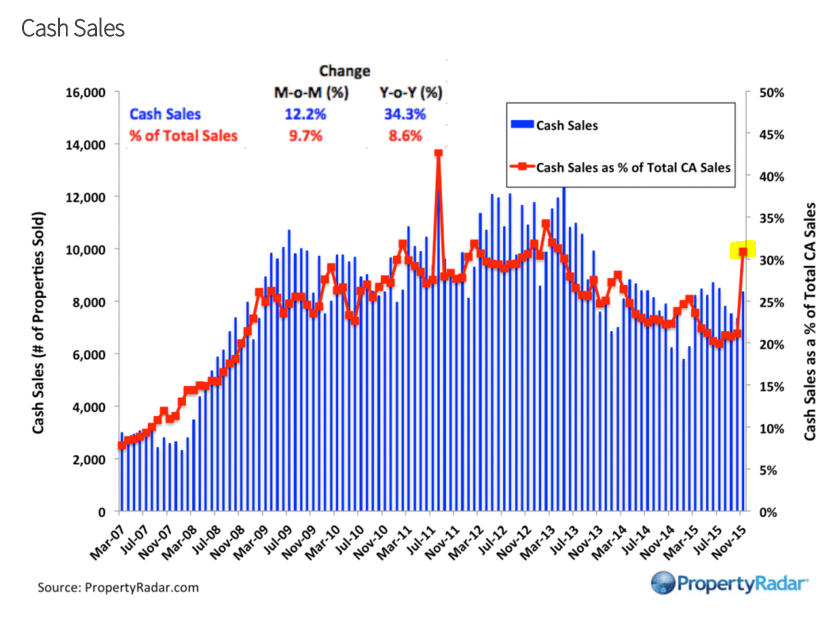 The force awakens with cash sales.  But then again, look at the blue line showing the raw number of cash sales.  Not really a big jump.  But what did happen is that total overall sales took it on the chin: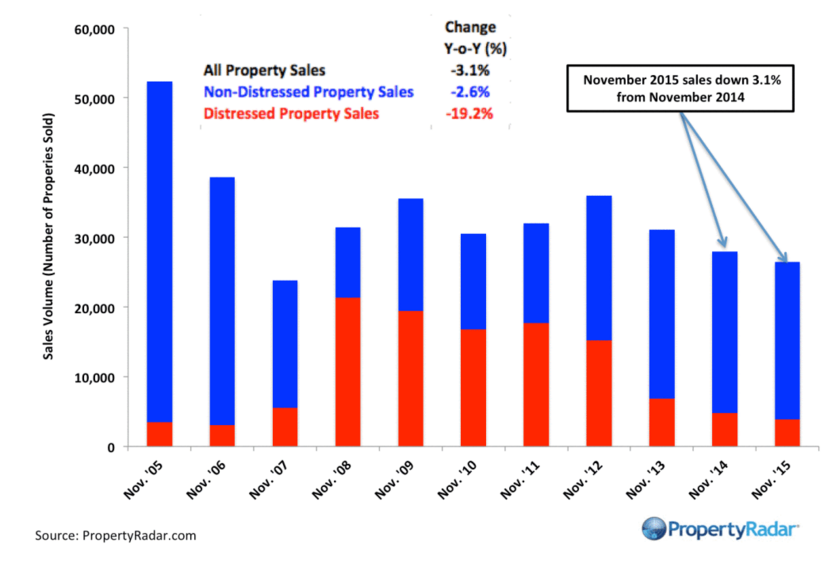 This was the crappiest November since 2007 when the market did a Wile E. Coyote off the economic cliff.  But the blinded house humpers keep on thinking the Fed is some sort of omnipotent god.  The Fed was around the last time the market imploded as well.  Maybe this is a new and modified Fed?  Maybe the Fed really cares about row after row of Great Depression built housing to make sure folks in the entertainment industry have a nice and new hipster enclave.  And by the way, no one is stopping people from buying a $700,000 crap shack. Heck, give your local real estate agent a call today and there is plenty of crap shacks available to buy right now if you truly believed it was a straightforward decision. The reason there is still plenty of analysis to be made on the housing market is because thinking people are questioning actual value.  At current prices, a minor 10 or 20 percent correction would wipe out $100,000 or more in a down payment.  You have some people talking about buying now because you can't predict the future yet in the next sentence go on and talk about how buying a home is always a good value (recent history and millions of foreclosures provide a counterexample).  That in itself is a prediction yet they are blinded by cognitive dissonance.
The truth of the matter is that home prices are overvalued relative to local family incomes.  What do you pay your mortgage or rent from?  Hence the large portion of sales going to all cash buyers from outside of the market.  Since home prices are pushed up at the margin, this makes a big impact on where prices go.  Then again, this is also what can cause home prices to reverse quickly.  Things have the potential to revert to the mean aggressively.  Look at oil for example.  Only a short time ago there was a million pounds of internet ink talking about how $100 oil was here to stay forever.  Buy now or be priced out before it goes to $200!  Everyone needs oil.  They aren't making any new oil.  And on and on was the rhetoric.  Yet here we are with $2.50 a gallon gas in California and in some parts of the country $1.50 per gallon.  Things can change and change quickly.
There is always the argument by house humpers that renting is throwing money away but buying is not.  You realize that you have to pay that mortgage for 30-years before that house is yours right?  Ask the people that paid a mortgage for 10-years and then got caught in the last recession and lost their home how much they "owned" that property before the bank took it back.  You also realize that you don't own food forever yet you don't see everyone owning a farm because they don't "own" a restaurant or grocery store.  It is something that is a basic need – when you rent or pay the mortgage you are paying for shelter.  Renting in many cases is cheaper, gives you more mobility, and for many is the only thing they can afford.  Buying a home provides you tax deductions, forced equity build up, and a place so long as you can pay the mortgage.  Both provide the same thing, shelter.
Even when a home is paid off, you still have taxes, insurance, and upkeep.  In other words, it acts more like a liability when you live in it.  That is why most really wealthy people don't really look at their home as a cash flow item on their balance sheet.  A rental is a different story.  Income is being sent from the property to you.  You can deduct a host of things that are not deductible from your primary residence.  Beyond this, most in California can't buy because of the simple fact that they are too broke to purchase at current price levels.  You also have the funny phenomenon of boomers living in million dollar homes while shopping at the 99 Cents Store because they don't have much income flowing back in (especially when their adult kids move back in).
Cash sales are dominating the market again because in reality, these are the only people that can afford to buy.  The rest are having trouble filling out paperwork and scrimping dollars just to make up for the down payment on an overpriced crap shack.  The Fed would never raise rates, some said.  They just did.  Housing values will never go down, until they did.  Also, it should be noted that out of the 8 million foreclosures that happened in the last decade, most of these were at the hands of boring and stale 30-year fixed rate mortgages.  A recession will do that to you.  We've been in a wicked bull run since 2009.  What happens when a minor recession hits and people are living on the financial edge?  Thankfully there is a host of millionaire and billionaire investors buying up properties to provide you a nice and cozy rental.

Did You Enjoy The Post? Subscribe to Dr. Housing Bubble's Blog to get updated housing commentary, analysis, and information.