People look at population growth in California and see nothing that stands out.  Digging into the numbers you find some interesting figures.  First, the main reason California is actually growing is because of international migration.   California for well over a decade is losing domestic residents.  That is, "domestic" Californians on a net basis are heading out of the state.  On a more micro level, you are seeing the middle class either being phased out of the state or being pushed into lower priced inland regions.  It is an interesting trend that is also happening in the tech hungry Bay Area.  Housing continues to be an important topic because the vast majority of income is spent on housing.  California has one of the highest percentage of families spending half or more of their monthly income on either rent or housing payments.  In places like Los Angeles the main international migration is coming from Asia.  You also see this driving up real estate values in certain areas and this contributes to domestic out migration.  The migration numbers are interesting and shed light on this global trend.
California is a dramatically changing place
California is dramatically changing.  It was telling to see the housing protests in the Bay Area where tech buses were stopped by anti-gentrification protesters because of crazy housing costs.  It is odd to single out the tech industry which is highly progressive as some kind of aggressive capitalist juggernaut.  But NIMBY policies, antiquated tax laws, and employment centers are shifting demographics.  Many in the tech industry are progressive socially but are fiercely free market when it comes to ideas.  So when it comes to housing, it is open season and many original residents can no longer compete with current prices.  Hence the out migration.
Take a look at migration patterns in the Bay Area first: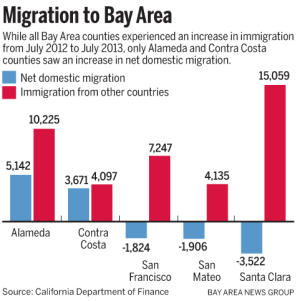 In a global market, talent will come from all over the place. This is how you can have million dollar crap shacks in San Francisco selling with multiple bids.  Of course, we are currently in a big bull market and the tech sector is blistering hot (and many companies are looking extremely frothy).
California is growing because of international migration and natural births.  Domestic migration has been trending out for well over a decade: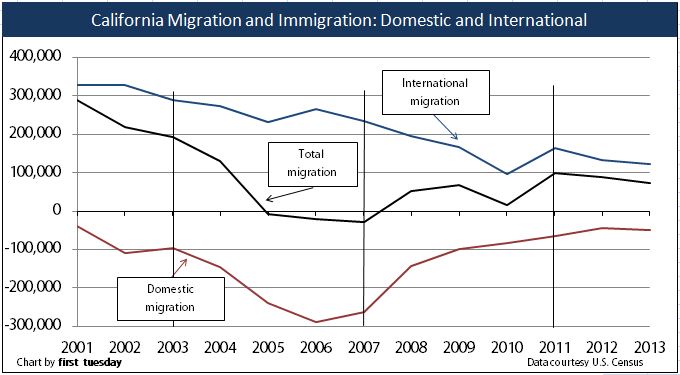 During 2006 and 2007 California was losing over 200,000+ people that were originally Californians to other states.  But internally, you are seeing some other shifts occurring because of economics as well:
"(SacBee) Between 2007 and 2011, as a severe recession hit California, Southern California counties were the nation's most active in terms of human movement.

The nearly 42,000 people who moved from Los Angeles County to adjacent San Bernardino County during the period was the largest county-to-county migration in the country. It was followed by the nearly 41,000 who moved from Los Angeles to Orange County and, interestingly, the more than 35,000 who moved to Los Angeles from Asia, the nearly 31,000 who moved from Orange to Los Angeles, and the more than 27,000 who moved from Los Angeles to Riverside County."
Many have transplanted from high cost Los Angeles to lower priced San Bernardino.  You have a similar pattern of people moving from Orange County to Riverside.  But you also have a large number of foreign migration from Asia.
"While Los Angeles was a net loser in the migration of residents to other nearby counties and other states, it was a net gainer in foreign immigration, particularly from Asia. It also attracted a high percentage of domestic and foreign migrants with advanced degrees, but was among the leaders in losing highly educated residents to other locales."
All of this of course impacts real estate.  In the bigger picture California may become more volatile as industries reflect the whims of the market (tech is currently very hot).  With the markets hot, excess cash is flowing into real estate.  As we mentioned in a previous article, the money isn't flowing all over the region blindly.  It is laser focused on certain areas.  California in higher priced markets is becoming more renting centric because of current costs.  In San Francisco, only 36 percent actually own their homes.  The vast majority rent.  San Francisco is an interesting market because of the tech sector wealth being created.  SoCal on the other hand is seeing prices being pushed up but more of it coming from all hat and no cattle living.  In other words, simply more net income is being funneled into housing from domestic buyers.  International funds and investors make up the rest.
It is interesting to hear of people using their homes in good areas as AirBnB "hotels" for extra cash.  For example, I've noticed some people in Santa Monica renting out rooms or garages at fairly hefty prices: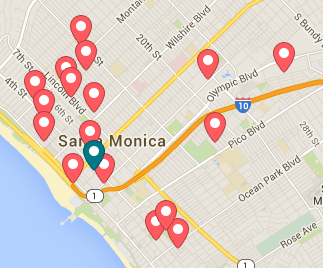 *Sample AirBnB locations in Santa Monica
But like any business, I think some of these people are underestimating the liability potential.  As most landlords know, you can have one bad tenant and this will eat deep into profits so careful management is absolutely vital.  Yet this also unlocks a hidden stream of income from your home.  Given current rates, you can make a nice stream of income from doing this.
To bring all of this back home, you are seeing that the room for the middle class in California is largely disappearing.  And people are voting with their wallets.  For many others, the only option is to rent.

Did You Enjoy The Post? Subscribe to Dr. Housing Bubble's Blog to get updated housing commentary, analysis, and information.