The cost of California housing in the form of mortgages and rents is forcing many families to pack up and leave.  And many others are seriously contemplating the decision.  A recent survey by the Bay Area Council found that one-third of respondents would like to leave the area sometime soon.  Recently I purchased an item from an independent seller and he couldn't help telling me how he was moving to Nevada and how SoCal prices were "insane" and he couldn't get ahead even with a good income.  Most of time you get some Taco Tuesday baby boomers yelling from their gut that "you should move then!" to most people examining high home prices in California.  And guess what?  Net migration out of the state is high.  In terms of domestic net-migration, 63,300 more people fled the state than entered.  This was the highest level since 2011.  People are voting with their wallets.
The blueprint for migration
People realize the insanity of their choices if they want to stay in California.  Some people that I know decide on ridiculous commutes that not only are likely to shorten your lifespan, but will also send your quality of life into the toilet.  "I get home and everyone is asleep."  Okay.  But hey, they "own" a home even though their commute into work is mentally destructive and they have minimal interaction with their family for most of the week.  Many people are simply doing the analysis and are bolting out of the state.
Take a look at some net migration for the Bay Area: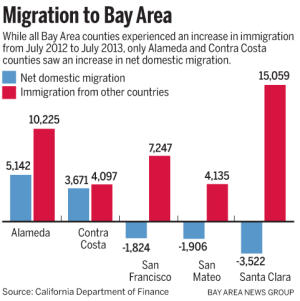 Southern California housing is equally ridiculous.  But you'll notice above that in every category, foreign immigration is outpacing domestic migration.  And in San Francisco, San Mateo, and Santa Clara you actually have net outward domestic migration.  Meaning families are leaving, like this family:
"(Mercury News) You can't get ahead," Eaton said. "It's more than the cost of living; it's the high taxes."

Eaton and her sister had a $724,000 house in The Villages in South San Jose that they sold before moving to Ohio. Their mortgage payments were $2,200 a month, plus $1,000 for association fees in the gated community. They were able to pay $300,000 in cash for their new home in Ohio."
And there is the kicker.  This is a family that owned a $724,000 shack and decided to get out.  And most house humping cheerleaders only look at principal and interest when running their math.  What about taxes?  Insurance?  Or in this case the $1,000 ridiculous association fee for a gated community.  If every area of California is so "baller" why the need for a gated community?  Who are you trying to keep out?  So they sell their home and use the cash proceeds to buy a "new" home in cash in Ohio.  No mortgage and probably no insane association fee.  The biggest expense is basically eliminated in one move.  Others would rather slog away on clogged up freeways so they can get to their crap shacks so they can rinse and repeat for 30 years.  And yes, long commutes are bad for you.
The middle class is clearly leaving California: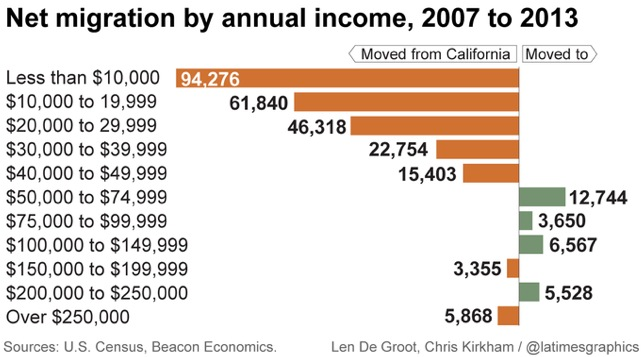 Those that stay are getting milked by high rents and high priced crap shacks.  Only a couple of groups are seeing a positive net domestic migration pattern.  But I find it funny that those making over $250,000 are also opting to leave – for this group it is largely the high taxes in the state.
Here is an example of a high income household bolting:
"Living in UC San Francisco housing, the couple pays $2,100 a month in rent. And they have to cough up $1,900 a month for child care.

"My husband's salary would be in the six figures, but six figures is not enough to cover the rent, day care (and) food prices," Govindarajan said. "It all starts to add up."
Govindarajan said she figures they can put down 20 percent on a nice house in North Carolina and have a monthly payment of $1,800 — which would include the mortgage, property taxes and insurance."
And this is another point that is typically missed on the house humping shows and from the lips of horny housing cheerleaders.  Many people buy because of the pressure of "having a family" and forget about the cost of having a child.  Your budget gets blown out of the water when kids are factored in especially with dual-income households.  This family had rent of $2,100 and childcare costs of $1,900 a month!  This is typical in California and especially in the real estate nutty Bay Area.  And those costs are going to last until they enter public school.  And many crap shacks are in hoods where schools suck.  So add on private school costs as well.
The bottom line is that people are voting with their wallets.  And many Taco Tuesday baby boomers are seeing their kids moving back home and guess what?  The kids can't afford rent or even to buy a home in their area and then you hear the bellyaching from these people yet much of the NIMBYism policy was brought on by their myopic views.  Why not turn large parts of big cities into high density housing?  People are having smaller families for the most part.
Expect this trend to continue but you do have a choice.  The idea of an insane commute is enough to make people leave.  By the time you pay off your 30 year mortgage your health will be so bad that you'll be lucky to be alive and not have heart disease brought on by stress and a sedentary lifestyle.  Then again, you have a home to leave to your family and maybe that is the goal.

Did You Enjoy The Post? Subscribe to Dr. Housing Bubble's Blog to get updated housing commentary, analysis, and information.