The housing market in California has hit a plateau in 2015.  The latest figures show that 17 of California's 26 largest counties posted monthly price declines.  In many parts of the state home prices are well out of the reach for regular families.  What has transpired is a massive move towards renting or for many adults to move in with their parents.  Purina Dog Chow Taco Tuesdays are a way to save a few pennies for that down payment on your dream drywall junker.  The latest figures of a tepid market will cause more people to pause and reflect on the insanity of the current situation.  People have made it an art to justify the price of your typical crap shack.  Junk is junk and people are in a fog overstretching their budgets once again.  So it is no surprise when we find out that notice of defaults also jumped up by 8 percent in October.  Whoops.  And keep in mind this is happening at the top of a six year uptrend in the stock market, tech wealth overflowing, and lustful investors buying up real estate like hipsters chasing after the latest food truck phase.  I've had a few e-mails from people saying that El Niño is somehow going to revive housing prices again!  Do people even remember 1997 and 1998?
Weak sales and reality kicking in
No one is excited about stagnant growth in California real estate.  We need to be booming or busting.  There is no middle in the state unfortunately.  And we've just had a healthy boom.  You would assume that people would learn this pattern but memories are short in the Golden State.
Sales volume is low relative to the big price gains.  At least in 2005 and 2006 prices were moving higher with higher sales volume as well.  Sales volume isn't all that hot: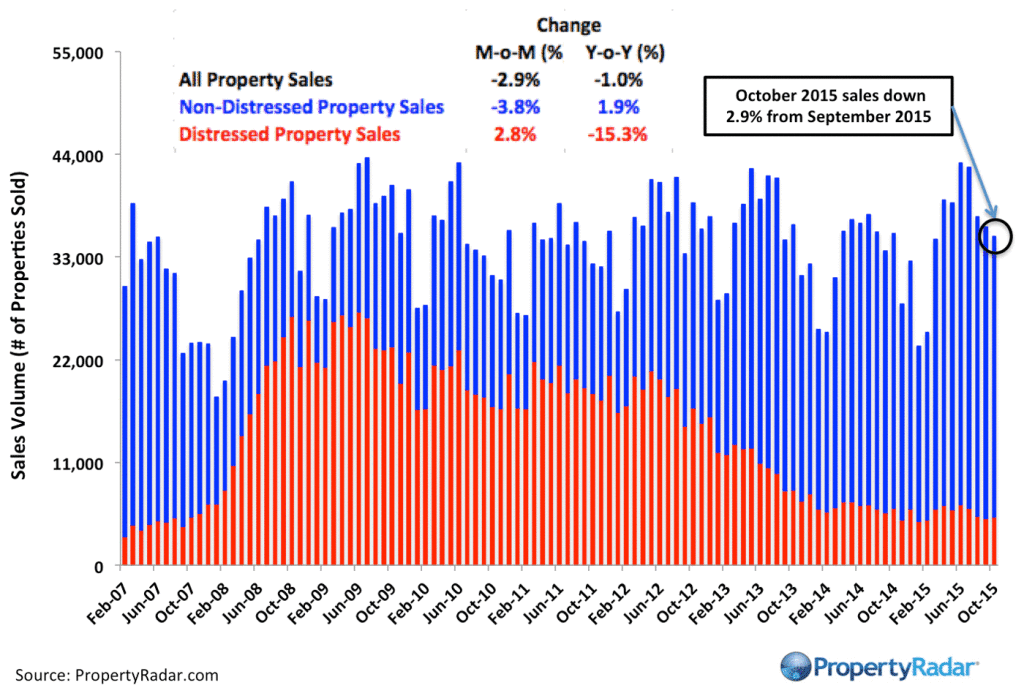 As we mentioned, prices have also slowed down statewide:
April median price:                          $416,000

September median price:            $407,000

October median price:                   $407,500
It does look like April was a short-term price peak.  We are now entering the typically slower fall and winter selling seasons.  If we do have some gnarly weather come January, I don't see how heavy rains are going to inspire people to buy.  It will however be a good thing if heavy rains and snow hits the northern part of California for things that are a bit more passé than granite countertops like staying alive and having water to grow crops.  If only SoCal gets soaked, we might as well pour the water into the ocean since that is where most of it is going to go.
The press rarely shows examples of homes.  The L.A. Times had an entertaining L.A. Land section that provided a surprisingly balanced view of the housing market during the last bubble: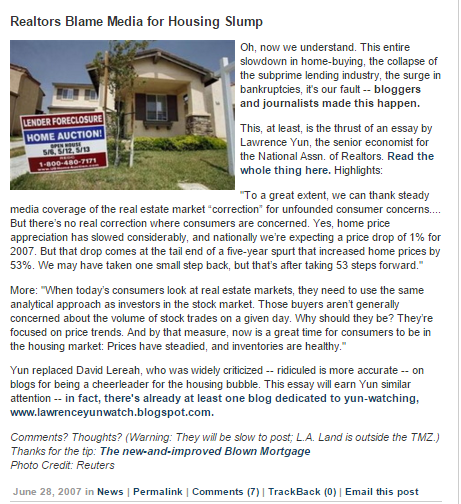 That section only lasted a couple of years but did show actual homes and reflected on their prices.  A large part of mainstream press on housing is full on cheerleading especially in places like San Francisco.  So let us see what we can buy in the market today: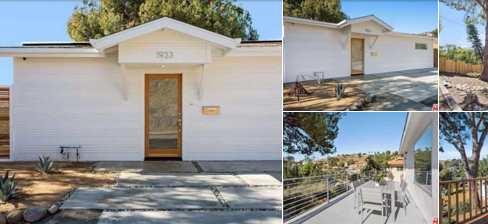 1933 Phillips Way,
Los Angeles, CA 90042
2 beds, 2 baths – 1,311 square feet
This is one of the more creative ads that I have seen:
"I'm gonna change you like a remix. Then I'll raise you like a phoenix?" Fall Out Boy?uh huh? that's exactly how it goes, and just in time for the holidays! Inspired by the natural light, views of hills, canyons and trees surrounding, 1933 Phillips Way was raised from the ashes, and a star was born. The open floor plan is such that all rooms are exposed to ample decks, both above and below, bringing the blue skies in, as a guest at your table. This home is all about chic simplicity, with best use of space,functionality, and light. Perhaps a kitchen that will delight the epicurean in you as you make a holiday feast to share with with your loverlies? Maybe warm large planked floors throughout? A downstairs master that has an en suite bathroom and walk-in closet? Boxes checked. This is a home where nature meets nurture…it's all in the details. You can be home for the holidays!"   
Delight in the epicurean?  Fall Out Boy? Chic simplicity?  Did I miss something on HGTV regarding flips?
This place is flip central: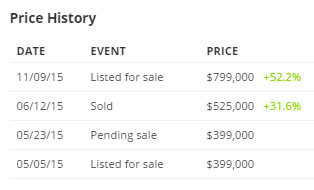 So it sold in June for $525,000 (someone had listed it at a low ball price).  Now a few months later, someone is trying to offload the place for $799,000.  Someone feels the work on this place is worth the $274,000 price increase.  Not even El Niño can rectify the real estate mania that is in the market right now.

Did You Enjoy The Post? Subscribe to Dr. Housing Bubble's Blog to get updated housing commentary, analysis, and information.