There are many reasons why California finds itself at the financial edge.  We are a state that heavily depends on personal income and sales taxes that fluctuate wildly during good and bad times.  California also finds itself grappling with the reality that there may be no other bubble to save itself from the current harsh reality.  During the 1990s, we had massive wealth gains with the technology bubble with areas such as Silicon Valley.  After the bust, state revenues dropped quickly but without skipping a beat, we had the real estate bubble to pick up right where it had left off.  Two decades of massive bubbles.  There may be no other big bubble in the near future to get us out of this mess easily.
Let us set aside the Alt-A and Pay Option ARM tsunami that will depress housing prices further late in 2009 and will hit full force in 2010.  How can state representatives miss so badly on the budget for the wealthiest state in the nation?  First, it is important to look at the state like a household balance sheet.  Let us first take a look at the last 30 years for revenues: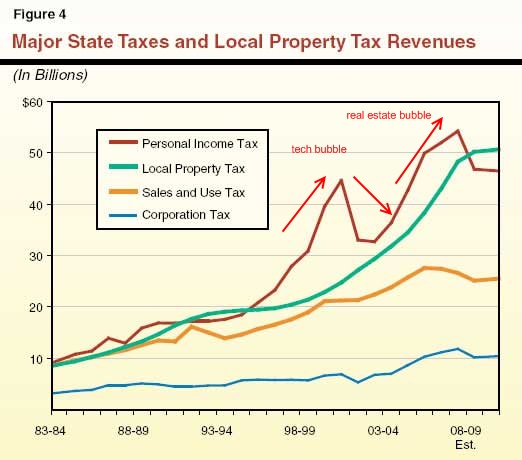 Source: Legislative Analyst's Office
The first thing you will obviously notice is the incredible jump in personal income taxes during the tech era.  That bubble burst and brought income tax revenues lower.  As would logically follow, sales taxes also fell after that burst.  But do you notice something else?  Local property taxes kept on moving up during the tech bust!  In fact, starting right about the time the tech bubble burst we had a major jump in local property tax collections.  We transitioned with one bubble to another.  This is why California is in a deeper mess than other states.  For the past 20 years, we have drawn a large portion of our revenues from a bubble economy.  Now this leads us to our next chart that was presented back in January of 2009.  This chart comes from the Department of Finance and ironically is called, "How Did We Get Into This Mess" while giving us another reason why we are in the mess, overly optimistic projections: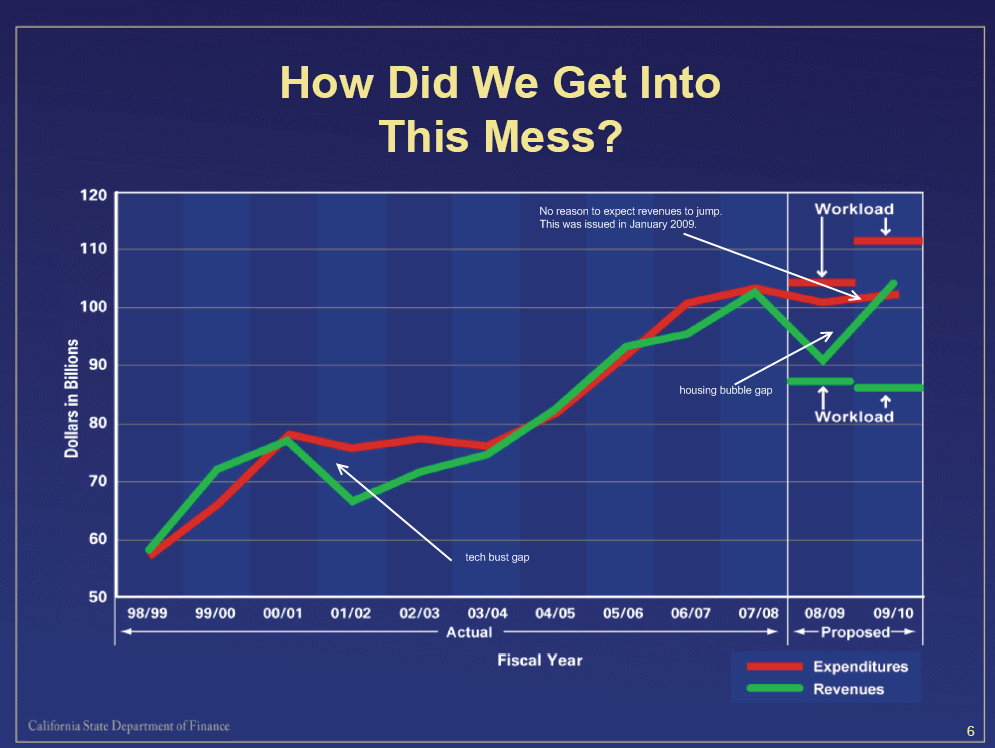 Now if you recall, at the time we were trying to plug a $41.6 billion budget deficit.  Now if you carefully look at the chart, you will realize that the major deficit is reflected by a drop in revenues yet somehow revenues miraculously go up for the next budget.  You will also realize that expenditures do not move together with revenues.  This again is because of our dependence on personal income tax and sales tax.  What is fascinating from the chart of course is that much of the revenue produced in the last 20 years largely relied on bubble economics.  Now with the real estate bubble bursting there may be no other bubble to pick us up.  You will see that the state has had no problem spending more and more.  This is problematic in normal times but realizing you are spending money from an income stream that is built on a bubble is troubling.  Bernard Madoff made money in an elaborate Ponzi scheme in which he paid investors money with money that was coming in.  Everyone was happy until the scam was uncovered.  We are now realizing with the real estate bubble bursting that a large amount of revenues were simply a function of the bubble.
A simple way to think of this is to take into account the income of banks, mortgage brokers, or real estate agents.  Each home that sold produced a commission, fees, and higher property taxes for the state.  It was a win-win-win to infinity.  And homes were selling over and over churning fees and money for all involved: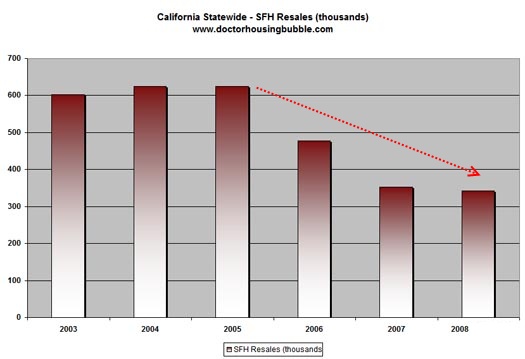 You go from having 600,000+ sales per year in California to 300,000+ sales per year. So even in 2007 when sales drastically slowed down the state should have started adjusting to this new reality but of course it did not.  What did this translate to?  Half the work was needed.  Half the income was being produced.  Yet the state kept on spending as if nothing had changed.  Its number one source of growth for the decade housing was cut in half and it kept on going forward as if everything was the same!
37,967 homes sold in the state in April 2009.
36,215 in March
29,225 in February
29,458 in January
This puts us in a target range of 450,000 to 550,000 for the year given that spring and summer are the strongest selling months.  Yet here is the new problem.  The median price for a home sold in the state has fallen by half.  So even though sales may be moving up prices are cut in half.  This does very little for revenues especially when over half the homes that sell are foreclosure resales.
The new budget gap came only a few weeks after the $42 billion hole was patched up.  The January chart should give you a few reasons why.  Expectations where much too optimistic. In fact, in a September 2008 report the peak unemployment rate was put out at 9.4 percent for the state which would be reached in 2010.  We are up to 11 percent already.  Also, we are now blowing through the unemployment insurance fund: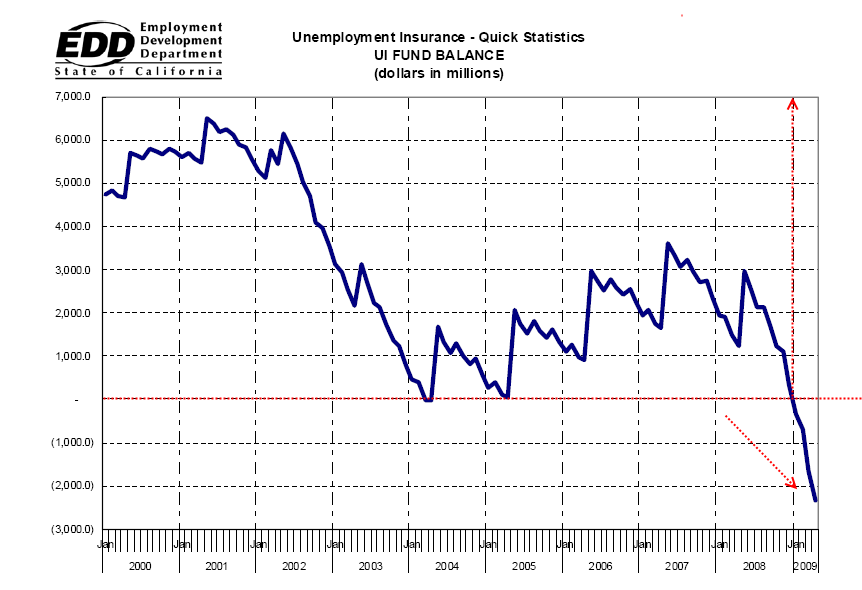 We have been in the red for some time now.  Of course, the reason to this is logical.  Unemployment insurance is paid by working people and with such a high unemployment rate, less is collected while more people collect.  You would think that the state would understand basic arithmetic but that is not the case:
"(SF Gate) Starting in 2002, the Democratic-controlled state Legislature enacted benefit increases that raised the maximum weekly payment from $230 to $450 – which they were able to do by a majority vote.
But Democrats lacked the two-thirds margin to change the 1985 formula under which employers are taxed on only the first $7,000 of each employee's wages. Schwarzenegger's proposal calls for taxing the first $10,500 in wages.
Marc Burgat, chief policy advocate for the California Chamber of Commerce, said the shortfall is the consequence of increasing benefits without increasing funding. He said California should study how other states handle unemployment and consider tightening up "some of the broadest criteria for eligibility" of any state."
During boom times, many economic ills are hidden simply by the flood of money.  No one goes thirsty.  For two decades, California has had the luxury of two historic bubbles with unprecedented windfalls in revenues.  The problem with unemployment insurance sinking into the red is a good litmus test of how things are done here.  We nearly doubled benefits yet collected money into the fund at the same rate.  Of course, it sounds nice to have bigger unemployment checks.  Who doesn't want that?  But how are you going to pay for it?  Therein lies the rub.  All it took was a recession this deep to expose the semi-Ponzi scheme of the system.  So much money is going out of the fund to 853,000 Californians that we will be $17.8 billion in the hole by the end of 2010.
The voting down of the propositions was a stand many took in the state.  Yet many are now stunned of the deep cuts coming.  Most Californians have never faced such a deep economic crisis.  As I have discussed many times the only way for California to fix the situation is either gather more revenue or cut spending.  With the propositions voted down (more revenue) the only option left was to cut.
Remember the state revenue chart by the LAO above?  Last week we had a new update for revenue projections: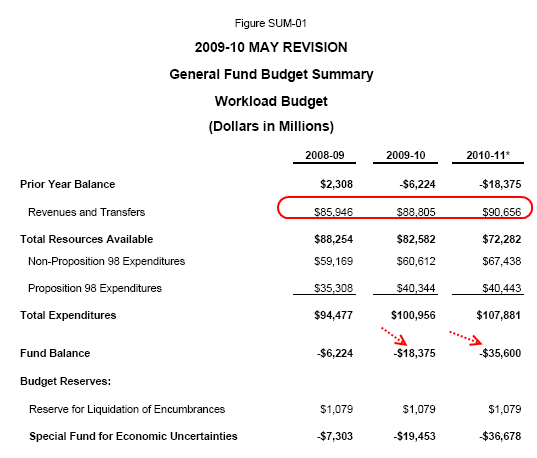 Welcome to a lost decade of income. We are now back into 1990s territory in regards to how much revenue the state is pulling in.  This should not be a surprise given the housing bubble was simply a bunch of smoke and mirrors fueled by toxic mortgages, many like the Alt-A and Pay Option ARM that are going to kick the mid to upper range of the housing market a few notches lower.  That is why expecting a loss decade in housing prices isn't out of reach.  We've already reached that with the lower range and the mid range will be next.
The above should be reason enough to believe there will be no housing bottom for a few more years.  And many of the pundits fail to ask the next logical question.  What happens after the bottom?  Do prices shoot up again?  Do they move sideways?  I doubt we'll see another bubble anytime soon in real estate.  And when you look at what jobs are holding up in the state the picture does not get any better: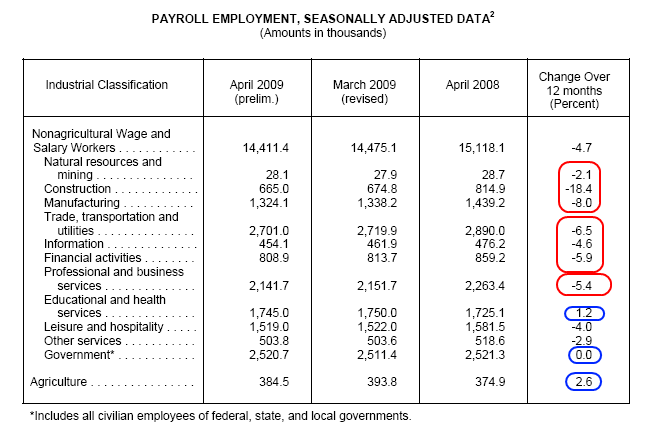 So what we have are good bubble paying jobs disappearing while lower paying jobs take their place.  This is another reason for lower housing prices.  Who is going to buy all those over priced homes in so-called "prime" areas?  That is why in some California cities we are seeing a handful of sales while at the lower end, sales are moving along briskly.  50 to 60 percent discounts are working but not 15 to 20 percent in more prime areas.  The Alt-A and Pay Option ARM debacle will move up the food chain later this year and into 2010.
Now people are asking why doesn't the Federal government simply step in and bailout the state?  Well for one thing, states are part of the country.  Shocker, I know.  This is like a snake eating its own tail.  Also, if California receives assistance this sets up a precedent for all other states to follow.  Either way, even if we were to receive a massive bailout this doesn't remedy the balance sheet because those revenue streams from the bubble are long gone and will dry up after the first bailout.  Unless, someone can find another bubble to give us another decade of so-called prosperity?    
Did You Enjoy The Post? Subscribe to Dr. Housing Bubble's Blog to get updated housing commentary, analysis, and information.