The ostrich does not hide its head in the sand yet people still believe this and have vivid images of this happening.  Many think that the California budget disaster is now a thing of the past because the legislature decided that they were going to do the hard thing and handoff the final decision to California residents.  The ostrich does not stick its head in the sand but California politicians do this everyday.  The problem concisely put is a shortage of money or over spending depending on how you look at it.  The state is spending more than it brings in. An elementary math equation would explain this.  However, the state legislature being polarized and unable to get anything done, decided that it would be prudent to pass along the hard decisions to voters on Tuesday May 19.  If many of you recall, the state had the longest budget delay in history and never addressed the crux of the problem.  The problem can only be solved by either raising revenues or deep cuts in spending.  We will examine the upcoming propositions in this article but also tie them into the bigger picture of the state.
California itself is a gigantic economic engine.  With a GDP of $1.8 trillion, it is by far the biggest economic state in the country.  In fact, if you were to take California as a country in itself it would be the 8th largest economy in the world between Italy and Spain: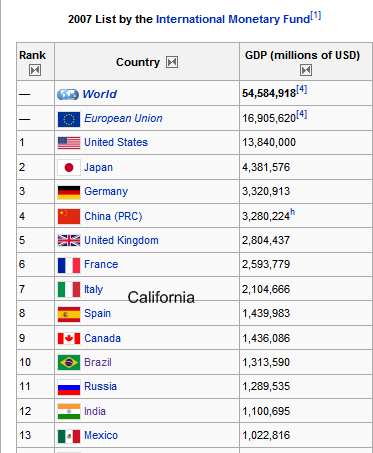 However, California itself is at the heart of the current economic mess.  A state littered with the landmines of Pay Option ARMs and Alt-A loans still lingering in the background.  The market is reeling like a dazed boxer from being too dependent on the real estate and finance driven economy.  The state now has the highest combined tax rate but also one of the highest unemployment rates in the country coming in at 10.5 percent.  Digging deeper, the real unemployment rate is hovering around 16 to 19 percent.  So going back to our simple equation, those that are unemployed typically do not buy as much and instead of being taxpayers, start relying on government resources.
The state revenue structure is extremely flawed.  Most of the money comes in from personal income tax and sales tax revenues: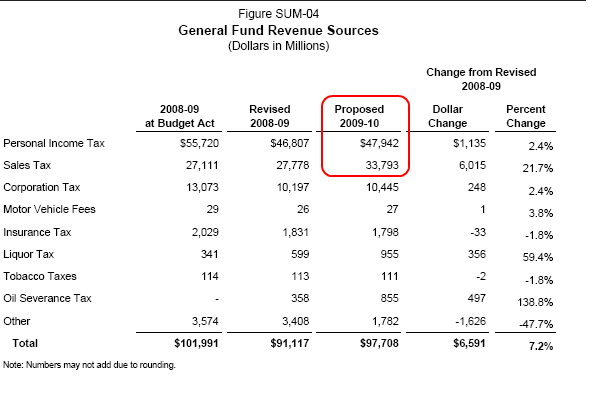 Now let us break down the numbers.  Personal income tax makes up 49 percent of all incoming revenue.  Sales tax makes up 34 percent of all incoming revenue.  These two line items make up over 80 percent of a state budget that is well over $100 billion.  And these are two line items that are receding like the tide.  First, personal income tax is falling because a state with 2 million unemployed is not paying as much taxes.  In addition, those who are still working, many on commission-based industries like real estate and finance are not pulling in salaries from boom time days.  What happens?  Less taxes are paid.  And with less earnings people are spending less.  What does this translate to in the economy?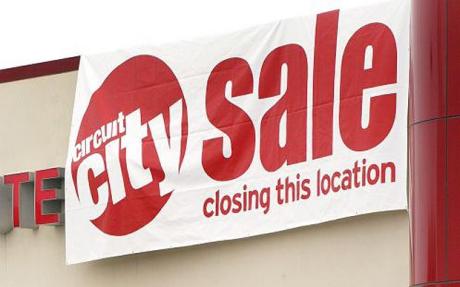 What this translates to is less consumption.  Many businesses are failing or seeing incomes falling.  Logically you will understand that those who do not have money do not spend as much as if they had readily available resources.  The budget is inherently set up to do well in boom times and to absolutely fail in lean times.  There is no middle ground or caution to prepare.  That is why we are now dealing with another $8 billion short fall for the 2009-10 budget when we are still trying to address the current short fall of 2008-09.
Going back to the personal income tax issue, the state is highly dependent on highflying industries to make up for a large part of revenues.  Well many of the wealthy just saw in 2008 a powerful decline in their wealth.  Recent estimates show that $11.5 trillion in household wealth evaporated in 2008.  The top 15 percent of state taxpayers, those with adjusted gross incomes of $100,000 or higher paid 84 percent of the personal income tax.  The top 1 percent of state taxpayers, those with AGI of over $480,940 paid 48 percent of all personal income taxes.  That is a recipe for trouble.  How many of these people were agents, brokers, bankers, or those closely tied to the finance and real estate industries that are no longer making those amounts?  Moreover, not only those in these select industries are feeling the pain, but many of the top families bring in money through capital gains.  Many will record a loss for 2008 and may end up paying nothing since they lost money.  How will that look for the bottom line as we are a few days away from the tax deadline?  I think the state is woefully underestimating how low things will come in.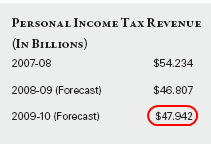 There we go with this second half recovery estimates.  You'll notice that the 2009-10 forecast miraculously bounces back yet we aren't told how this drop in income is going to be fixed.  Which industry is going to take up the slack?  Keep in mind that California will have unemployment rising throughout 2009.  So in 2010, when people are filing their taxes you can take a wild guess what is going to happen.
1,250 homes are foreclosed on everyday in California.  The data has been rather stable for the past few months if you can call losing approximately 40,000 homes a month stability.  This adds additional burdens to a housing market already on shaky ground.  Plus, many of the homes sold (60 percent are foreclosure resales) are for lower prices thus lowering the property tax revenue.  However you look at it, revenues are declining at a feverish pitch.
Let us now examine the propositions.
Proposition 1A
Higher state tax revenues of roughly $16 billion from 2010-11 through 2012-13 to help balance the state budget.
In many years, increased amounts of money in state "rainy day" reserve fund.
Potentially less ups and downs in state spending over time.
Possible greater state spending on repaying budgetary borrowing and debt, infrastructure projects, and temporary tax relief. In some cases, this would mean less money available for ongoing spending.
These summaries are from the voters guide but sum up the propositions.  They are trying to increase the rainy day fund by increasing the amount put aside but this was what the Governator did a few years ago yet our legislature with their infinite wisdom found ways to raid the fund.  Unless they can ironclad the fund, this is useless.  This is like you setting up an emergency fund and taking money out of it each time you want to take a trip to Europe.  This also raises taxes.  For a cash strapped population this will hurt sales.  However, without this you are forced to cut thus laying off more people in a state with 2 million unemployed.  People that are unemployed will certainly not be buying homes.  It is a Catch 22 thanks to the ponzi finance economy.
Proposition 1B
*Requires supplemental payments to local school districts and community colleges to address recent budget cuts.
*Payments to local school districts will be allocated in proportion to average daily attendance and may be used for classroom instruction, textbooks and other local educational programs.
California has one of the lowest fees for community colleges.  $20 per unit.  It also has high overhead costs with these systems especially with tenured faculty.  The free lunch era has to come to an end.  It is a blessing that we allow people to go back and retrain.  Yet most people think that the money to fund these programs grows on trees.  This is the same logic used by the banking sector trying to raid taxpayers via the Federal Reserve and U.S. Treasury.  The University of California and Cal State systems are already lowering entering enrollment class sizes and raising fees.  The community colleges serve over 2 million students at 110 campuses.  It is pure insanity to think that $20 a unit is going to cover all the fees associated with running a college.  In fact, many of the faculty at community colleges make upwards of $100,000 a year.  Now do the math for a class of 25 students:
4-unit class
25 students x 4 units x $20 = $2,000
Instructor:       $8,300
Now assume the instructor teaches 6 classes per year.  Where is the additional money going to come from?  There was a proposal to hike rates to $30 per unit, which of course got shot down.  So here is a solution.  Slash salaries especially of tenured faculty or increase class sizes.  Otherwise, you will have to raise fees.  I think this is fair.  Students will still have access to a system that will let them retrain while others will finally share in the burden of our current budget.  Even Bill Gates has talked about the flaw in our educational system.  Teachers that are good should be rewarded and have merit based increases.  If a teacher is amazing, a $100,000 salary should not be a problem but it is a problem when you have someone that is simply tenured and is sitting on his or her laurels.  The system is setup to reward those that are entrenched and some go back and get degrees that really don't improve their teaching style and this is evident in the K-12 system.  This issue is important because a large part of our budget is in education.  In fact, K-12 is the biggest line item: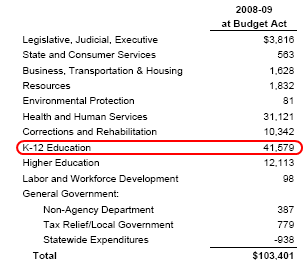 Proposition 1C
*Impact on 2009-10 State Budget: Allows $5 billion of borrowing from future lottery profits to help balance the 2009-10 state budget.
This is hilarious.  One of our "solutions" is to borrow more money from lottery sales.  Why don't we just put slot machines in every gas station and store and be done with it?  Can this even be called a solution?  Trying to encourage people to gamble so we can collect more money sends a wrong message.  This is what the current financial system relied on for decades encouraging people to gamble in the stock market and in real estate and look where it got us.  Great news that we will be encouraging gambling.
Proposition 1D
*Provides more than $600 million to protect children's programs in difficult economic times.
This is one of the smaller proposition line items.  I'm not too familiar with this program so I don't feel I can comment.  Frankly, $600 million in a budget that fell short by $15 billion requires us to look at the first few items more carefully.
Proposition 1E
Amends Mental Health Services Act (Proposition 63 of 2004) to transfer funds, for a two-year period, from mental health programs under that act to pay for mental health services for children and young adults provided through the Early and Periodic Screening, Diagnosis, and Treatment Program.
Provides more than $225 million in flexible funding for mental health programs.
Frankly, I would rather spend money on providing healthcare to Americans than bailing out banks.  It is hard for me to accept that $1 trillion is being shelled out to corrupt crony Wall Street while those that are uninsured grow by the day.  In California for the last few months, we have seen job losses of 100,000+ a month.  That means we have 100,000+ a month that are probably now without healthcare.  The system is fragile.  The budget is in shambles yet somehow we can still allocate funds to banks and Wall Street while asking average Americans to suck it up?  The hypocrisy is too deep.  We need serious reform here.
Proposition 1F
Encourages balanced state budgets by preventing elected Members of the Legislature and statewide constitutional officers, including the Governor, from receiving pay raises in years when the state is running a deficit.
Directs the Director of Finance to determine whether a given year is a deficit year.
The last 3 props are really minor compared to the first 2 items.  It is basically a band-aid because we will be back here again in one year.  Short of another bubble in real estate, California has yet to even deal with the Pay Option ARM debacle coming down our highway.  The problem at this point is we are dammed if we do, dammed if we don't.  Forcing deep cuts will literally put our unemployment rate through the roof yet expecting more and more people to pay taxes is only a short-term fix.  As we have already discussed, 84 percent of the personal income taxes are paid by households making more than $100,000 a year.
California is the epitome of a state run by casino finance.  A state thinking it can do everything and anything and somehow believing the money would never run out.  The pied piper has been playing for years but he is now at our door.  There is no more pushing it off to the future.  The future is today.  As a society we are going to need to make tough decisions of what we value and our philosophy will be challenged.  No longer will we be able to "have it all" and not produce to back it up.  To think that the real estate days will be back once again is foolish and pining for an era that never should have been.  The most unfortunate thing coming from Wall Street and D.C. is they expect that with all these ridiculous bailouts to the most corrupt banks and financiers, we are somehow going to go back to an economy where finance dominated a large part of corporate earnings.
In fact, most Americans are fed up and realize that those days are long gone.  I got a kick looking at the FDIC open letters regarding the public private investment program.  Most of the letters submitted from the public completely object to the plan flat out.  Most of the letters from banks and potential investors are basically future cronies looking for ways to game the system on the taxpayer dime.  It is a comical exercise and I'm surprised the FDIC even published this.  Transparency is only useful if you act on the information provided.  Elizabeth Warren who is on the oversight board of the TARP has recommended that stockholders of banks be wiped out and management be replaced.  Yet what use is it to have someone stick his or her neck out and state what needs to be done if you don't act on that information?  I like Elizabeth Warren.  She has fought for consumer rights for many years.  To have her politically isolated like this is unfortunate.  Now, we have the Treasury saying they won't release the stress test results until banks announce earnings so they can make crap up through their mark to market phony realities and holding off on realizing true real estate writedowns.  What a joke.
California is in the middle of all this.  We are trying to pretend nothing has changed.  Everything has changed.  Time to gear up for tough times.  Remember, it was the Fed and Paulson who said, subprime is contained and no bubble is even on the horizon.  Want to trust these agencies again?  In California, our representatives for the most part are a joke and are career politicians.  They failed to come up with any remotely novel ideas and have put the burden on the citizenry.  If we are left to do the hard work, do we even need them?
Did You Enjoy The Post? Subscribe to Dr. Housing Bubble's Blog to get updated housing commentary, analysis, and information.