California's housing market is a boom and bust machine tuned to attract the masses.  Timing matters in a state where speculation is rampant.  Since 2005 California home owners have received over 2,000,000+ foreclosure notices.  Of course this goes into the graveyard of foreclosure information that we seem to forget each time the market booms.  Since 2000 with shady mortgages, Wall Street financial shenanigans, and the Fed's low rate policy the housing market in California has only entered into a more pronounced boom and bust carousal.  People go into a deep herd mentality that fails to acknowledge even recent history.  If you timed the market say two years ago and went with the record low rates at the time plus lower prices, then does that mean prices today are too high at 20 to 30 percent increases with interest rates 100bps higher?  That $500,000 home probably worked at low rates but what about it at $650,000 with higher prices?  Incomes certainly did not keep pace.  Investors are still buying roughly 30 percent of inventory.  This group is also slowly pulling back and it should be no surprise that inventory is rising and prices are actually stalling out.  Since 2000, the California housing market is a wild ride of speculation.  Buying and selling is a matter of timing, luck, and larger macro forces at work.  We acknowledge this and for most, buying or selling is a decision that needs to be made in real-time.  Is it a good time or bad time to buy today based on my specific factors?  Yet let those 2,000,000+ home owners who got a taste of the foreclosure process serve as a warning that not all purchases are golden in the Golden State.
Going crazy after 2000
People have a hard time understanding the insanity of prices starting in 2000.  The groundwork was laid for this in the 1990s as the mortgage market opened up to all sorts of nonsense products that masked stagnant income growth.  Once this was unleashed, you also had in early 2000s the Fed stepping into their era of low interest rates.  One of the results was massive housing bubbles across the nation.  In California the bubble went Hollywood: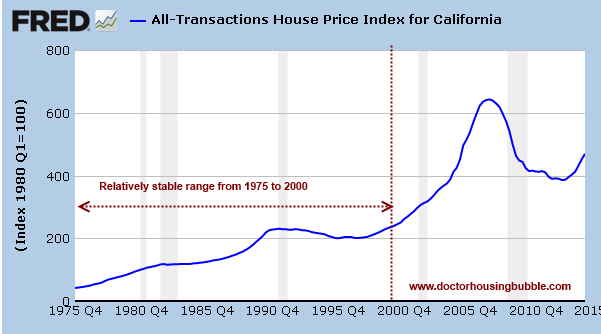 Examine the chart above carefully. Throughout the entire decade of the 1990s home prices in California stayed relatively flat.  With the 1970s you actually had real wage growth occurring at the same time as rising prices.  But from 2000 to 2006/2007 prices went from a starting point of 200 to 600 via the HPI measure by the Federal Housing Finance Agency.  To make this simple, a $200,000 home went up to $600,000 in a matter of six to seven years.
You also didn't have such a massive amount of investor volume in the market as we do today.  Large groups are buying big chunks of houses and pricing out regular families and that is why the current California home ownership rate is now back to levels last seen in the early 1990s: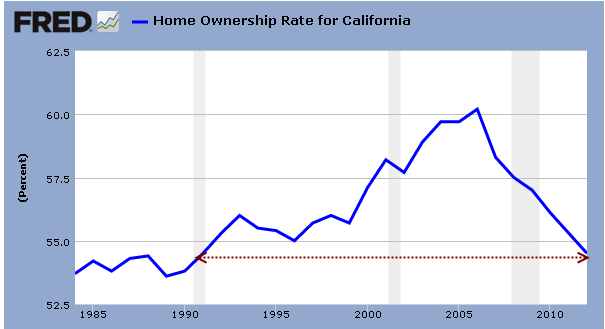 Source:  Census
From 2000 to 2007 the home ownership rate went up with actual regular families buying.  Since regular families are largely cash broke and stretch their budgets like a Hot Yoga session, these are the people that bought with toxic mortgages and other low rate gimmicks (the 2,000,000 club).  We don't hear much about them anymore.  No sense in talking about folks that poorly timed the market.  What I find interesting is the herd mentality in the market again.  The same attitude is back in full force today similar to what we saw in 2006 and 2007.  The few that armchair the market are now trying to convince people to buy even though prices in many areas are up 20 to 30 percent with higher interest rates from the time they bought.  Okay, it made sense at the trough that you bought but does it now make sense with higher prices?  California is littered by buy and sell signals: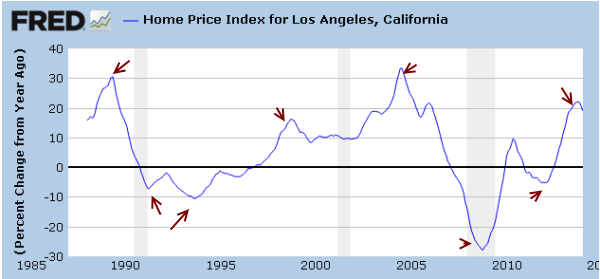 Source: Case-Shiller Index
The hard part is picking out the turn.  Take a look at this data examining Los Angeles and Orange Counties.  The best time to buy in recent years was in 2009.  Then again, the market was melting down completely but people forget that.  The next time was in 2011/12.  I find it funny to see what big banks were predicting late in 2012 regarding 2013 prices: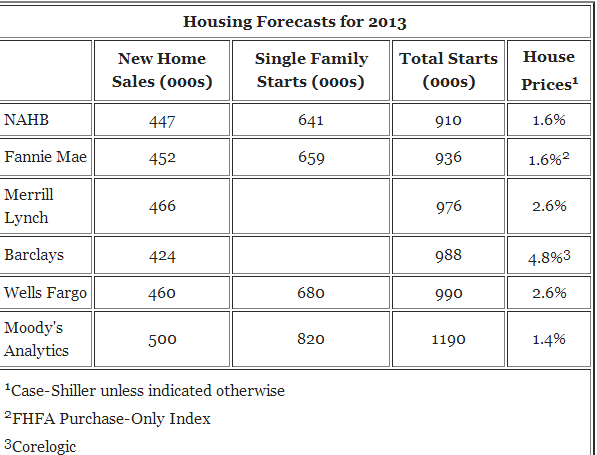 Most were predicting 1 to 2 percent price increases nationwide!  In California prices went up over 20 percent and in some areas, 30 percent.  This isn't some ragtag group but banks like Wells Fargo and those that live and eat housing like the National Association of Home Builders.
What they failed to account for was the mania of investors, the herd mentality of buyers stretching their budgets, and the power of momentum.  But that momentum is grinding to a halt.  Sales volume is pathetic.  Home building?  Not exactly tearing it up.  Take a look at the inventory increase in the West: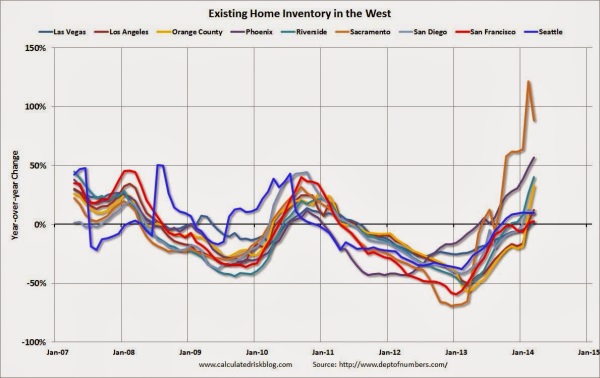 "Inventory is up 88% in Sacramento, up 57% in Phoenix, up 40% in Riverside, and up 33% in Orange County.

However inventory is only up 3% in San Francisco and 9% in San Diego (Las Vegas total inventory is up 3%, but non-contingent inventory has doubled)."

This is year-over-year.  Inventory is up a stunning 88 percent in Sacramento.  Investor central Phoenix is seeing inventory up by 57 percent.  Here in SoCal inventory is up 40 percent in Riverside County and up 33 percent in Orange County.  San Francisco is the only area with a tiny jump in inventory and prices in the Bay Area make SoCal look sane.  The only more banana area is Canada.  So much for the "weather" argument of high real estate prices.
I was digging through some data and found home price information for SoCal back in 2000: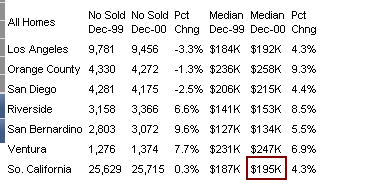 '
Source:  DataQuick
The median home price was $195,000 for the region and the median income for the state stood at $47,493.  20 percent down payments were common back then as well.  So $39,000 was the down payment which was less than the annual household income for the year.  Let us fast forward to today.  The median SoCal price is $383,000.  The median income from the latest Census data has household median income at $58,328.  A 20 percent down payment today would be $76,600 (or 31 percent higher than the annual household income of the family).  Low rates don't exactly speed up the process in saving for that down payment since you have to save from your net income.
So what are regular buyers left with?  Going massively in debt with artificially low rate mortgages and battling it out with investors if they want to buy in today's market.  I still get e-mails from people about their buying decisions.  My response may surprise you since I always tell people to go with what makes sense to them.  I gave this response a decade ago, five years ago, and today.  We all agree that California housing is one giant speculation circus with older folks sitting in golden sarcophaguses unwilling to cash in their lottery ticket of a house, Wall Street diving in for those deals, foreigners buying in certain enclaves, flippers going for that quick buck, and to take the phrase from a Canadian writer, "house horny" families willing to buy no matter where things are in the cycle.  You can clearly see that there are times to buy and times to sell in California.  The rhetoric usually heats up when the market is turning.  This is why very few in late 2012 were talking about the massive upcoming run-up in prices for 2013.
Today all you hear is how this is the new plateau and you will do well (assuming a gigantic down payment but then again, you will cash flow at any point depending on what you put down).  What is probably even more comical is these folks see the stock market as speculation and housing as a safe investment, just like those bonds grandpa bought to support World War I.  They do realize that big money from Wall Street is buying up a bulk of homes going back to 2008, right?  They do realize that the S&P 500 is up 170+ percent since 2009?  That $500,000 home is now $650,000.  Nice.  Or that $500,000 in the S&P 500 is now up to $1,350,000.  If we are going to speculate, why not go with the herd on the biggest gainers.  Some folks just have a deep housing lust and fail to acknowledge that we live in boom and bust cycles and we just had a big boom in California.  Those 2,000,000+ foreclosure starts in the state, a mere footnote!  So what comes after the boom?

Did You Enjoy The Post? Subscribe to Dr. Housing Bubble's Blog to get updated housing commentary, analysis, and information.