Baby boomers with their infinite housing lust have largely forgotten about one thing on all those blurry tacos Tuesdays.  What about the kids?  Many boomers in high priced California cities find themselves house rich but cash poor.  The notion that somehow your home valued at $700,000 or $1 million is throwing off cash is counter to what most investors understand.  You have taxes, insurance, and your regular upkeep on a property.  And how many boomers sniffed the HGTV fumes and upgraded their homes with granite countertops, stainless steel appliances, and polished off hardwood floors?  Home Depot isn't successful because people frugally maintain their homes.  In large part, boomers in their golden sarcophagus have forgotten about their offspring.  Recent data continues to highlight the growing divide in wealth disparity.  California led in the growth of millionaires but also those on food stamps.  Sales reach a multi-year low last month yet 12 zip codes in So-Cal reached non-inflation adjusted highs in prices.  Boomer wealth versus those in their 20s and 30s coming to terms with being part of the renter generation.
The generations by names
The generation that once fought the "man" has largely become it.  Policies simply reinforce high prices for those already in the party but you need to sell to someone.  So far, investors have picked up the slack.  There is a reason for the record high number of young Americans now living at home late into their 20s and even 30s.  Across the country in more "affordable" places your late 20s and early 30s is the typical time of first-time home buyers.  But even across the nation given the jump in home prices caused by a flood of investors, first-time buyer rates have plummeted: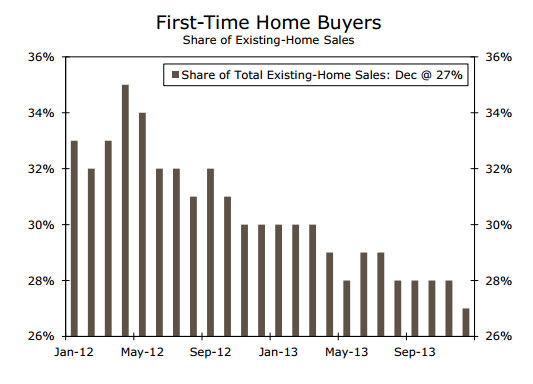 The rate fully collapsed with the rally in 2013.  Higher home prices with stagnant incomes is no good unless you follow the louder drum of those simply preaching that buying is always a great decision, in the long-run.  As Keynes said, "in the long run we are all dead" and some see this as a rallying cry to buy and take on a big mortgage while others decide to rent and keep a larger portion of their income free (many at this point have no choice even if they want to buy).  In the graveyard of the 7,000,000 foreclosures I'm sure you will have some that carry a more nuanced view on purchasing real estate but why ask them?  Let us talk about the person that bought that beach property and suddenly is a real estate millionaire!  Let us only talk about the person that bought Google at IPO and not AOL at the peak.  People have a massive tendency to confirming their own bias.  The audience on this site is largely baby boomers so I may be saying something that people already know in that many are house rich and cash poor.  Those trying to get in right now face a very inflated market.  The Fed has made us all speculators given that they now own the mortgage market.  Not by a little, but essentially make up the entire market when buying mortgage backed securities.  So yes, when making your biggest purchase you should think a little (remember that since the crisis hit a stunning 7 million homeowners have faced foreclosure).  Even in California we still have 1.4 million homeowners underwater despite the rally: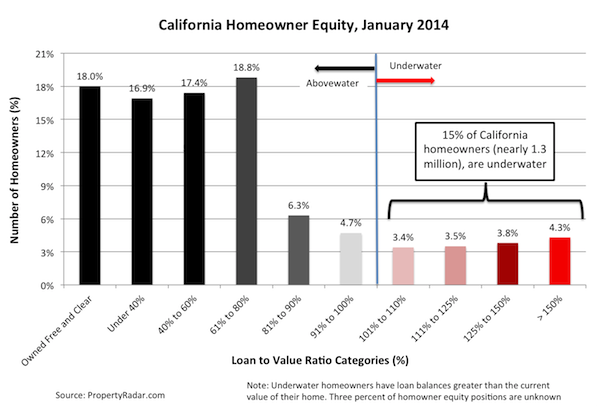 So yes, you should run the numbers (and think) before making this massive leap.  Recent sales figures show that many cannot satisfy their housing lust and not because of a lack of burning desire.  I take it that most readers that frequent sites like this modest one are thinking individuals that rather not follow the herd.  I love it when some readers have their conversion moment and suddenly the argument is done.  Checkmate!  I bought therefore you should go out and buy that piece of crap $700,000 home.  Inspections?  Contingencies?  Who needs a job with double-digit annual appreciation forever!  Make sure to lock your car door and don't pay attention to the fumes of the freeway in your backyard.  Don't you know that ex-"hood" is now the next Newport Coast?
The generation window looks like this: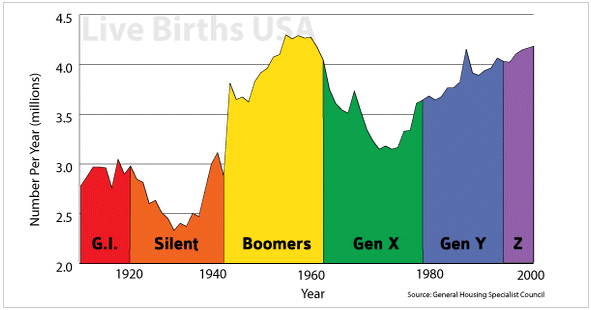 Baby boomers were born between 1946 and 1964.  In general, we are looking at those with ages between 50 to 68.  It should be no surprise that this is the fastest growing segment of our population since you can't escape time in spite of all the plastic surgery: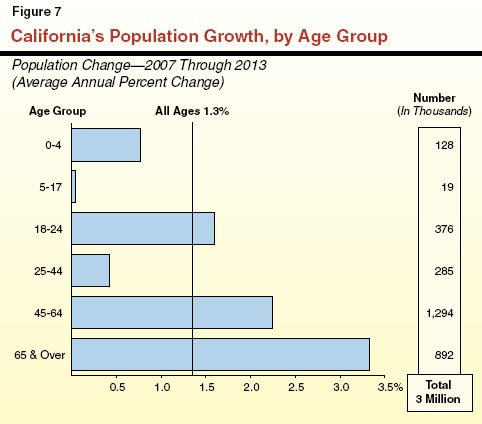 The trend isn't escaping California.  It isn't uncommon for a baby boomer to own their home or with a modest mortgage yet be cash poor because of blowing all their cash throughout time.  I know many that are well into their 50s and the only asset to their name is their house.  Little to no retirement funding but a home that is "worth" nearly $1 million.  However, they have no desire to move and unlock that wealth.  So then what?  You tap that equity out and the bank once again owns your place.  Heck, even those with paid off condos in California need to generate something like $500 to $1,000 a month simply for taxes, HOAs, and random upkeep.
Most home "owners" in California carry a mortgage.  It should also be no surprise that older home owners are also highly leveraged: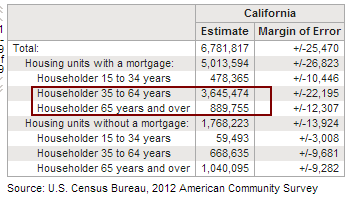 Culver City recently hit a $700,000 median home price in the 90230 zip code.  You can buy with 10 percent down ($70,000) plus you will carry a healthy $5,062 monthly payment after you include taxes, insurance, and PMI.  Those that think that 20 percent is common are not looking at the stats.  You have all cash buyers, move up buyers, and those massively stretching their budgets (i.e., ARMs, etc).  Plus, how many of those in their 20s and 30s can save up $140,000?  Not many and that is why you see many in their 20s and 30s moving back home with mom and dad.  Last month 30 percent of all purchases in SoCal came once again from all cash buyers.
I was curious to see what $700,000 would buy us in the 90230 zip code today.  Let us take a look: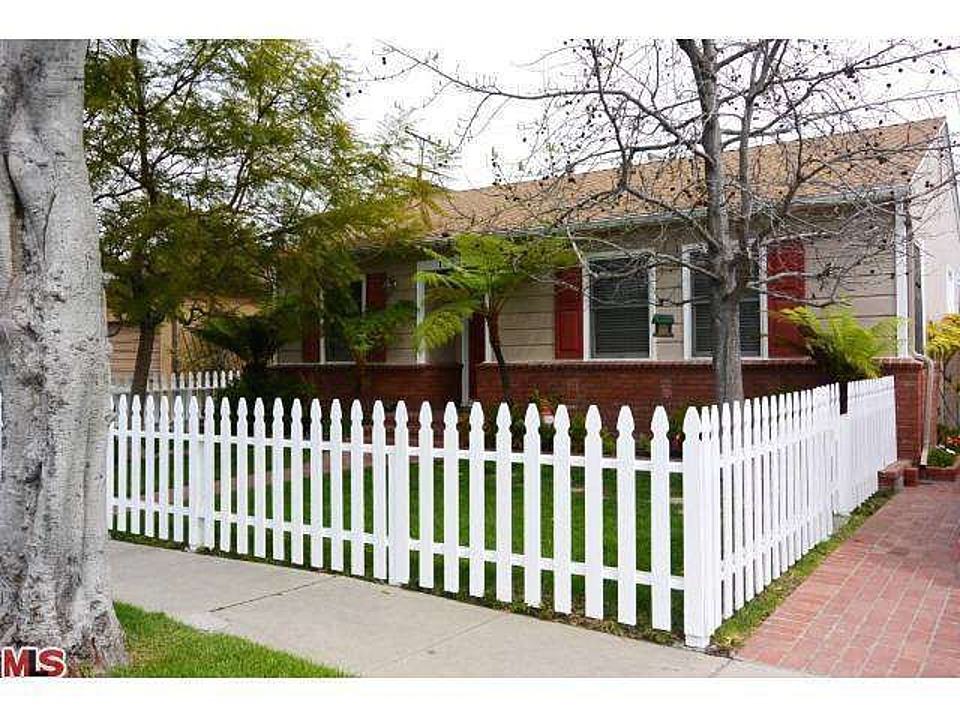 11232 Segrell Way, Culver City, CA 90230
3 beds, 2 baths – 1,082 square feet
This is what $689,000 will buy today.  Like I said, go in with 10 percent down (more realistic than $140,000) and you are facing a $5,000 payment for 30 years.  Miss a few payments and enter the 7,000,000 club.  The rent estimate on this place is $2,820:

A $5,000 nut or $2,820 a month for rent?  Heck, let us even say you have the 20 percent down.  Congrats!  You now carry a $4,000 nut.  I highly doubt that a young professional couple is going to buy this place without stretching to the max and plus, this is 1,000 square feet!  Even a boomer with equity is unlikely to make this big move.  Speculation is rampant and those speaking about rental parity need to realize that this is a sword that cuts both ways.  Right now there is absolutely no rental parity here.  So then what?  Either incomes race up or prices adjust, right?  It isn't like you bought and your point in time is suddenly the rental parity nucleus of all-time.  Of course some will simply increase the down payment until they "find" rental parity.  All cash buyers are beyond rental parity from day one.  Does that mean it is a good time to buy?
This is why sales are coming to a screeching halt:

Source:  DataQuick
I've gotten numerous e-mails from house lusting people in their 30s itching to buy mostly because of biological reasons (i.e., pressure from family, setting roots, etc).  Some are drinking the Kool-Aid.  Ironically people hold property for seven years on average so the nostalgic idea that somehow this 1,000 square foot place will be the place you live in "forever" is a powerful marketing myth.  Once you own, you suddenly drink the Kool-Aid of the day and it is on to the property ladder races!
I have no horse in this game.  If you want to buy and a bank is willing to throw a giant mortgage your way, go for it.  You might even run the numbers and it will make sense.  Great!  But in many areas take a look at what it will cost to rent versus what it will cost to buy.  If you are speculating (which you are) then run the numbers for the stock market and alternative investments.  To think housing is this safe investment is nonsense.  It is safe if you can carry the nut 30 years forward but the nut is large enough to crush the squirrel (the 7 million foreclosures don't lie).  But to think that it is a simple decision especially in this insane market is delusional.  Keep in mind in California only 54 percent actually own their property (i.e., most with a mortgage of course):

Boomers are going nowhere so many will be living as I have said, in a golden sarcophagus.  They will fill their bowls with Purina before selling that World War II lottery ticket.  Taco Tuesday For Life (TTFL).  Everything has a balance and many of their children are coming back to fill those nests.
I'd be interested to see your anonymous situation if you are in your 20s and 30s and stand in a situation where you are considering to buy in this market.  Feel free to post in the comments.  We have a nice balance of folks on both sides of the fence here so you may even get some sage advice.

Did You Enjoy The Post? Subscribe to Dr. Housing Bubble's Blog to get updated housing commentary, analysis, and information.