Existing home sales continue to operate in an anemic range.  The latest existing home sales figures show that sales volume is back to where it was in July of 2012.  A large part of this is due to higher interest rates, investors crowding out regular buyers, and prices outpacing stagnant incomes.  It is surprising that somehow people believe that prices can simply go up untethered to actual incomes especially in an environment that looks to have higher future interest rates.  When we look at futures data the market is now pricing in a 100bps move in interest rates higher over the next year.  The so-called traditional buyer has been a weak participant.  The investor crowd is already showing signs of exhaustion and this may be a problem given that they are purchasing roughly 30 percent of all existing inventory in the market.  The traditional buyer is tapped out.  Mortgage gimmicks to hide stagnant incomes can only go so far.  The drop in existing home sales is a reflection of shifting investor demand, stretched household budgets, and low inventory because of banking policy implemented after the Great Housing Crash of 2007.  Will we see traditional home buyers again as the bread and butter of the housing market?
Existing home sales plummet
The latest existing sales figures show a very weak housing market.  Existing sales registered their weakest month since July of 2012.  When we look at sales since the crash we realize that the market has transformed into a different kind of beast.
First, let us take a look at existing home sales: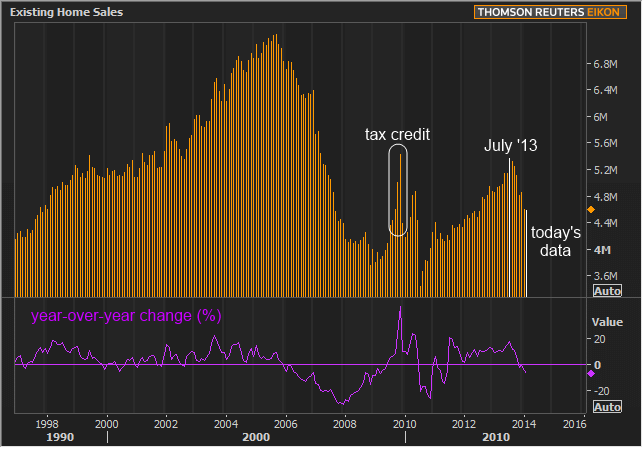 We had two euphoric housing trends since the crash.  The first was courtesy of low prices and the tax credit incentive.  This pulled forward demand for a brief period.  Then, we had the low rate party and massive investor mania that pushed home sales to another short-term peak in the summer of 2013.  So where do we go from here?  It is rather clear that home prices at current levels with current rates are actually making it unaffordable for many first time home buyers to jump in.  The bond markets are getting impatient with the Fed.
Young adults living at home
Where is the traditional home buyer?  For many, they are living at home with parents.  In fact, California has the highest number of young adults living at home:
This makes sense given the manic like market we are seeing across the state. In California, the market right now is being dominated by tight inventory, investors, flippers, and foreign money.  In other words, the "traditional" buyer is really absent.  You can see a similar pattern across the nation where states with higher priced housing tend to have a higher percentage of young adults living at home.
Smaller home size
Another consequence of the Great Housing Crash is the size of McMansions.  With smaller future households, why the need for a giant home?  You can see this in the size of homes being purchased: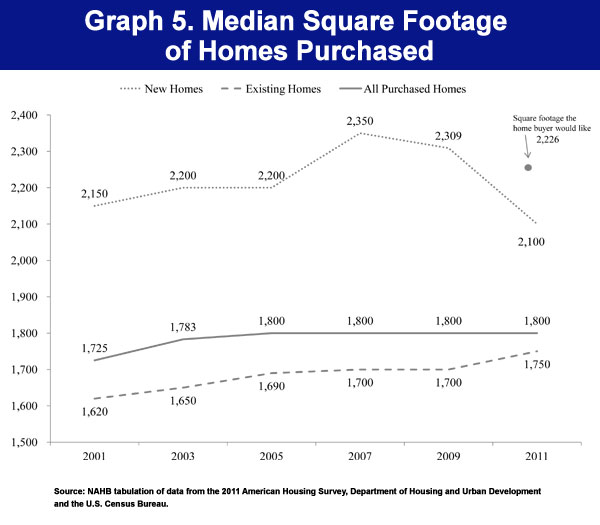 This dovetails with the lack of home building over the last few years.  Why build if the demand has shifted?  As we noted, younger households are less affluent and are struggling to buy a home even in a market where interest rates are historically low.
Many are shifting into a renter nation mentality.  Also, of those 7,000,000 homes in the foreclosure graveyard how many are itching to dive back in?  Never have we had such a deep and profound crisis in housing still very fresh in the memories of the country.  The mindless nonsense of "you can never go wrong with housing" was completely shattered in this crash.
How long do people live in their home?
Contrary to the belief that people live in die in their first home, the average stay for a buyer is 13 years.  This is even less for first-time buyers that stay on average 11.4 years in their first property: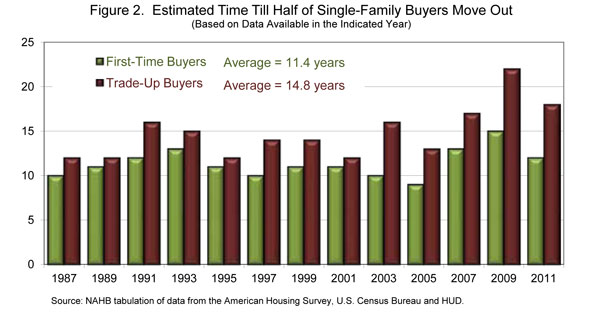 This is why in manic California where crapshacks of 1,000 square feet are selling for $700,000 you have to wonder if people really believe they will stay put for 30 years?  Deep down these people are actually planning for the property ladder game thinking that in 10 years, their initial purchase will now be worth $1 million and then they can buy the 1,800 square foot $1.2 million home with the equity that was created.  This is carried out as virtual dogma to some.
The traditional buyer is largely out of the game in high priced states but this appears to be a nationwide trend as well.  For states where investors are missing and "all cash" buying is rare you need your typical traditional buyer.  The above statistics show a very weak market.  In some markets, multi-year buying sprees of investors have made the "all cash" buyer the traditional buyer.  The reason people are still looking deeply into housing is because something is amiss here.

Did You Enjoy The Post? Subscribe to Dr. Housing Bubble's Blog to get updated housing commentary, analysis, and information.