I seem to hear a familiar story among baby boomers with college-age kids.  "When I went to college, I was able to find a good job with mediocre grades and have a middle class lifestyle with one income."  Their fears are that their kids will not have the same opportunity.  The reality is that California in more desirable areas is no longer a place for middle class families.  This may sound harsh but it is true.  The boomers who in many cases won a lottery of timing in terms of affordable real estate prices, plentiful jobs, cheap education, healthy benefits, and a global economy that favored the US won out.  Yet their kids face a harsh reality of global competition not only in jobs but also in terms of real estate.  When I talk with these boomers many enjoying the juicy Prop 13 tax assessments, have no plans of leaving the state and cashing in on their big win.  They complain and pound their fist in the sand that their kids are being "priced out" yet enjoy the major profits in their properties.  California is a tough place for young families starting out.  But for baby boomer home owners they are going to go down into the grave with their gold plated granite infused hardwood floor housing sarcophagus.  To be buried like a pharaoh seems to be the modus operandi.
The crazy year for California home values
The Southwest had one of its best years on record when it comes to real estate: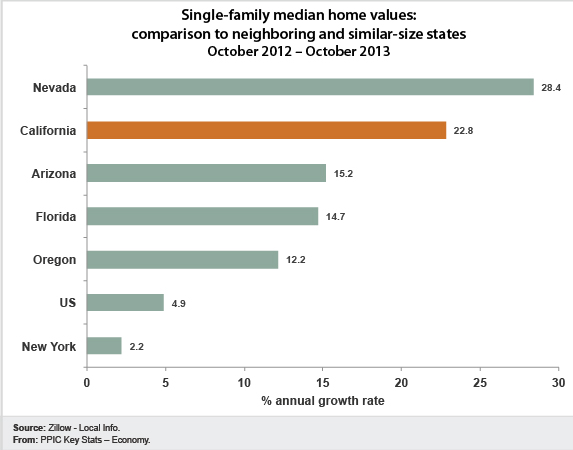 According to Zillow, California home prices went up 22 percent.  Other measures have the gains between 20 and 30 percent.  Look at the top gaining states (the 4 horsemen of the sunny bubble apocalypse).  I wrote an article a few years ago about the crazy Florida real estate bubble in the first half of the 20th century.  Sunny states and real estate bubbles go together like gin and tonic.
The market is softening and we are seeing the market in California being held up by investors.  Some boomers peer out of their 1970s windows to see a young professional couple moving in with the standard BMW and Mercedes and their newly minted 2013 tax assessment.  These people are gentrifying the middle class out of many California markets.  Many Californians have decided to embark on brutal commutes to keep the dream alive of being able to afford a McMansion.
For the most part, the idea that there was going to be a flood of properties as baby boomers "retire" was largely not based on psychology.  First, many boomers are in no position to retire.  However, many could cash in their California real estate lottery ticket and live their days out in financial security in many of the states in the US.  Yet, they want to act like that young professional couple earning six-figures with multiple college degrees that just bought their home in the same neighborhood and complain that somehow, their kids can't buy a home with a YMCA job like they did.  That game is done.  The Fed will see to it.  The Fed has no interest in the US middle class but is looking out for the interests of the upper-crust.  Ironically many boomers are seeing their kids move back home with newly minted diploma in hand and loads of debt.
The collapse in mortgage applications
Mortgage applications have collapsed in spite of a record year-over-year increase in prices: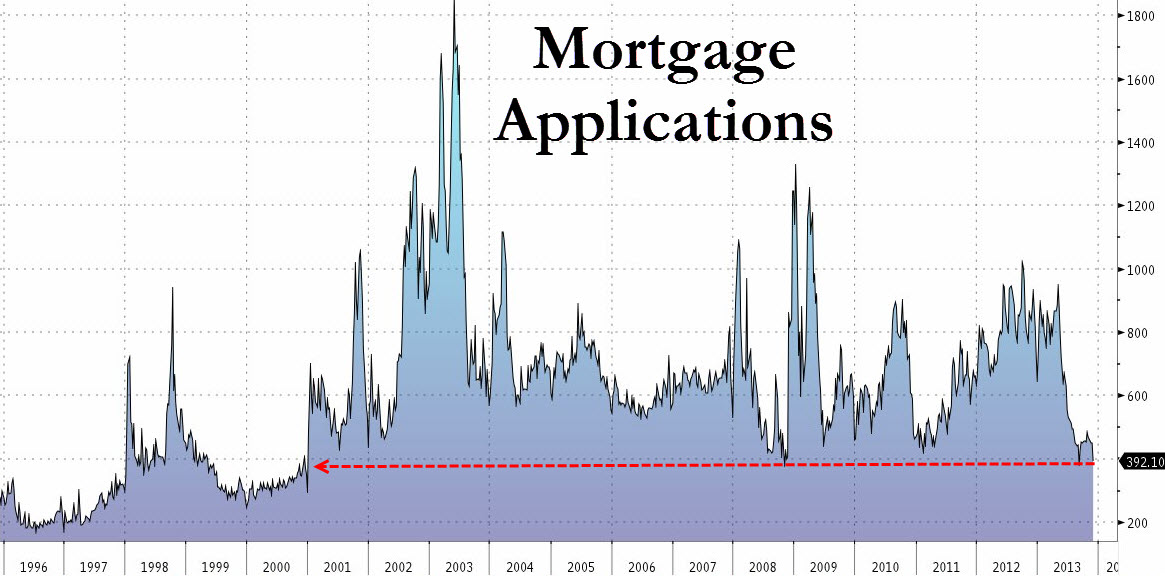 Who needs a mortgage when you can go in with cash or alternative sources of financing?  This helps to explain why we have a burgeoning rentier class coming about and also is the reason for a drop in home ownership yet home prices going up.
The game is entirely rigged on lower mortgage rates.  That is why even a tiny move from 3.5 to 4.5 percent in the mortgage markets stuck a fork in this current mania.  The average holding period for a mortgage is something like 7.5 years highlighting that most Americans love the property ladder game.  They try to make the home seem like a place for establishing roots but have turned it really into a commodity to be sold off to the highest bidder.  When was the last time you went to a mortgage burning party especially in California?
Here are some stats on California:
54 percent own / 46 percent rent

Of those who own, 74 percent carry a mortgage

30 percent moved into their current household after 2010

69 percent moved into their current household after 2000
California has become a state with a high number of renters and people move around a lot.  The flood of investor buying explains the big drop in home ownership across the state:
Source:  Census
To highlight the case that more people have fallen off of the middle class bandwagon I also highlight the growth in food stamp usage.  The recession officially ended in the summer of 2009, right?  Well take a look at this:

Source:  SNAP
Food stamp usage is up 55 percent since the recession ended (with over 4.1 million Californians on food stamps).  Did these people magically appear from nowhere?  Of course not.  Many were probably on the edge of being middle class but have now been pushed into the lower rungs of income.  The point being is this: non-middle class Californians are growing in large numbers while the top is getting even wealthier (yet this is a smaller group).  This is why you have mortgage apps hitting lows while investors step in to purchase up 30 percent of all properties in California and nationwide even with low inventory overall.  Boomers are not selling their Prop 13 locked lottery tickets.  That is, the new rentier class doesn't need cheap mortgages to stretch their weak household income growth.  Boomers are going to witness this in real time as they view their kids get left behind unless they have the skills and connections for the new competitive global landscape.
Many of these people can easily sell their homes and move their family and kids to another state and start off with two households with completely paid off homes.  Imagine how great life would be if you could start off your working life with a paid off property?  Instead, they will "live and die in LA" in their pre World War II shack and hem and haw about the challenges their kids face but will remain idle in their stucco sarcophagus.  Many will also bemoan that it is so hard to get into Berkeley or UCLA and when they went a generation ago, they paid nearly nothing and got in with sub-par scores (today these are the schools with the highest number of applicants in the US and just look at what it takes to get in).  This is a completely different ballgame.
I will end this article with some short-term trends: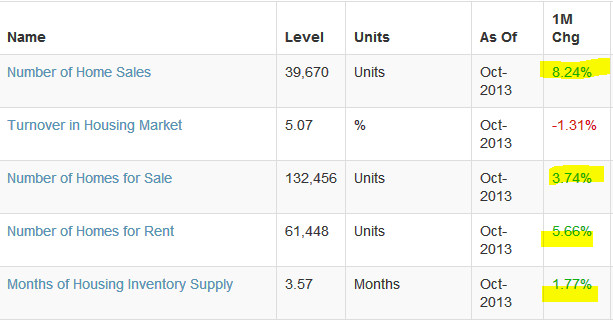 Source:  Quandl
After a big decline with inventory year-over-year, we did see the number of homes for sale go up in California for October and the number of homes for rent slightly went up.  Given the small number of foreclosure re-sales if historical trends play out, we should see a pickup in inventory starting in early 2014 simply because of seasonal changes.  All signs point to a Fed tapering (i.e., the recent jobs report) but the Fed IS the mortgage market so any tapering will pop this bubble instantly.  You think the new Fed chief is going to take the punchbowl away on day one?

Did You Enjoy The Post? Subscribe to Dr. Housing Bubble's Blog to get updated housing commentary, analysis, and information.