The cash buying and investor segment of the market has been the major catalyst for the current run in real estate.  Record low inventory coupled by low rates brought on one of the best year-over-year returns for real estate.  The investor crowd can easily pullback as quickly as it dove in head first.  We are already seeing some signs that investment buying is starting to slow.  In real estate, things historically turn very slowly.  The reason for this is because real estate is not a very liquid investment.  However, we've never had this much hot money in the market.  Inventory had been on a steady rise starting early in the year but recently, it appears that inventory is creeping back into its cave.  In California those with golden real estate handcuffs are pulling back for possibly better days in 2014.  What is surprising is that rentals and homes for sale both have seen decreases in inventory.  Cash sales were up by 3 times the normal volume from 2001 and nearly twice the historical average going back to 1998.  This average is skewed because it starts around the time of the massive real estate mania.  So what happens when the cash crowd starts pulling back?
The volume of cash buying
In economics you usually look at historical precedents and try to forecast the future as best as you can.  Yet we have never had a situation where investor buying has been so big.  Take a look at the volume of cash buying in California: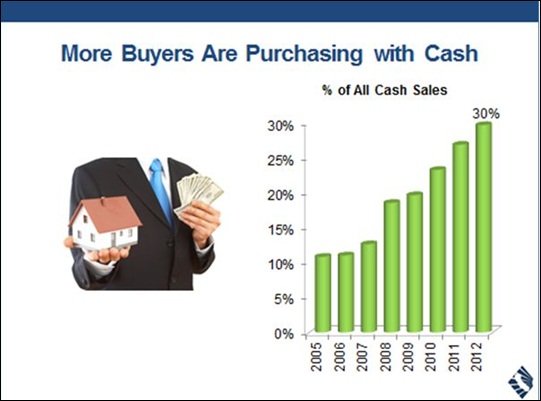 In 2001 8.8 percent of all sales went to cash buyers.  In 2012 it was 30 percent.  This is not a normal market.  This is a giant market with big speculation.  There are multiple cross currents.  Some think that baby boomers will somehow retire and start selling in droves.  We've argued that in California many will be treating their grandfathered in homes under Prop 13 like granite plated sarcophaguses.  These people are not going anywhere.  Many couldn't afford their home today if they had to purchase it based on their earned income.  In fact, part of the pullback in inventory has come from this crowd.  Many are seeing that they had to cut prices to move properties and would rather pull inventory off the market.  Maybe in 2014 they will hit the real estate lottery.  This is one line of thought but where will they move?  My thought is that inventory will remain tight into next year.  Foreclosures are now a tiny piece of the sales market, making up only 6 percent of all sales (versus 56 percent in February of 2009).
Cash buying is slowing
Both sales volume and cash buying is pulling back.  Take a look at this:
Cash buying volume (Southern California)
February 2013:                  36.9 percent (peak all-time)
September 2013:             28.5 percent
October 2013:                    27.5 percent
Sales:                                    Down 4.4 percent year-over-year
Something is changing here.  The hot market of seeing prices going up 30 percent year-over-year was simply unsustainable.  But how much of the rise in prices came from speculators and flippers simply hoping to sell into momentum of a tight market?  It was interesting to hear that many were saying that these people were buying these homes to rent out yet the single family rental volume has virtually disappeared meaning these homes aren't being put on the market as rentals:

Source:  Quandl, Zillow
A shift occurred earlier in the year as well.  It was clear that from 2009 to early 2013 more rental units were being put on the market but that has changed dramatically recently.  Some investors are likely planning to exit the game taking profits off the table.  The returns are fairly weak in rents for California properties.  Keep in mind that we've been in a strong move up since the bottom: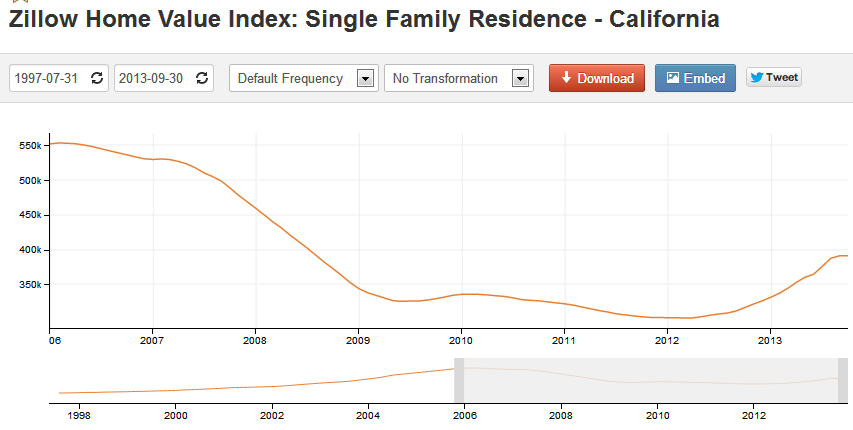 The bottom hit in 2011 and 2012.  Since then, prices have rebounded strongly over the last year.  Investors are the most fickle group of them all.  It'll be interesting to see what happens as those year-over-year gains start declining and sales fall (headlines will be filled with this just like headlines have been filled over the last year about the raging market).  If anyone thinks that psychology isn't a part of housing is out to lunch.  The real estate market especially in California is driven by mania, euphoria, and bust.  Those arguing we are going to see calm rational behavior after this run are simply ignoring the last couple of decades of history.

Did You Enjoy The Post? Subscribe to Dr. Housing Bubble's Blog to get updated housing commentary, analysis, and information.