For most of the year, housing inventory was steadily increasing across the nation.  In California, it appeared that inventory hit a bottom in February of this year.  At that point, there were 109,000 homes available for sale.  The latest figures going out to October showed 127,000 homes available for sale and this was down from 134,000 reached in August.  There has also been a steady decline of homes available for rent.  The cash investor crowd is still out buying in large numbers.  The drop in inventory is typical for the fall and winter selling seasons in normal markets.  However this drop in inventory is likely being brought on by other factors including the jump in interest rates and also, the perception that the market may be softening. The number of listings with price cuts was 17 percent earlier this year.  Today it is up to 28 percent.  Where did the inventory go?
California housing inventory
Starting in 2011 housing inventory went into a deep decline in California: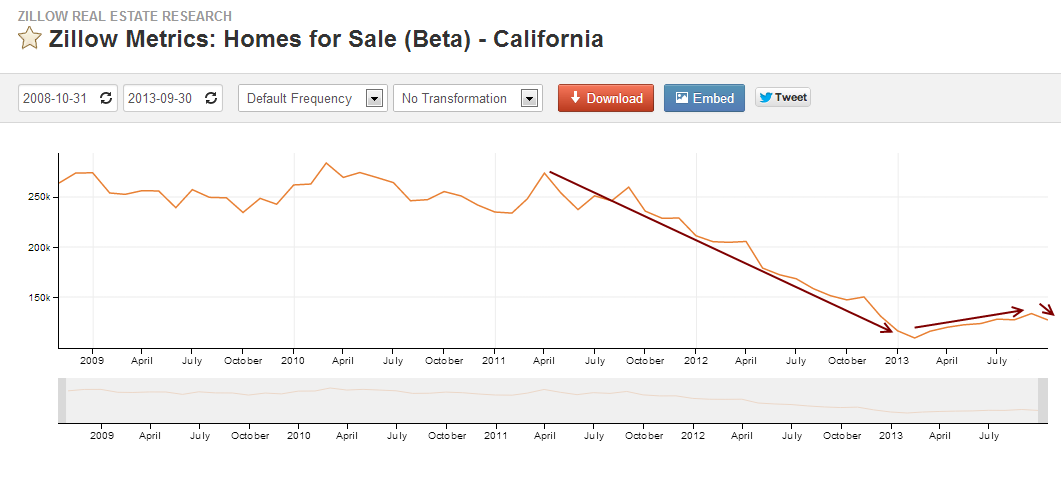 Source: Quandl, Zillow
This was over a 50 percent drop in total inventory over a short period time.  So it is no coincidence that home prices over this short period also increased dramatically in conjunction with low interest rates brought on by the Federal Reserve.  However, housing inventory hit a temporary bottom in February of this year: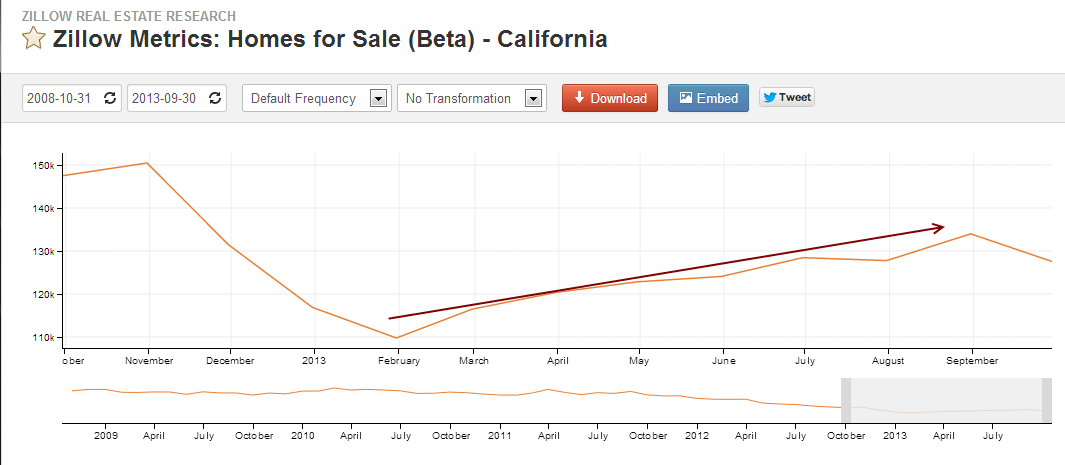 As mentioned, inventory bottomed in February at 109,000 homes.  It ended up going to 134,000 over the summer but has now moved lower to 127,000.  This trend is not only impacting California but the rest of the nation as well.  Inventory was moving up steadily but the impact of higher rates does seem to be softening the market.
In California, many investors bought single family homes for the purpose of renting.  You can see the steady increase of rentals starting in 2011 (oldest data available):

However, over the summer the number of homes available for rent in the state has declined sharply.  The fact that only one out of three households can afford a California home is partly due to this but also, a slight decline in sales for the state.  Being out bid by investors and also, simply being unable to buy have increased the number of renting households.
National trends align with California
Nationwide, prices have softened a bit: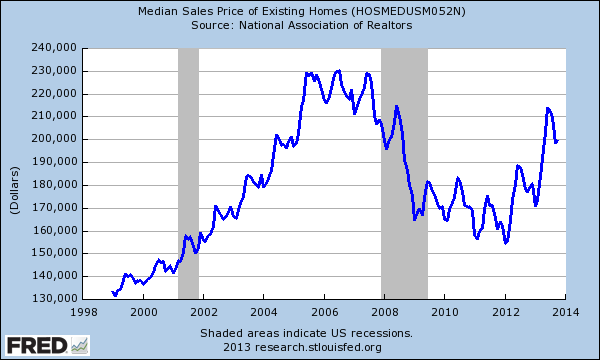 The cash crowd has been a dominant force nationwide as well with over 30 percent of sales still going to this group.  Given the massive rally you would expect mortgage balances to be soaring for regular households but they are not: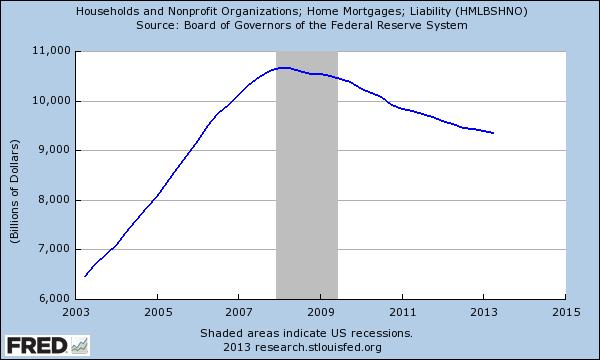 Alternative financing for investors does not show up here.  The housing market seems to be at a lull trying to decide where it will go.  Home prices in California are up 25 percent over the year and clearly this is an unsustainable pace.  The California housing market is addicted to a boom and bust cycle.  We are in a boom of sorts so to think we'll have a steady market following the latest boom simply goes against recent history of the market.
If you are out in the market, you may find the selection of housing better than it was early in 2013 but the number of new inventory coming online may be limited.  Take a look at Pasadena for example: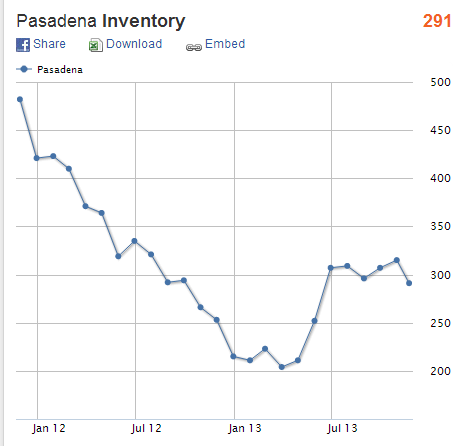 Source:  Movoto
Inventory shot up by 50 percent from the lows in February but has recently softened up.  The two major factors driving this recent decline are higher rates and a weaker market.  28 percent of homes now have a price reduction in California.  Back in spring and summer before the hike in interest rates people had to beg on their knees just to overbid on a property.  That doesn't seem to be the case and sellers with golden handcuffs are probably riding this out hoping for higher prices in 2014.
The cash crowd is going to find it more difficult to make money flipping and finding good yields on rentals and we are seeing some slow down in cash buying although it is still very high (in SoCal it is still 27.5 percent of all buyers).  Hearing from those in the market and talking to contacts in the industry, the market has definitely softened and many are planning to wait this fall and winter out for the hope of higher prices in 2014.

Did You Enjoy The Post? Subscribe to Dr. Housing Bubble's Blog to get updated housing commentary, analysis, and information.