The median price for a California home is now at a two year high.  Two years ago, a nice little push came from the First Time Home Buyer tax credit and today we have incredibly low interest rates ushering a mini boom.  Sales are positive for the summer and the engineering of the housing market is providing a platform to unload shadow inventory at a methodical pace.  Yet some are mistaking this duct tape approach to slowing the market down as some sort of launching pad of the next buying binge.  That is not the case.  Even if we look at prime communities we realize that home sales are moving but demand is heavy at the low to mid-range.  We have followed Culver City carefully and would like to examine the current market dynamics.  You are still seeing a healthy amount of distressed properties coupled with discounting that is mixed in with plenty of leverage courtesy of low interest rates.
The starter Westside home
Culver City is a desirable mid-tier market.  I pulled distressed data from three years ago to compare with the current market: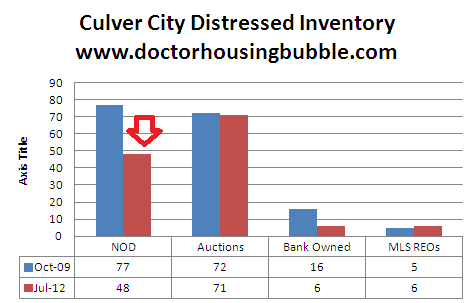 The big decline has occurred with notice of defaults.  However this shift has been replaced by a jump in short sales.  For example, out of the 100 or so MLS listed properties 21 are short sales.  Some of these sellers might want to exit and do not show up in the distressed pipeline.  It is an interesting shift but speaks to the reality that banks are realizing this summer is a good time to unload properties onto the market especially with these more expensive distressed homes.
One observation about those record low interest rates for a state like California.  With major deficits, the low interest rate is encouraging folks to purchase.  Because rates are so low and people can buy much more home with a 3.5 percent mortgage rate than say with a 7 percent rate, the underlying asset price is pushed up.  With Prop 13 keeping a lid on tax rates, this is actually pushing up assessed values for property tax collections when a home is purchased at a much higher value.
Back to Culver City, you are still seeing major price correction happening even in this booming summer with low controlled inventory, low interest rates, and buyers jumping in.  Take a look at this example: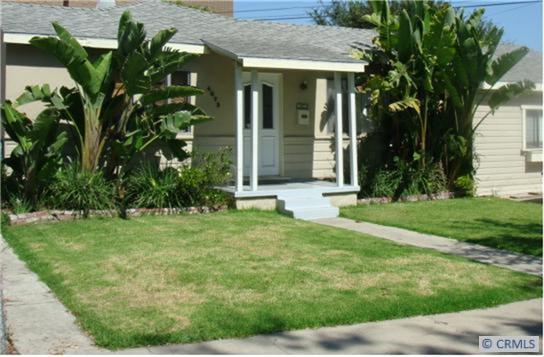 4072 Globe Ave Culver City, CA 90230        
3 bedroom, 2 bathroom, 1,380 square feet, Single Family   
Nothing really special about this home.  It was built in 1944 during World War II and is listed at 1,380 square feet.  It has been on the MLS for 207 days and currently has a pending offer at the list price of $399,000.  The ad on the property is straight and to the point:
"Incredible Opportunity to Stop paying Rent and Own this very Bright and Light property located in a high demand of Culver City. You must see this one!!!!"
Of course as the over 11 million negative equity homeowners in the US now painfully realize is that you switch from paying rent to a landlord to paying rent to the bank.  Is this a good price?  Someone clearly thinks it is.  Yet the current price is a far departure for what it sold back in 2005: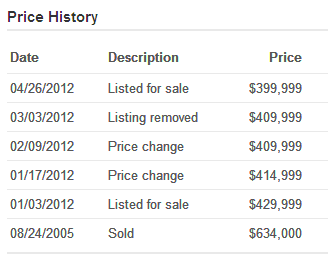 This home sold for $634,000 back in the mania days.  Looking at foreclosure data, it looks to have a second of over $79,000 bringing total debt on this place to over $700,000 (notice how second mortgages don't show up on sales history thus making the price decline seem smaller than it really is in the Case Shiller data).  This home is really falling from $700,000+ in loans but the Case Shiller data will start the decline from $634,000.  So a $399,000 price must seem like a gem for anyone buying out in Culver City with those dramatically low interest rates.  This is a price cut occurring right now.  Yet one thing folks are missing is that they are likely going to stay put for 7 to 10 years before thinking about moving and buying a bigger home.  The property ladder game has been part of the SoCal psyche since the 1970s.  Are these buyers happy to stay put in this home for over a decade or do they really see this as a starter home where they will sell and use the newfound equity for that bigger home in Culver City?
If we are looking out into the future, 10 years out, it is unlikely rates will be this low.  Will future buyers have access to cheap capital similar to today's rates?  What about the FHA insured loan pool?  This product has kept the market humming in SoCal for the last few years making up 1 out of 3 mortgage originations.  Only last month did we see mortgage insurance soar for these loans because FHA loans are defaulting in large numbers.  What if this product morphs and requires even a modest 10 percent down?  These are all very likely and modest scenarios.
Culver City has a median price of $513,000 for 90230 and $680,000 for 90232.  The adjusted gross income for a household in 90230 is $63,000 and for 90232 it is $66,000.  Interestingly enough over half the people in the city can't even afford a starter home in their own city.  So what do they do?  They use generous affordability metrics and leverage up to the max.

Did You Enjoy The Post? Subscribe to Dr. Housing Bubble's Blog to get updated housing commentary, analysis, and information.