As the final days of 2010 come to a slow close, the future of California real estate seems to be pointing to a challenging 2011.  By now some thought that loan modifications and tax breaks would have been enough to stick the jumper cables onto the California housing market for a jolt.  Gimmicks however only masked over the fragile economy of the state and provided a temporary and expensive boost to sales.  Now with much of the fumes burning off California home sales have fallen drastically.  Some will argue that this is seasonal and that in fact is true.  Fall and winter always provide a slower selling season but the statistics are being measured against previous fall and winters and the picture does not look pretty.  The new governor takes office facing a $28 billion deficit and a state unemployment rate of 12.4 percent.  For those focused on prime real estate and micro markets the state is facing larger issues and the middle and upper tier of the housing market is already cracking under the pressure.  No market is a silo.  Today we will look at a $500,000 home in Beverly Hills.
9666 YOAKUM DR, Beverly Hills, CA 90210

Beds:                     2

Baths:                   1

Square feet:       1,052
Beverly Hills will always carry a certain flavor of California celebrity love and many will have flashes of Aaron Spelling when thinking of this zip code.  I have alerts setup to notify me when certain areas break thresholds that I think are significant.  Of course one home does not make a trend but we all know about the proverbial straw that broke the housing market.  To some it was sales collapsing.  To others it was the extraordinary graft that occurred with toxic mortgages.  To others it was the deliberate orchestration by Wall Street to siphon off as much wealth from Americans and their largest store of wealth before throwing a match into the tinder box of the economy and receiving bailouts before they headed out of Dodge.
This home provides a glimpse at a tipping point.  First, let us look at the last sale here:
Sold:                      07/30/2004                         $700,000
This home sold for $700,000 back in 2004.  That may seem like a long distant past to many but this was right in the center of the mania in real estate for California.  During the bubble days finding a foreclosure in Beverly Hills was similar to enjoying a Big Foot sighting.  Why would there be any foreclosures when all you had to do was sell into the glorious momentum?  The mania covered years of luck and mistakes.  Much of that has now run out.  This home only has slightly over a week on the MLS but let us look at the description:
"Bank Owned- Charming Canyon Fixer. Two bedroom and one bath home located on pretty tree lined street in Benedict Canyon- Beverly Hills PO Box area. Living room has hardwood floors and fire place. Dining room looks out to pretty backyard. Laundry room located next to the kitchen. Attached two car garage. Turn this house into your new home."
I always like it when my kitchen is next to the laundry: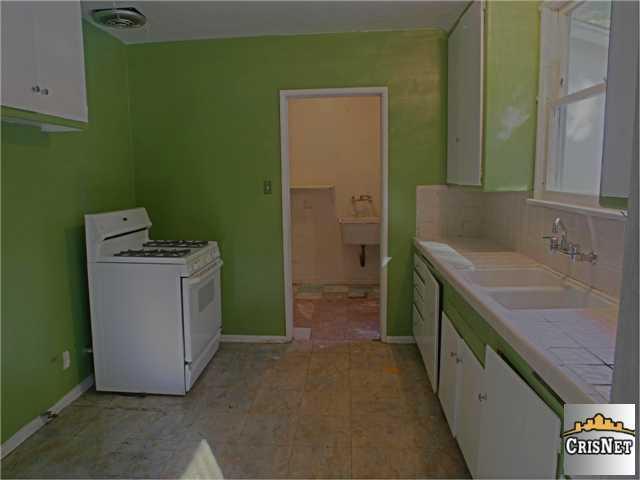 Now I notice that this home already has a lot of interest merely because of the price.  It is currently listed at $512,000.  That is right, $500,000 for a home in Beverly Hills.  It will be interesting to see what happens on this place.  This is the reality of the market at the moment.  Prime locations and middle tier cities need to price homes competitively or risk chasing the market down even further.  With a mixed Congress it is hard to say how things will play out going forward in terms of additional bailouts.  Yet the cracks are happening very clearly now.  Most metrics are all over the map for California home prices: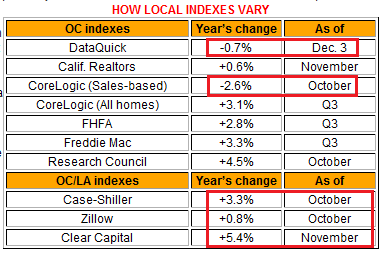 Source:  OC Register
This is why it is important to always keep the bigger picture in perspective.  If we look at the above, most sources show a year over year improvement in prices.  But if we look deeper we find the following: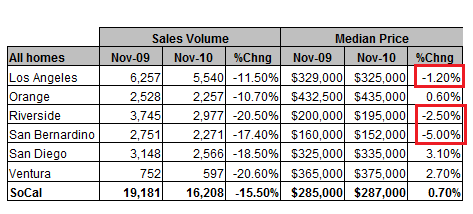 Source:  Data Quick
Three of six counties in Southern California have already turned negative on a year over year basis if we look at monthly data.  What is more crucial for predicting future movements is the absolute collapse in sales.  This signifies that 2011 will start off on a slow footing for housing and this does not factor in the more important 23 percent underemployment rate or the $28 billion deficit.   We have a subset of analysts out there that simply have a grasp of real estate in the context of a bubble.  That is it.  Their entire career has been shaped and molded by a once in a life time real estate mania, one that will not happen again in our generation.  For each one of these analysts you probably have 100 people that have heeded their advice.  Those 100 depending on their influence also impacted their inner circles.  Yet the scales have now tipped and now people are willing to think for themselves so you have seen sales at the upper end grind to a screeching halt in the last few months.  These analysts are now pleading for more open lending at the upper end as if this was the problem.
The $500,000 Beverly Hills home is symbolic just like the $500,000 Real Homes of Genius in low income areas of the Southland. These signified tipping points in the market.  Prices have fallen across all market levels.  Do you think Congress is going to have any sympathy for folks in Beverly Hills or Newport Coast because they can't get a low rate jumbo loan?  Those that want to buy in these high priced markets now need to back up their talk with cash and adequate income.  Mortgage rates are low enough but apparently not too many people are making what the leased foreign cars of the Southland would indicate.
Today we salute you Beverly Hills with our Real Homes of Genius Award.

Did You Enjoy The Post? Subscribe to Dr. Housing Bubble's Blog to get updated housing commentary, analysis, and information.