The joy of the holidays provides a respite from all the economic challenges facing the California economy.  It has been an arduous three years of riding on a financial rollercoaster and very few states depended on housing as much as California.  There are varying metrics measuring the home price decline in California but overall the state has seen prices fall by 40 to 50 percent from the mountainous peak depending on what index you are looking at.  A 40 to 50 percent decline screams like a Greek siren at a post-Christmas sale but is it a deal?  Many Californians have adjusted their rose colored glasses and we have a generation of new home buyers that know nothing else than bubble home prices.  To many, extreme home prices seem to come with the California territory like 405 gridlock or warm winter days.  Yet bubbles do burst and the real question most should be asking is how much lower will prices go?  To answer that, I want to examine a variety of measures including personal income to home price growth but also where the economy currently stands as we enter 2011.
The first chart examines individual personal income and the California house price index.  This index is provided by the Federal Housing Finance Agency.  This index is generous since it puts the California home price decline from the peak at 31 percent.  We'll use this to measure it with personal income growth:
Chart 1 – CA House Price Index / CA Personal Income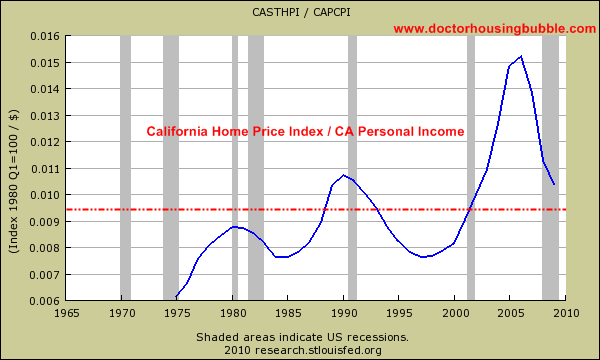 Even based on these generous assumptions, home prices on a statewide level are still inflated based on historical metrics going back to the early 1970s.  What people need to keep in mind is that this metric averaged out during more prosperous economic times.  What is odd is that with a statewide unemployment rate of 12.4 percent and an underemployment rate of 23 percent (second only to Nevada) you would expect that home prices would be below their historical average.  This would make sense since housing should track the overall health of the California economy.  What we see right now however is the housing market technically performing better if we use prices than the statewide employment market.  Prices are coming down like tree sap from an exposed tree.  We can measure this by using the CA House Price Index (CAHPI) and measure it up against total nonfarm employment:
Chart 2 – Nonfarm employees versus California Home Prices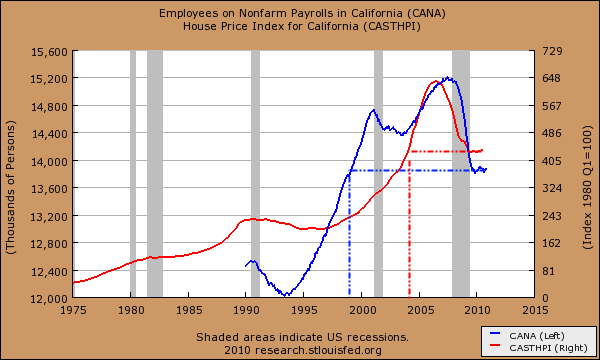 Like a forensic investigator we need to find the turning points in markets and the chart above shows the story of two large employment bubbles.  Through the 1990s it was technology based but in 2000 you see it move lower as the tech bubble burst only to rise up yet again as the California housing bubble took off.  What is more fascinating about this chart is that home prices never corrected after the tech bubble burst and just kept going up like a silver helium filled balloon.  So using the start of the housing bubble as the starting point may not account for the price correction that should have occurred after the technology bubble popped.  What you find in the above chart is that employment kept expanding roughly 1 to 2 years more after the peak in home prices was reached in the latest real estate bubble.  Nonfarm employment in the state is now back to late 1990s levels and California home prices are back to levels last seen in 2003.  Inflation adjusted prices are now flirting with a lost decade similar to what Japan is experiencing with their two lost decades.  If you look closely above, nonfarm employment has hit a trough but hasn't moved up.  The same applies to housing prices.  The question is where do things go from here?  It would be absurd to assume that home prices would go up and lead employment growth.  This was the cause of the last bubble.  It is safer to assume that employment growth will then lead to future home price growth.  Yet home prices are still inflated simply by examining historical price metrics.  But you also have to parse the data.  A mortgage broker that made $100,000 or more a year and now can only find a $30,000 a year job is now counted as fully employed.  Yet it would take 3 brokers and some change for what was produced in income (and tax revenues) from the peak bubble years.
The following chart shows how much is being paid out in statewide unemployment benefits:
Chart 3 – unemployment benefits paid out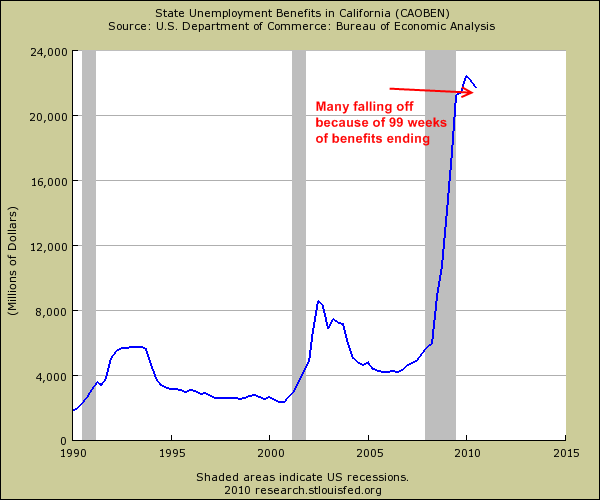 This is really where you see the bubble in housing imploding.  What is troubling is how quickly the unemployment payout shot up.  We are still near the peak and the recent decline above is largely due to 99ers (those on unemployment for 99 weeks) are falling off the rolls.  It would be silly to argue that this is somehow good news.  What large industry is absorbing up all this excess employment?
During the rampant expansion days of the bubble, I would see people entering the industry that really had little skills besides living in the state and the gift of gab.  You had people with a high school education making six-figures a year by pushing toxic mortgage waste to California buyers.  These people infused this money into the economy by purchasing foreign automobiles, expensive jewelry, and partying it up in the Los Angeles nightlife scene.  The majority also bought into their own pitch and purchased over priced housing.  The state was flush with revenues and had little incentive to intervene.  In other words, the housing bubble was self-reinforcing and all the heavy hitters were taking their cut.  That cut was so high that many will try anything to recreate that environment.  The tax credits to buy homes or the artificially low interest rates are simply methods of keeping home prices inflated for those who live off the churning of real estate and yearn for the halcyon days of the bubble.
The irony is that in many niche markets where prices are still in bubbles these policies are keeping home prices unaffordable for working professionals.  Prices are coming down but taking longer because of this expensive exercise in keeping economic policies that largely were causes of the bubble.  This leads us to our next chart.  Home prices from low to high tiers are all coming down:
Chart 4 – Case Shiller Los Angeles tiered home prices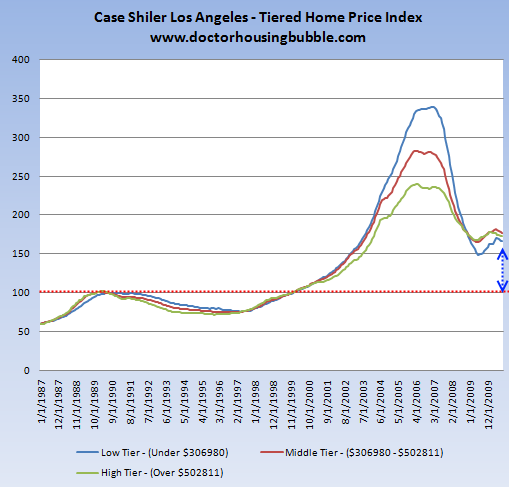 This is an interesting chart.  Every market segment has seen a price correction above.  The recent tiny bump up was billions of dollars of bad policy and tax breaks yet that has now largely waned.  Let us look at the actual percent decline for each category:
Low Tier – (Under $306,980)                       –              51% off peak

Middle Tier – ($306,980 – $502,811)          –              37% off peak

High-Tier – (Over $502,811)                         –              28% off peak
The above data is crucial but also shows the domino like effects of price corrections.  The low tier went up higher than the high tier in percentage terms but prices are down significantly in many areas.  It is also the case that places like Pasadena and Culver City shifted into the high tier price range and now need to come back down into the middle tier.  This housing bubble was like a tectonic plate shifting entire cities into price tiers that it had no economic justification of being in.  The correction is and will continue to happen.
All of this coalesces around the massive build up with shadow inventory and leads us to our next items to examine in terms of forecasting out into 2011:
Chart 5 – Total California inventory

Looking at the MLS minus foreclosures gives us a tiny picture of the state of California housing.  Total MLS California inventory is roughly 164,000.  But if we add in all the distressed inventory of foreclosures and those in the pipeline the figure jumps up:


The pool of homes shoots up to 462,000 and what about all the other tens of thousands of homes with non-paying "owners" that don't show up anywhere?  We already have data on cure rates and 90 percent of these homes do end up as foreclosures because there is only so much you can modify when home prices have fallen roughly 50 percent.  Aside from modifications, what about the employment scene that we examined above?  People now need to pay more for healthcare, college, and typical items of a middle class lifestyle yet wages are stagnant.  Where is the money going to come from to support housing prices moving forward especially at the current inflated levels?
The above tells us a very revealing story and that is that 2011 will bring lower home prices to California unless we have an economic revolution that produces hundreds of thousands of good paying jobs.  This should be obvious merely by looking at employment trends but also the fact that home prices have yet to revert to their historical trends.  As I have mentioned before, it is actually a surprise that home prices don't fall under their historical trend based on the weakest employment market since the Great Depression.  The fact that recent sales have collapsed tells you something significant.  I've also had many random people tell me, "I'm not in a rush to buy since I don't see home prices going up."  This is a new trend.  Those wanting to talk about the negative aspect of real estate.   I'm sure many of you encountered people at cocktail parties or gatherings during the bubble of how much they were making in real estate, "my home went up $150,000 in the last year."  Now it seems many want to psychologically validate what the market is doing.  I'm sure after Tulip mania there were many who didn't participate and witnessed the insanity only to stay silent during the bubble.  Once it popped, their silence is unleashed and it goes viral.  This produces a society that then becomes resistant to any additional bubbles in that market at least in the short-term.  That is why it is likely we will go a few decades with nothing coming close to a housing bubble in California.  Just look at the Great Depression and how the stock market performed for nearly 30 years.  2011 is around the corner so gear up for another economically interesting year.

Did You Enjoy The Post? Subscribe to Dr. Housing Bubble's Blog to get updated housing commentary, analysis, and information.