As we near the end of 2010 many will recall the late 2009 and early 2010 housing cheerleaders talking about the resurgence of real estate in California for the current year.  These people have an uncanny ability to ignore macro trends and simply focus with tunnel vision like accuracy on housing with gimmicks like tax breaks and artificially low interest rates.  Last week incoming Governor Jerry Brown said that California's "day of reckoning" has arrived as he held a forum to discuss the $28 billion budget deficit.  And for those of you who didn't notice, the California unemployment rate held steady at 12.4 percent with an underemployment rate at a stunning 23 percent.  In other words the California economy faces dramatic challenges in 2011 yet somehow there is a shrinking group of people who are still wedded to the idea that somehow real estate will go up in the face of all this economic news.  At the very least if you have examined historical precedents and have read some history of economic challenges globally you can understand that the odds are very likely that housing values will fall in California.  There are some key statistics that should put a pause to anyone thinking of buying in 2011.
Home Prices Flat and Sales Falling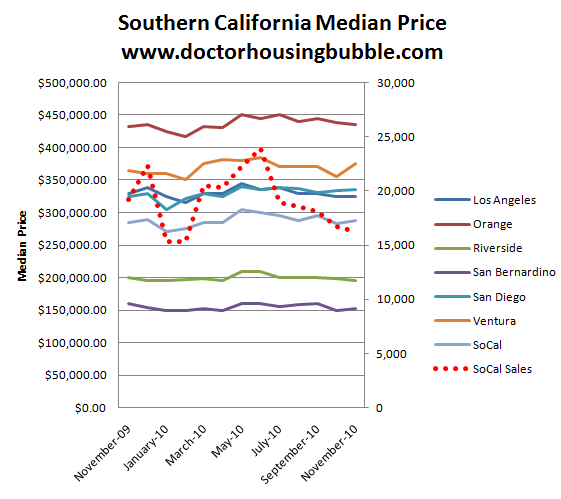 Notice how all the lines above move sideways?  The chart looks that way because prices went nowhere in the last year contrary to all those housing cheerleaders one year ago who were trying to get people to rush into the market.  The only reason that prices remained flat is because of the massive amount of gimmicks including the tax credit and the Federal Reserve artificially keeping interest rates low.  But now that the fumes have run out, you can see that sales have collapsed: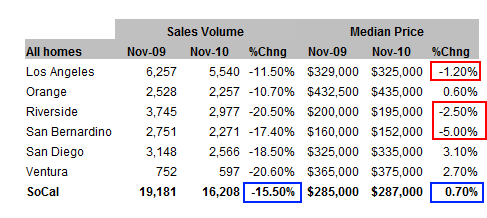 Source:  Data Quick
Collapsing sales are a leading indicator of where home prices will be heading.  This significant contraction signifies price weakness in the months ahead.  If you look above, 3 counties have already gone negative year-over-year in price.  All counties will go negative in 2011 at some point.  The housing market is extremely weak and if you can still believe it, we are starring at an enormous amount of shadow inventory even after the bubble burst in 2007.  Another factor that many pundits don't want to examine is the massive amount of FHA insured loans flooding the market: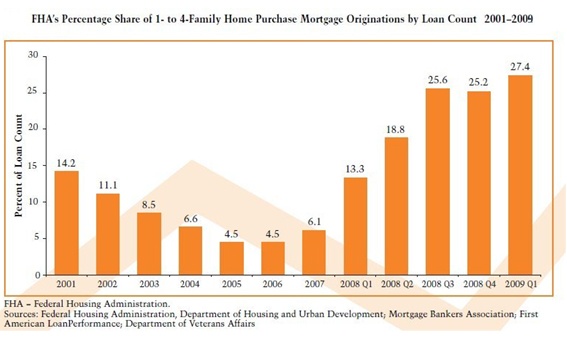 Source:  Real Estate Channel
Some see this as a good thing since it isn't their money that is at risk here.  After all according to some, people use FHA insured loans because they want flexibility.  This kind of logic is the same thing I heard when people defended option ARM loans as being for doctors, lawyers, and aspiring entrepreneurs that just didn't want the hassle of documenting their income.  I mean who can be bothered proving their income when asking for a $750,000 loan right?  As it turned out option ARMs were going to Wal-Mart employees buying up $500,000 homes with no income documentation and padding a mortgage broker's wallet with a nice juicy commission.  So instead of listening to the false conjectures of the housing industry, let us see why people are drawn to FHA insured loans: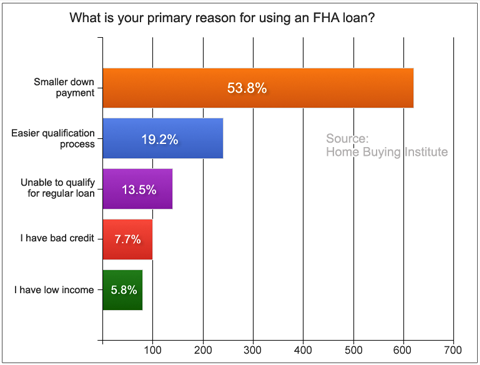 Source:  Home Buying Institute
53 percent will go with FHA because of the smaller down payment (aka they are too broke to go with a more conventional loan product).  Another 19 percent enjoy the "easier" qualification process.  Another 13 percent simply can't qualify for a regular loan (a good reason to give loans right?).  7 percent have bad credit (hey, giving loans to people with bad credit never ended badly has it?).  And another 5 percent have low income.  Sounds like all the FHA insured borrowers have so much money that they simply don't want to tie it up in the process of getting a conventional loan.  Of course that is nonsense and anyone with a thinking mind can see that people are using FHA insured loans as a substitute for low down payment mortgages that are now gone.  In fact, last month 36 percent of all Southern California homes were purchased with FHA insured loans.  FHA was never intended to be this big in the market and it certainly wasn't designed for $300,000 to $500,000 mortgages.
California Economy
Part of the reason folks have gravitated to loans with smaller down payments is because the economy is still in a mess: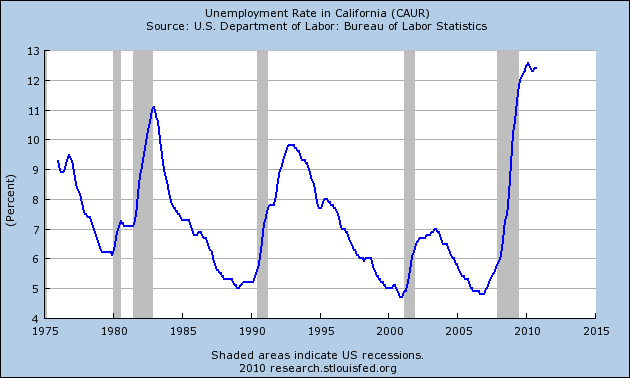 One year ago in November of 2009 the unemployment rate was at 12.3 percent.  The November 2010 data was just released and the unemployment rate is now at 12.4 percent.  Sounds like we made some serious progress in the year.   Housing cannot recover without solid job growth! The reason folks are so drawn to FHA insured loans is because the income they bring in does not provide enough additional income for even a 10 percent down payment.  Yet simply getting someone into a home is a horrible policy especially when it is with government backed money.  FHA loan defaults are now at record levels.  Why?  Because lenders unwilling to lend their own money are pumping out government backed loans and squeezing people into homes they still cannot afford.  Just because you can qualify for a loan doesn't mean you can afford to buy a home.
I think many are starting to get this even at a gut level.  The recent Governor's forum should tell you many things.  The Governor is setting the table for tax hikes or spending cuts.  He understands that Californians want it all; they want the service without paying for it.  So now many are going to have to make the choice.  Either way, tax hikes or spending cuts do not bode well for housing.
Home prices still out of sync
A fellow California housing blogger Patrick who runs Patrick.net talks about housing values in relation to local rental rates.  We've used this metric many times as well especially when investing in properties.  He has put together a useful tool that measures home prices to local area rents: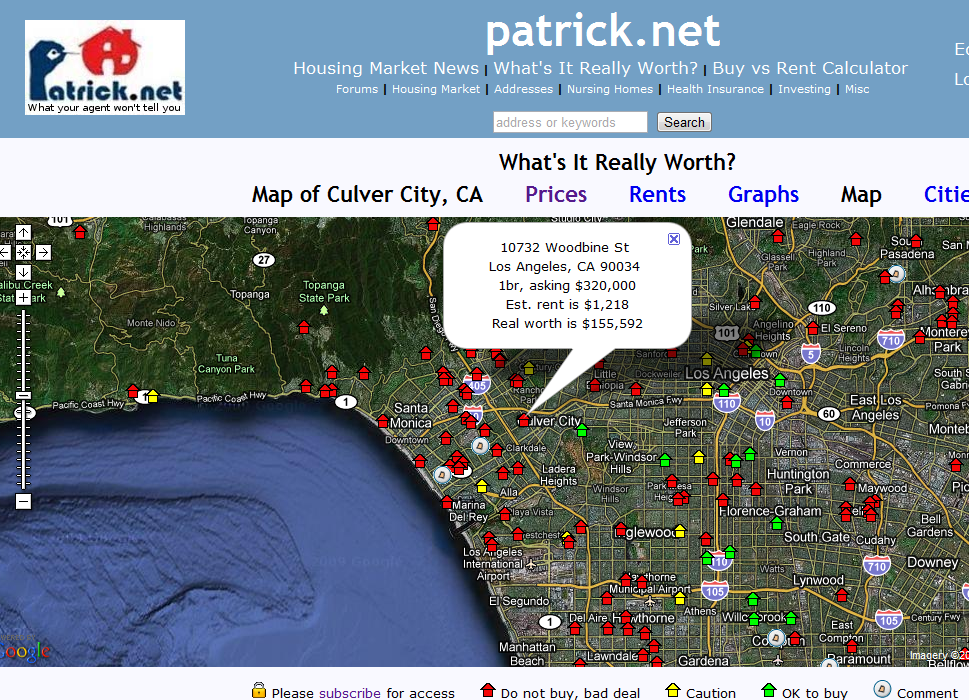 Source:  Patrick.net
For example, I pulled up a home in Los Angeles selling for $320,000 that would fetch $1,200 in rent.  The red home icon means it is a no go on purchasing here.  You can see SoCal is flooded with red.  Ultimately putting a debt albatross around your neck is going to result in a foreclosure down the road or you being owned by your mortgage.  If that sounds good to you then go for it.  Yet the recent trends are showing that people are more reluctant on paying current prices and are more cautious about jumping into a home.  This idea that people "love" their homes hasn't really held here in California with the rise of strategic defaults.  A large portion of the buying public has turned into mini real estate speculators.
California home prices are falling, have fallen, and will continue to fall in 2011.  Those that claim otherwise have no solid argument except to say "well you just don't understand and those that buy get it just like me" since they just don't have any solid market analysis to refute the market trend.  I'd be the first person to say things are changing if over the last year unemployment dropped to 6 percent and all of a sudden good paying jobs were hiring people and home prices stabilized because of this.  But early in 2010 the only stabilization came from tax gimmicks, foreclosure moratoriums, and housing psycho-babble.  Even the incoming Governor realizes a day of reckoning is on hand and this is a good time to buy?

Did You Enjoy The Post? Subscribe to Dr. Housing Bubble's Blog to get updated housing commentary, analysis, and information.