I know what you are thinking, "thank goodness for that $810 billion bailout!"  $10 trillion is the new million comrades.  As we blasted through the $10 trillion mark with our national debt, we have also managed to destroy $11 trillion in "wealth" in one year by simply looking at two measures, the residential U.S. real estate market and the Dow Jones Wilshire 5000.  Keep in mind we are only going to look at these two measures in this article.  This does not include other global markets that are outperforming us on the downside making any decoupling theorist update their resumes.  Who knows, with a track record like that they may land a job at CNBC.
As the world central bankers used their T-Mobile Sidekicks to text message one another, the markets had other bad intentions: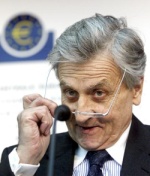 "Big B.  2day w3 hook up 4 mjr mrkt action."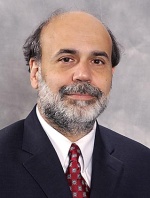 "Word.  Drop the FFR.  Ttyl Trichet."
What is the point of dropping the rate when people are flat broke?  This is the problem when people do not understand what mainstream America is battling with.  If you watch many news stations they forget that nearly 50% of households have no 401(k) since they cannot afford one to begin with!  Yet they operate under the impression that everyone is gambling in the world casino market.  Normally, a major Fed cut would have a major or at least positive impact on the market.   Now, it is like spitting into the ocean.  Earlier this week, I posted an article that compared the velocity of the 1929 crash to our current market.  We have now surpassed the velocity of the crash during the Great Depression!  From the peak in September of 1929 to September of 1930 the DOW was down 36%.  From the peak in October 2007 to October 2008 we are now down 39%!  But aren't you glad that we are not officially in a recession?  Otherwise things would really be bad.
No matter how you slice the market whether you look at the NASDAQ, DOW, or S & P 500 they are all getting hammered without prejudice.  Can you believe that I heard some blowhard trying to blame this on the sub-prime market?  Bwahahaha!  Yes, let us blame poor people for crashing the most sophisticated global markets by buying inner city homes at overvalued prices.  Give me a freaking break.  The sub-prime problems now seem like a welcomed distraction in comparison to the credit market freeze, the credit default swap market, and now the consumerist global markets slamming on the breaks.  You know why the global markets are crashing?  Because people turned markets into Ponzi schemes of global proportions.  Now that we have to reconcile reality with values their simply isn't a correlation.  That is why paying face value for mortgages is absurd.  These places are going to fail anyway.  Why give money to these criminals?
You want a novel idea?  How about we raid the bank and investment accounts of CEOs complicit in this credit casino and use any money we find to fund loan workouts?  We need to get this passed ASAP since those investment accounts they have are taking a beating so we want to make sure we liquidate right now in case the market goes any lower.  If we wait any longer, their account might look like the 401(k) statement of many Americans.  Can you believe that one contention in the bailout bill is about how much money we should give CEOs?  Are you kidding?  We should be talking about how much time they are going to get in the slammer not the size of their golden parachute.
Wilshire 5000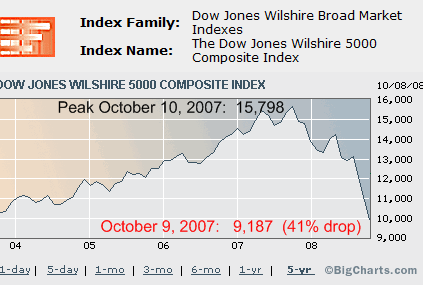 The Dow Jones Wilshire 5000 is probably one of the best snapshots of the overall U.S. equities market since it covers over 5,000 securities.  Most of the time when you hear about people talking about the "overall" market losing X billion this is what they are referring to.  Since the index itself doesn't publish up to date market cap information, I had to reconstruct a few data points:
Peak Reached on October 10, 2007:  15,798
52-week low October 9, 2008:           9,187
With that said, the index is weighted so it tries to reflect price changes as accurately as possible.  Of course given the nature of stocks and the size of the index, we only get a rough ball park.  On March 24, 2000 the index hit 14,751 and represented a market value of $14.7 trillion.  Keep in mind this was before the tech bubble popped and many tech stocks are in this index as well.  So with that, we can construct a proportional equation to arrive at an approximation of the peak price:
(14,751 / $14.7 T)  X (15,798 / Market Cap?)
So we're solving for the market cap at the peak.  With that we get the following:
23,223 / 14,751 = $15.7 Trillion Market Cap at peak
Okay, so now we have a very rough estimate at the peak market cap for a sizeable portion of the U.S. equity markets.  Now we have to calculate the percentage loss.  From the peak hit last October the entire index is now down, 41.8%.  So with that, we can calculate the market cap that is now lost into the great abyss in the worldwide casino:
$15.7 trillion x 41.8% = $6.5 trillion in market cap gone in one year
Now we are not calculating the global beat downs that are occurring.  Let us just take a quick look to see how others are doing:
*Chart Update:  Add an additional 9.62% to the downside.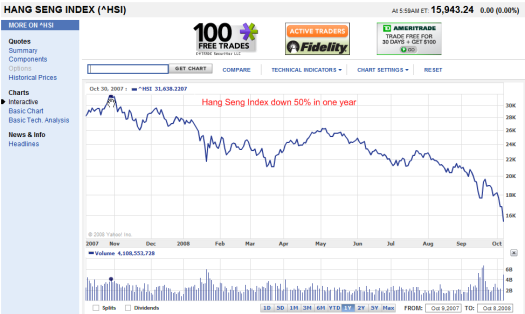 *Chart Update:  Add additional 8 to 9% decline to the downside to chart.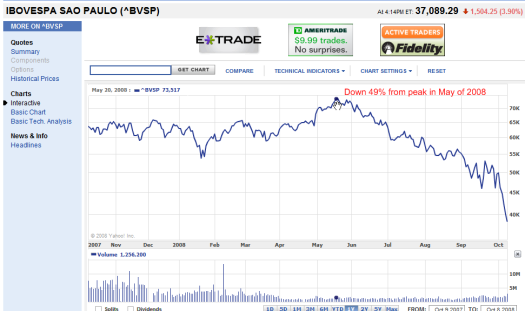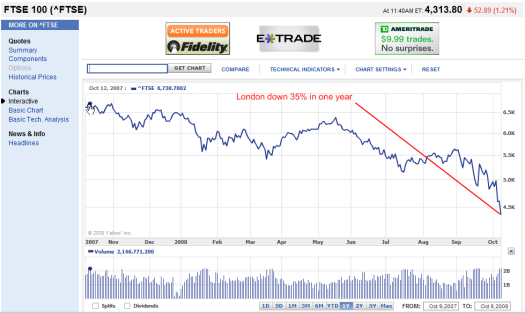 In relation to the above, we aren't doing so bad incredibly.  Yet if you need any further proof you can examine the Russian stock market and other markets and you'll find similar patterns.
Case-Shiller Index and Housing Loss
The most widely followed and trusted housing measure in terms of housing percent increases and declines is the Case-Shiller Index.  Most tend to view this as the most accurate measure of overall price declines since it looks at the same home over time which tends to give a better feel of how the market is performing.  Given that the index only looks at 20 large metro areas, it does not cover the entire country.  However, since most people live in these areas it does reflect a good measure of the housing market like the Dow Jones Wilshire 5000 does for stocks.  Let us look at the chart: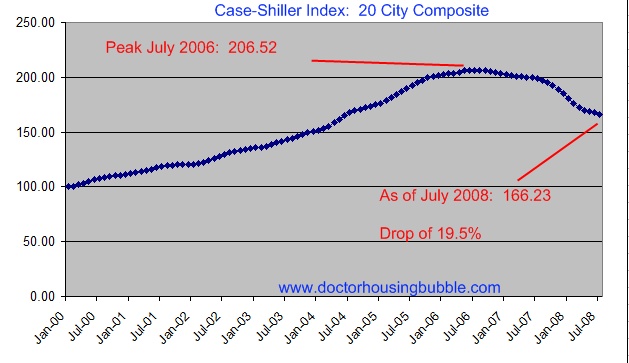 The peak was reached on July of 2006 at 206.52.  You need to remember that for the baseline year 2000, the number is set at 100.  The 206.52 represents a doubling in price over 6 years.  The most current data figure is that of July 2008 and puts us at 166.23, a loss of 19.5% from the peak.  Similar to the above, we approximate a loss from the peak.  At the peak, it was estimated that the United States residential real estate market was valued at $24 trillion.  With that we can estimate the current amount of equity that has evaporated:
$24 trillion x 19.5% = $4.68 trillion in housing equity gone
So in a little over one year, Americans have seen:
$6.5 + $4.68 = $11.18 trillion in wealth disappear
Just to put that into perspective, the dot-com bubble burst was estimated to wipe out $5 trillion in market value of technology companies from March 2000 to October of 2002.  Keep in mind many people are estimating that we will see a national housing price decline of 30% before this is said and done.  If that is the case, we will see an additional $2.52 trillion housing equity that will evaporate before we hit bottom.
That is why the $700 billion for buying up bad assets makes no sense whatsoever.  All this is going to do is help support a few lenders and given that $11.18 trillion is already gone, what is that going to do in the larger picture?  If they really want to help, that money should be used for job creation in sustainable fields or science and research development for this country.  At least we'll get something from that instead we are going to flush it down the toilet.  You want to see how the market responded to the bailout visually?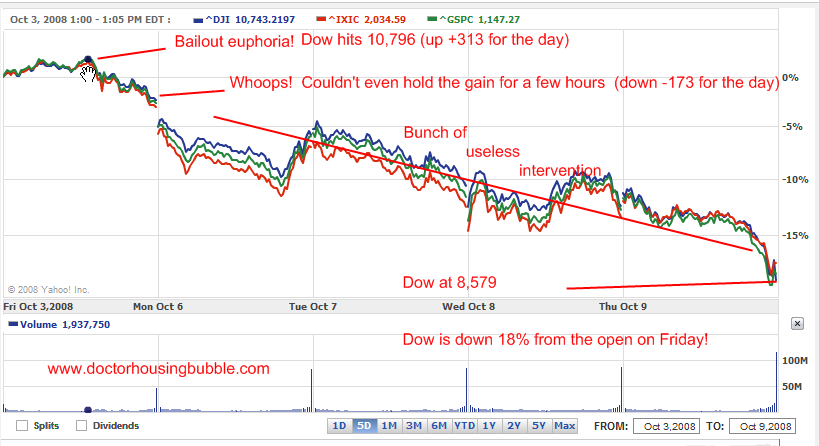 *Click to enlarge
The Dow is now down nearly 18% from the market open on Friday October 3 when the bill was passed.  Comrades, this is not the way to run a free market.  If we are going to be giving money out we might as well use it for the greater common good.  After all, $1 trillion ain't what it used to be.
Did You Enjoy The Post? Subscribe to Dr. Housing Bubble's Blog to get updated housing commentary, analysis, and information.