One of the typical lines lobbied by cane wielding house humpers is that renters are low income households that simply have no choice but to rent.  The implication is subtle on some fronts but others choose to use a 4×4 of clarity by saying renters are simply poor people.  Clearly these Taco Tuesday Jimmy Buffet loving fans have failed to take a look at rental rates in San Francisco.  They also use an outdated model of the world where Don Draper was the model of success puffing away long and hard on that cigarette.  Even in "prime" neighborhoods I am surprised at the lack of tech knowledge by some of these people living in million dollar homes.  Some folks just have a hard time seeing that they bought a lucky scratcher at the right time. In fact, new data shows a rise in wealthy renter households.  And in places like San Francisco, there are actually more households making over $150,000 per year that choose to rent than own.  Clearly a household that is pulling in $150,000 or more a year is not "dumb" or low income.
The rise of the wealthy renter
People that can pull in high income today see the same thing that we see when it comes to housing.  Why are they going to buy a piece of crap and lock into a giant 30 year mortgage?  In many cases, they are working for tech companies that come and go.  The iPhone came out in 2007 and some people act as if it was out for 30 years (interesting that the iPhone came out in the year housing bubble 1.0 burst).  Things change at a much faster pace today because of technology.
The rise of high income households that choose to rent is something that is new:
"(RentCafe) In 2015, the number of renter-occupied households surpassed the number of owner-occupied households making over $150,000/yr (56,591 renter-occupied vs 54,445 owner-occupied housing units), a situation that is atypical, considering that overall in the U.S. there are 7 times more owner households in the top-income category than renter households. What San Francisco has going for it is a solid job market, with high-paying IT and finance jobs occupied by young highly-skilled professionals — a recipe for the typical profile of an affluent renter."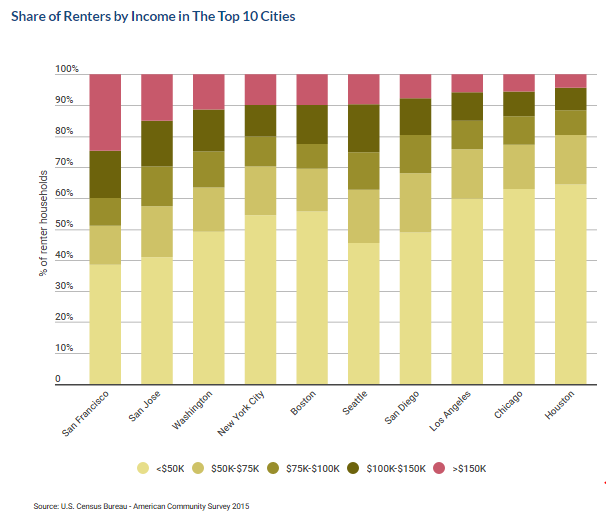 So it is important to read the fine print.  Of course there are more households across the US that own that are also of high income status.  But San Francisco is not one of them.  What is interesting is that there does seem to be a tech bias here.  People that are connected and can do research probably are more cautious into buying an overpriced crap shack and saddling their life to a giant mortgage.  They realize the decision is more nuanced than some realtor with a beer belly telling them "don't over think this and buy!" – of course they fail to talk about the massive down payment and then the giant mortgage.  For a $1.2 million San Francisco crap shack you are talking about a $240,000 down payment and you still have a $960,000 mortgage!  It is very likely that this group appreciates history and hasn't forgotten that 7,000,000+ households lost their homes to foreclosure in the last go around too.  So is it any shock that San Francisco has so many wealthy renter households?
What is interesting however is that this increase of wealthy renters is also seen in less expensive markets: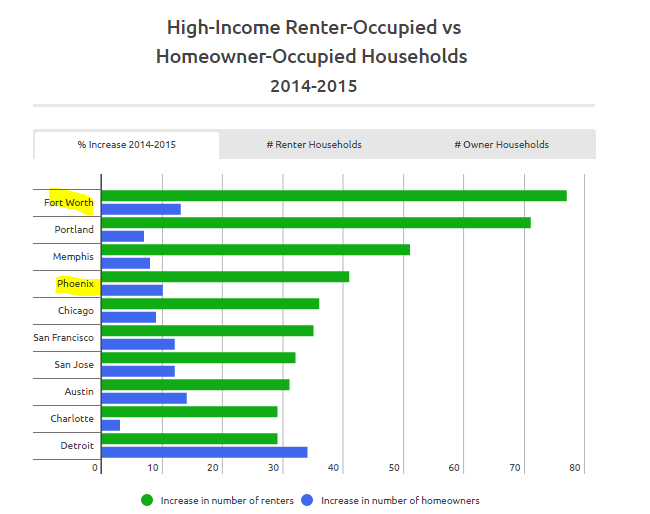 Source: RentCafe
Why would a wealthy household in Fort Worth or Phoenix decide to rent instead of buy?  What is clear here is that there is a trend of high income households being more skeptical of the numbers and not buying the general mainstream propaganda.  There is no renting lobby but there is definitely a housing lobby.  I think this election proved many people wrong and that generally accepted ideas do change.  And some people are hilarious.  They assume Trump being a real estate person is going to look out for housing.  But what they fail to mention is Trump is a high density loving skyscraper kind of real estate guy.  How does this help the single family crap shack owner in Santa Monica or San Francisco?
So when you think of broke renters think of San Francisco.  Apparently making $150,000 or more a year makes you a chump.

Did You Enjoy The Post? Subscribe to Dr. Housing Bubble's Blog to get updated housing commentary, analysis, and information.