People adapt very quickly to new circumstances. Today, many are coming to terms that the housing market is dominated by investors. Existing home sales are running at a pathetic pace now that investors are slowly stepping away from the single family home punchbowl. Purchase applications came in at their lowest level since December of 2000. The only difference is that we've gone from a population of 281 million to 317 million today. Where is all that pent up demand? A large part of it has moved back home and is too broke even to rent. Home prices went up in 2013 because of Wall Street's insatiable sudden infatuation with single family homes. It also went up because a cocktail of accounting chicanery, banking trickery, and artificially low rates allowed the foreclosure process to transform into a sideshow. Even though 7,000,000 Americans have had a taste of foreclosure, you still have many benefitting from this delay by squatting or simply dragging out the foreclosure process. The game has worked well for these two groups. Some rationalize that if they buy today, the future will look very similar to the past and maybe they too can benefit from moral hazard. Yet where do we go from here? Purchase applications are a big reflection of what is happening on a larger scale. Lower paying jobs, less long-term employment, and a cash strapped younger class of buyers. Cash buyers still make up a large part of the market today but this group is slowly pulling back.
Cash buyers
Cash buyers still make up over 30 percent of all home purchases in today's market. In more normal markets cash buyers will make up close to 10 percent of all home sales. Keep in mind "cash buyer" simply means people are not using traditional mortgage financing. Most Americans need a mortgage. First, Americans need good work before they can buy a home and that is why we have an unreal number of younger Americans living at home with parents. We've also never had a young generation so deep into student loan debt. We also have changing family needs. Why do you need a McMansion when you will have only one or two kids (or none for many DINKs)?
When we look at the percent of all sales going to cash buyers, it is also important to look at overall home sales volume: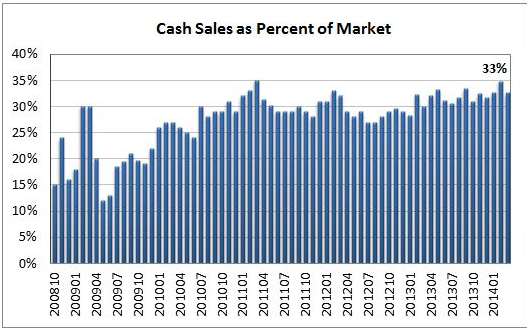 Source: NAR
When looking at the above chart, you would think that cash buying is still running at a steady pace. It is not because home sales overall have hit a brick wall in spite of the massive 2013 mania: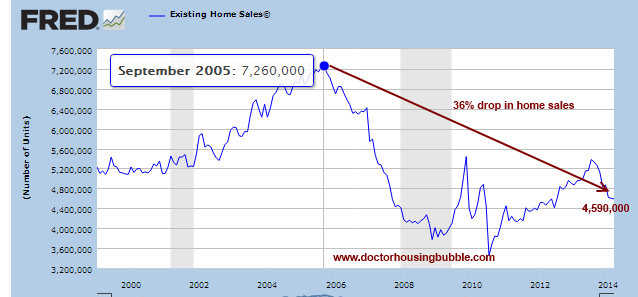 Existing home sales are down by 36 percent from their peak. What you have is simply less transactions occurring in the current market. Why? We have a fully stunted housing system. People try to guess as to what the Fed's next move will be and banks have circumvented accounting standards. Rules that would likely get you into financial trouble (as in not paying your debts) are standard for the banking industry. It is interesting how some people think that once you buy, you suddenly have no additional payments. You have your principal, interest, taxes, insurance, and general upkeep that will go on forever. Housing has traditionally been a good investment for Americans because many are too undisciplined to put money away into a stock index over a consistent period. At least with a home, you are forced to pay the bank each month (and the state gets their nice piece of property taxes as well). Housing, like other investment vehicles, makes sense when the numbers make sense.
Yet inventory is starting to grow not because of a rush of people starting to sell, but more because homes are not moving: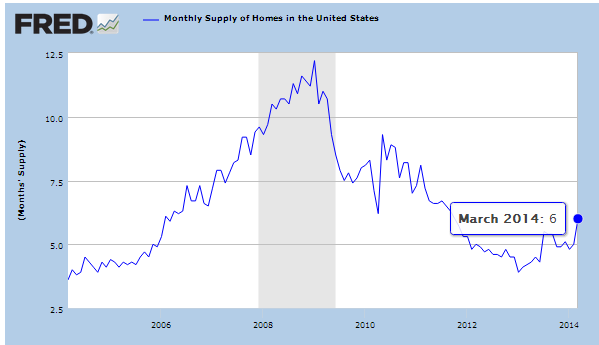 The market has now reached the break-even supply point of six months of inventory. Yet most of this is coming because most Americans are fully cash strapped and investors have lost their interest in the current market because deals are harder to find. Flippers will continue to flip until the last person is dancing and there are no more musical chairs.
You would think that with home prices surging in 2013, people would be rushing out to buy. Not so:
"(MBA) Both purchase and refinance application activity fell last week, and the market composite index is at its lowest level since December 2000," said Mike Fratantoni, MBA's Chief Economist. "Purchase applications decreased 4 percent over the week, and were 21 percent lower than a year ago. Refinance activity also continued to slide despite a 30-year fixed rate that was unchanged from the previous week. The refinance index dropped 7 percent to the lowest level since 2008, continuing the declining trend that we have seen since May 2013."
Purchase applications are at their lowest level since December of 2000. Didn't the public get the memo that if you don't buy now, you'll be priced out forever? What suddenly changed in 2013 that saw the market boom? First, investors have created a feeding frenzy and the few buyers that had the means to buy probably started capitulating. Step by step inventory was controlled to a low point where if you wanted to buy, you had to go out and compete with big money investors. Last year, the lemmings in California at open houses were tripping over one another to make offers on beat down shacks. Hot dog stains on wrinkled polos be damned, I want that granite countertop sarcophagus! So a mania ensued. That is not the market of today. Look at many areas around the country and housing is cooling off. Inventory is creeping back in. People are actually running the numbers which is a positive.
If housing is so hot and everyone has gotten the memo, why are purchase applications at levels last seen in December of 2000?

Did You Enjoy The Post? Subscribe to Dr. Housing Bubble's Blog to get updated housing commentary, analysis, and information.