The market in California is starting to splinter off into two distinct segments. First, in lower priced areas the pullback of investors has caused inventory to steadily rise. In places like the Inland Empire there doesn't seem to be any urgency to buy anymore. In less desirable areas of L.A. and OC you have seen homes sit on the market as sellers try to ask for delusional pie in the sky prices. This segment of the market is feeling the withdrawal of investors. The second segment impacts smaller prime markets and prices have reached new peaks in some of these areas. Sales are dramatically down but house horny buyers are willing to stretch their budgets to whatever a bank is willing to lend them. Investors are pulling back here as well yet heavy buying still remains. The trend is very clear and that is large investors are not buying as many homes in California. Year-over-year large investors have dropped their buying activity by 31 percent. This is a big deal given the razor thin sales volume already happening. When you run the numbers in many markets, you see many areas overpriced on a variety of metrics. So what will happen to the market as investors continue to pullback?
Investor activity slows down dramatically   
First, there has never been a year where 30 percent or more of all sales went to investors. That is, until 2009. Since that point, for half a decade over 30 percent of all sales in the state of California have gone to the "all cash" crowd. Wall Street was the first house horny buyer leveraging cheap rates in a lustful attempt to chase yield. This is how you have the odd mix of a falling homeownership rate in conjunction with higher home prices.
Some large investors seem to be pulling back from the California housing market and the sales data is clear on this. Year-over-year large investor sales are down 31 percent: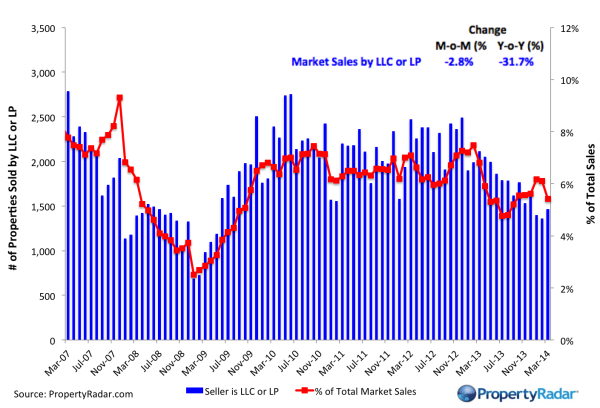 This is a big deal since investors have been a primary buying group since 2008. Also it should be noted that the above data will only look at MLS sales and not off the book auction sales which are a large part of the big money crowd. Some thought that once investors pulled back that regular buyers would step into the fold with massive incomes to purchase these high priced shacks. That simply isn't happening. Inventory is building up across markets in the state. People continue to buy but people were buying well into 2007 when prices were clearly insane. Through the insanity, you are also seeing more homes having reduced price offers which in 2013 was an oddity in itself. As it turns out prices do matter and investors are running the numbers and don't purchase properties based on absent minded mantras and "buying always makes sense" type of rhetoric.
Running the numbers is important. You can ask the 1.2 million California homeowners that are currently underwater: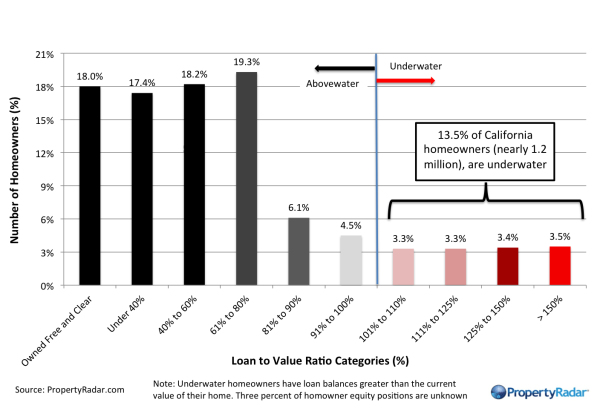 Or we can ask the hundreds of thousands in the state that lost their homes to foreclosures if running the numbers makes any sense. It absolutely does. So if that is the case, does the rise in inventory mean anything? Does the major drop in sales volume mean anything? Investors are voicing their opinions and good deals are rare to find like a diamond in the rough.
Inventory in the L.A. County area is up 15 percent year-over-year. In the spring of 2013 you had house lusting zombies loading up in minivans going to open houses as if they were following a rock star. You had families bringing in multi-generations to beg sellers to give them a taste of that sweet World War II built shack. The only thing missing was a t-shirt saying "take my money please!"
California is a boom and bust market. We've been booming nicely for a few years. Seeing enough of these trends over the years, the pattern is very similar. Sales slowdown, inventory picks up, prices hit a ceiling, and finally a correction. How much will prices fall by? Hard to say. Just like very few even saw the double-digit housing gold rush in 2013 led by investors, very few even think a housing correction is feasible in California. Currently the mindset is that the market will "slow down" whatever that means. The market is already slowing down, the numbers tell us this.
Those thinking that we will somehow go into a stable mode fail to look at history: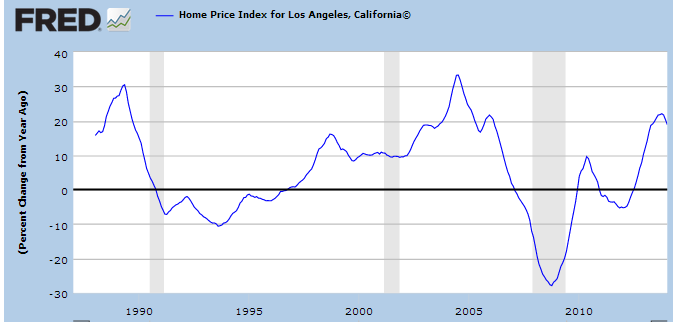 The one new variable that we have this time is the big money buying from Wall Street courtesy of low rates. The Fed is already telegraphing higher interest rates and big money is finding better homes for their money instead of single family homes for rent. One thing is certain and that is there is never a dull moment in California housing.

Did You Enjoy The Post? Subscribe to Dr. Housing Bubble's Blog to get updated housing commentary, analysis, and information.