I've been getting a few e-mails from people regarding a study on strategic defaults making the internet rounds.  What is a strategic default?  This occurs when the current homeowner is able to pay their mortgage but because they feel they are too underwater or simply are sick of the mortgage albatross, decide to stop paying.  So much for that pride of ownership.  In California with the massive number of Alt-A and toxic option ARMs this is very common.  But how common?  The article making the rounds actually refers to a study conducted by the Kellogg School of Management.  The study is nearly a year old being published back in June of 2009.  Since that time, I imagine many strategic defaults were temporarily stalled by programs like HAMP.  When the study was released it was estimated that 26 percent of current defaults were strategic in nature.
Since California housing is still massively underwater, we should look at break points that push people to strategically default:


When a home is underwater by $100,000 this seems to be the final nail in the coffin.  Yet the current median price of a home nationwide is closer to $160,000.  So clearly to get to this level you have to be part of the bubble happy states like California, Florida, Nevada, and Arizona.  Other states have these issues as well but clearly if your home went up to $130,000 as a total current value in a modest part of the country, it is unlikely you are even close to being under by $100,000.  Compare that to California were the median price neared $600,000 but current prices are closer to $250,000.
Of course, the more negative equity you have, the more likely it is that you will strategically walk away: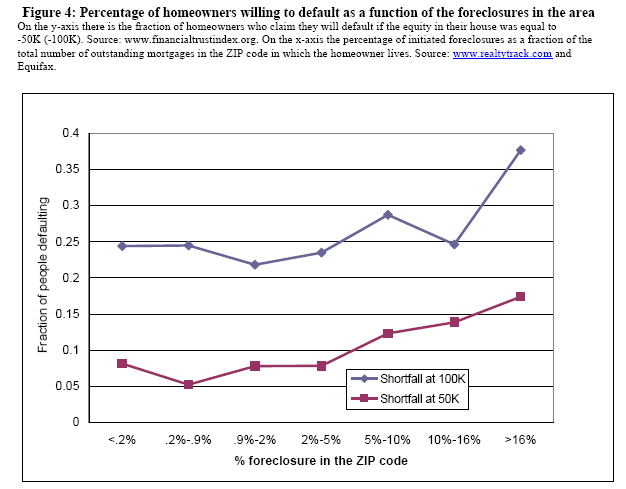 The above chart basically shows that if your neighbors do it, you'll most likely do it too.  All it takes is a few people to realize the toxicity of Alt-A and option ARM products to say goodbye to their mortgage once and for all.  The study is a little older but I think many of the facts are still relevant.  I wanted to find a more recent study and found one through Morgan Stanley:
"April 29 (Bloomberg) — Decisions by U.S. homeowners to walk away from mortgages they can afford account for an increasing share of defaults, according to Morgan Stanley.
About 12 percent of all mortgage defaults in February were "strategic," up from 4 percent in mid-2007, New York-based Morgan Stanley analysts led by Vishwanath Tirupattur wrote in a report today. Borrowers are more likely to stop paying their mortgages the higher their credit scores and the larger their loans, the analysts said.
Defaults by borrowers who owe more than their homes' values are among the biggest risks for the housing market, according to analysts including Zelman & Associates' Ivy Zelman and Amherst Securities Group LP's Laurie Goodman. Last month, the Obama administration said it would adjust its anti-foreclosure program to encourage reductions to borrowers' principal amounts, instead of just the payments they make, to address the issue."
According to the study, 12 percent of defaults in February were strategic.  Given that we are seeing roughly 300,000 foreclosure filings a month, it is safe to say that 30,000 people a month are simply deciding not to pay their mortgage even though they have the income to do so.  We already know that 7 million mortgages are currently in foreclosure or 30+ days late.  How many of those are strategic?  Not the majority but certainly a large number.
I haven't seen this data broken out into states but would imagine that California leads the charge.  This is based on the fact that nearly 60 percent of all active option ARMs are here in the state.  The option ARM is the king of toxic mortgages and is the ultimate financial time bomb.  That is why default rates on option ARMs are now tracking subprime loans even though we have barely entered the first recast period: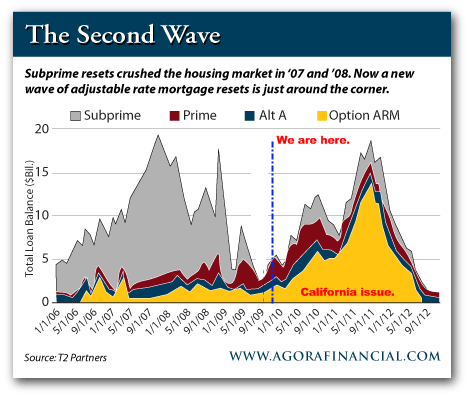 I know many would like to think that this issue has been swept under the rug but it hasn't.  A large number of these loans are still active and are very likely to enter default in the next few years.  Banks are being a tiny bit more aggressive on foreclosing since the taxpayer is footing their too big to fail bill.  And public anger is still elevated: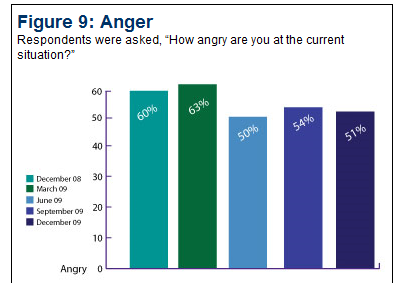 From the Kellogg surveys we find that half the country is still angry about the current economic situation and keep in mind we have just witnessed a 70 percent stock market rally.  Apparently the bulk of the population wasn't invited to the party.  It is time we have our own Pecora Investigation.
Strategic defaults have also provided a short-term stimulus into the economy.  After all, if you aren't paying a $4,000 mortgage and now rent a $2,000 place you basically have increased your cash flow by $2,000 per month to buy more consumer goods.  We've seen car sales jump up recently and we have seen spending tick up as well even though the unemployment situation is still near the trough and wages are stagnant.  It would be one thing if people were spending more because they were earning more but this isn't exactly what is happening.
Strategic defaults have a limited shelf life.  After two more years, most of the crap mortgages will be wiped out of the system.  Then what?  I'm not sure we should be excited that a large number of people have stopped paying their mortgages and are now using freed up cash flow to buy more consumer goods.  Is this the purpose of the bailout?  What a farce.
The fact that we have tens of thousands of people able to pay their mortgage but not doing so tells us that many people are simply following the path Goldman Sachs has laid out.  Game the system.  Screw the majority.  This is how the game is currently being played.  Yet this isn't sustainable.  Just look at how the market is reacting with the Greece bailout (you do realize we are partially bailing them out as well?).  The current system is rewarding the wrong people and the majority in the public gets this and that is why you see data like the above in surveys.  Strategic defaults are merely an extension of this.  What people are saying is screw this mortgage and walking away (not before they yank out as many months of free rent before the bank moves on the property).  Banks have been doing this kind of crony robbery of the public for decades.
Do I blame people for walking away?  Not at all.  Without any actual changes to the current financial system why should banks take the corrupt route and expect people to honor their responsibilities?  It is the height of hypocrisy but that is now synonymous with Wall Street.
Did You Enjoy The Post? Subscribe to Dr. Housing Bubble's Blog to get updated housing commentary, analysis, and information.