Stated income loans?  No contingencies on offers?  My equity just went up 10 percent in the last month?  These are some of the current conditions in the California housing market.  A couple of contacts in the industry have been mentioning that some of their prospective buyers were outbid by others that were coming in with no contingencies on their offers.  In a previous article we discussed how people in Orange County were now trying to include PowerPoint presentations to win over a seller.  It is understandable to make an argument based on low interest rates and looking at various opportunity cost scenarios but now you are having people rushing to buy because they are worried they are going to miss out on gains.  The stated income loans appear to require a decent down payment but they are now back.  Jumbo loans now make up a good portion of the market as well.
Will supply increase in 2013?
The dramatic drop in supply is truly the housing story of 2012.  For example, take a look at Pasadena:

Inventory has fallen by 57 percent from two years ago.  During this time list prices have gone up by 12 percent.  Those looking to buy today will need to compete with flippers, investors, and foreign buyers.  The median list price in Pasadena is now $639,000.  What you do see is irrational behavior in the sense of removing contingencies or placing bids way over the list price trying to outguess other potential buyers.  It almost makes you wonder if California's housing will be in a perpetual boom and bust?
Flipping is also helping to push comps up in certain areas.  The churn in certain markets is causing prices to inflate courtesy of flippers.  How so?  Flippers typically buy properties at lower market rates and rehab them to sell quickly.  This has been the recent trend and select markets are seeing inventory decline and prices increase.  Flippers add more expensive inventory to the local market because of additions to the property.
Distressed property sales are also declining significantly in the market: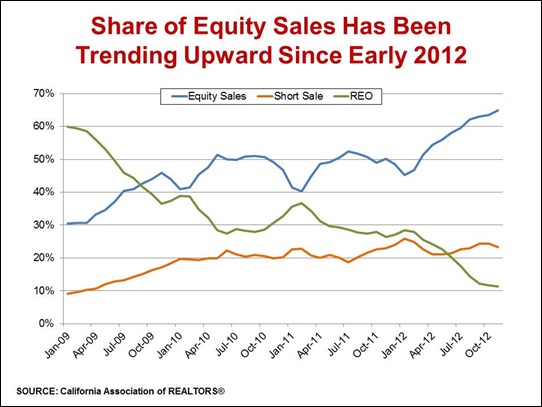 Equity sales now make up over 60 percent of all California homes sold whereas it was 30 percent back in 2009.  Sales volume is up but nothing dramatic: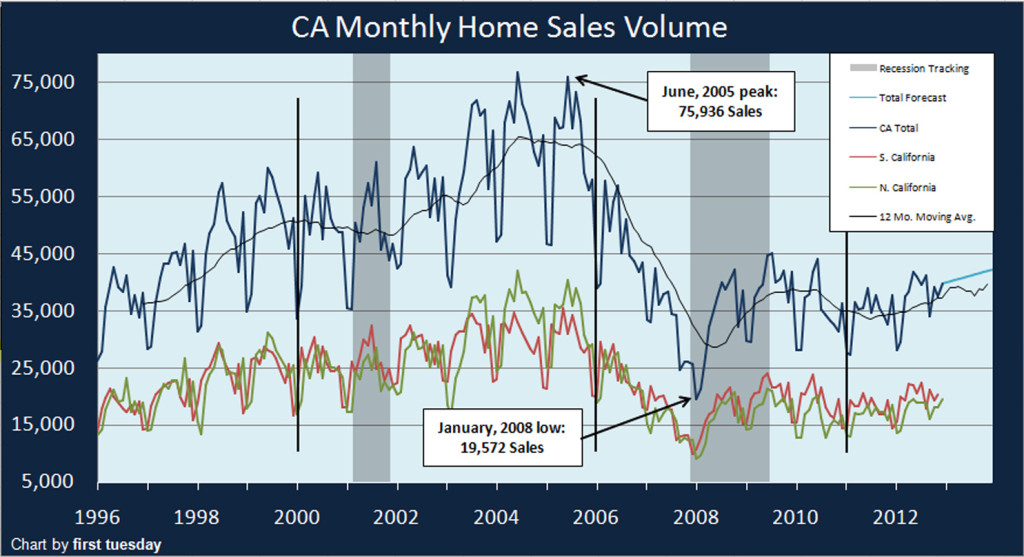 What you have is fierce competition for the little amount of properties out in the market.  Regular families all have the same access to those low down payment FHA insured loans or if you have a down payment, you have access to low rate conventional mortgages.  Yet that may not be enough when you have all cash investors swooping in to pick up properties.
Nationwide inventory is slightly up for 2013 but it is way too early to tell where this will trend: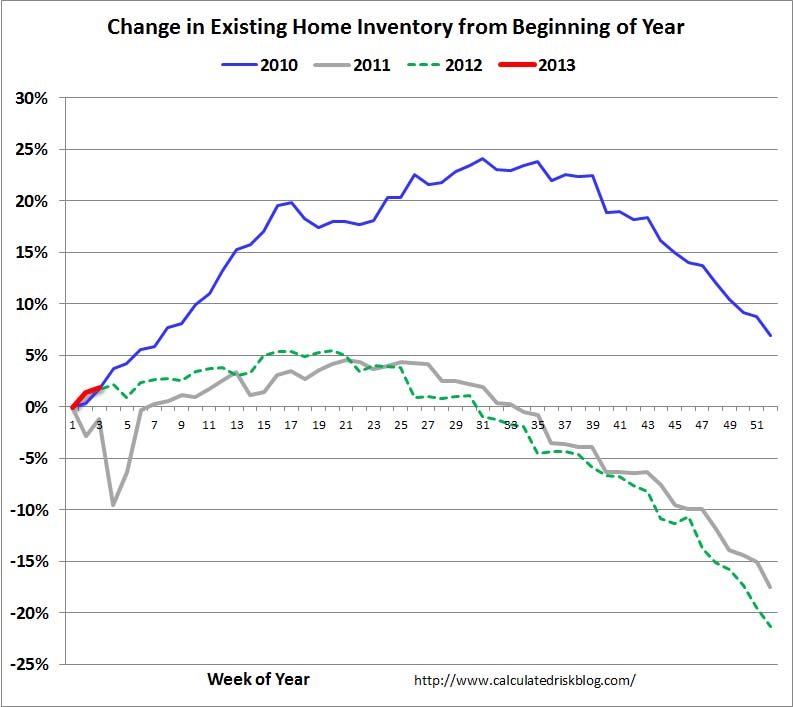 If you are looking to buy know what you can afford and have a steady budget in place.  The same rules apply.  I'm seeing irrational behavior where people are spending way beyond their budgets just to compete in the current market.  Many will face competition from flippers, investors, and foreign money.  I forgot where I saw this but it does appear that some lenders are doing stated income loans: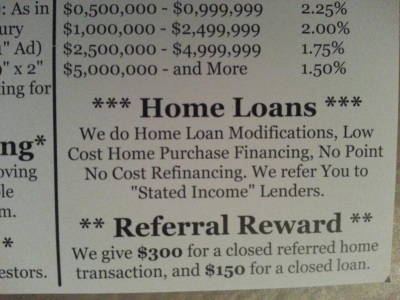 Most are keeping these in house with large down payments (30 percent).  Then again, it has to start somewhere right?

Did You Enjoy The Post? Subscribe to Dr. Housing Bubble's Blog to get updated housing commentary, analysis, and information.