The full 2010 housing data for Southern California sales are in and the results are surprising only to those who think mega billion dollar deficits and high unemployment are good for the economy.  You could have gone to sleep on January 1 of 2010 and waking up today you would have not missed one dollar of price appreciation in housing.  In fact most counties are now showing year-over-year declines as expected.  Two counties in the Inland Empire have now entered into a lost decade of nominal home prices.  What we should remember is all of this occurred with the backdrop of unprecedented Federal Reserve intervention and subsidies flung at the housing market.  Purchasing a home is already subsidized with every government subsidy yet the pot became even sweeter with additional gimmicks, yet this was not enough to cause a turn around.  What is occurring is a reversion to more historical measures and the answer to this should not be surprising to anyone that understands housing in a broader context.
The lost decade of the Inland Empire and soon to be SoCal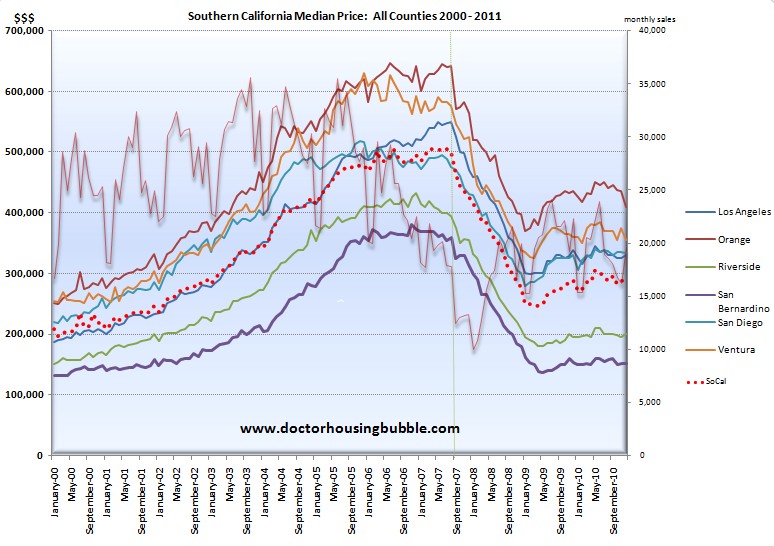 As the results trickled in for Southern California we now have two counties that have nominally returned to their 2001 price levels.  The median price for both Riverside and San Bernardino counties are now back to levels last seen in 2001.  The Inland Empire had one of the biggest booms in terms of construction and many families migrated out of Los Angeles and Orange Counties for a piece of a bigger American Dream.  At the time, a $300,000 Inland Empire home might seem like a much better deal than say a $600,000 Orange County home.  In retrospect when bubbles are raging all prices seem logical even if the underlying economy is weak.  The figures did not seem weak because the Inland Empire economy heavily relied on construction and finance to expand their workforce.  The housing collapse served as a double whammy.
Since many people commute from these counties, oil prices cause major disruptions in these markets.  Incomes are lower so any increase in fuel is going to put an added strain on already lower monthly budgets.  The first oil spike was the catalyst that pushed this market over board.  However oil prices have crept back up: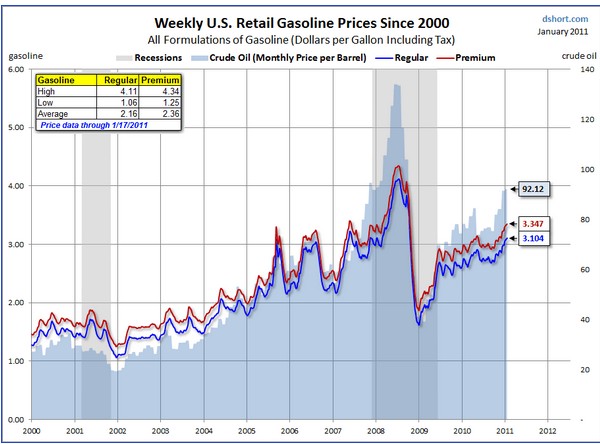 You can see the spike of 2008 above but gas prices are now double what they were from 2001.  So think about that for a second.  Overall incomes for the Inland Empire have gone nowhere since 2001 yet home prices are the same and gas prices are double.  Where are these people getting more money to buy homes?  Even at these levels home prices are inflated in the most heavily corrected region of Southern California.
Both Riverside and San Bernardino have unemployment rates of approximately 14 percent which makes their underemployment rate closer to 26 or 27 percent.  At this level of unemployment even a $150,000 or $200,000 home does not coincide with family incomes or employment possibilities.
And the Inland Empire isn't the only area facing a lost decade:
Median price – December 2010

Orange County                 ($410,000 – first seen on June 2003)

Los Angeles County        ($330,000 – first seen on September 2003)

Southern California        ($290,000 – first seen on February 2003)
Orange County is down over 5 percent on a year-over-year basis and Los Angeles County is down 2.7 percent.  As we have been saying each county will reach a nominal year over year decline sometime in 2011 and at some point will have a nominal lost decade.  The only question is how deep will the correction be?  Are we going to see another say 5 percent decline or a more severe 15 percent decline in the year?  Much of it will depend on the Federal Reserve and their ability to artificially keep the 30 year mortgage rate down.  Bill Gross stated that he believes without Fannie Mae and Freddie Mac and their implicit government guarantee that the 30 year fixed rate mortgage would see a rate 3 to 4 percent higher (i.e., 8 to 9 percent).  In other words the market would collapse without massive government intervention.
FHA insured loans continue to fuel home buying in SoCal.  1 out of 3 loans is backed by the FHA.  The fact that the typical mortgage payment committed to by recent buyers is $1,200 a month you realize that many people are stretching out whatever income they have to get into homes.  Sales have collapsed on an annual basis but the desire to jump in is still there even if the income isn't.
People keep asking about a bottom.  When I hear this question asked I'm assuming they are asking about a nominal bottom.  Keep in mind that even moving sideways is losing money because inflation and a declining US dollar keep eroding your purchasing power as each year moves on.  Last year the dollar declined and inflation as low as it was, did show up.  Keep in mind that the inflation figures are short-term distorted because so much weighting is placed on housing.  This is the biggest factor in the CPI so it hides the cost of fuel prices jumping, or healthcare premiums jumping up, or the fact that taxes are now higher.  These are all added costs to a household on a monthly basis.  The only thing that has gotten cheaper is home prices but they are still inflated in many parts of California.  Why?  Because incomes are either moving sideways or are going lower.  The California budget will bring additional cuts (more lost wages) or/and higher taxes (less disposable income).  In the end it is hard to put a date on an actual bottom but you can rest assured that every single county in Southern California will have a nominal lost decade in prices before any bottom is even in sight.

Did You Enjoy The Post? Subscribe to Dr. Housing Bubble's Blog to get updated housing commentary, analysis, and information.